Canada: Niagara Falls Tourists Happy to Learn Falun Dafa
(Minghui.org) Niagara Falls is a popular tourist attraction and every year millions of people from around the world visit it. Falun Dafa practitioners have maintained a practice site there for years. They introduce the spiritual practice to the public, demonstrate the exercises and tell people about the ongoing persecution in China.
Many people are surprised and happy to find such a peaceful meditation practice. Some shed tears of joy after doing the exercises while others said that they plan to continue practicing after they return home. Many tourists sign the petition demanding that the CCP (Chinese Communist Party) end the persecution.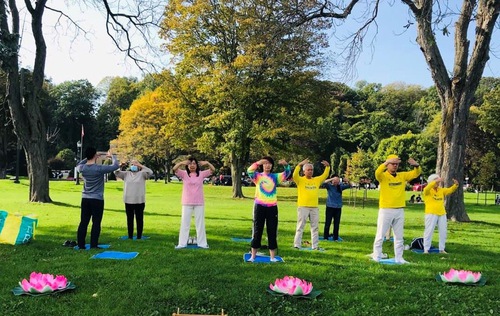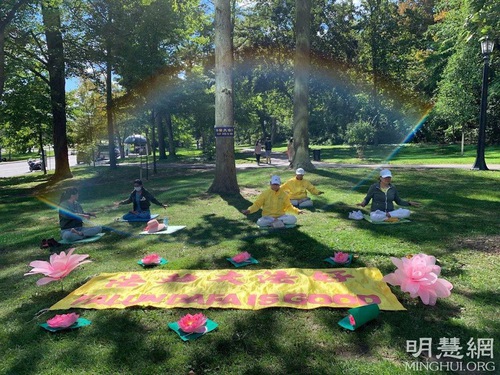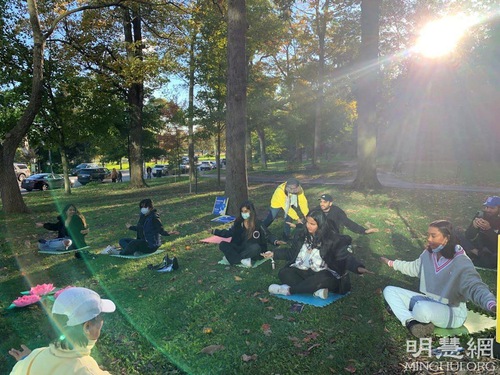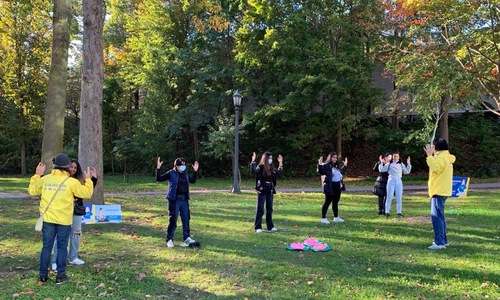 Practitioners hold activities every day near Niagara Falls to introduce the practice and tell people about the ongoing persecution in China.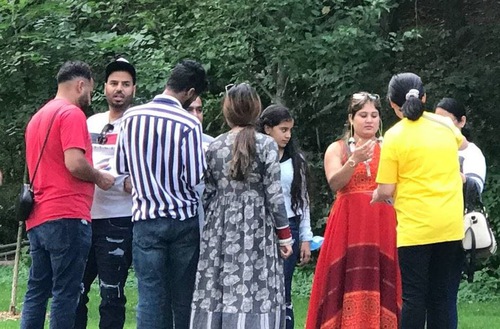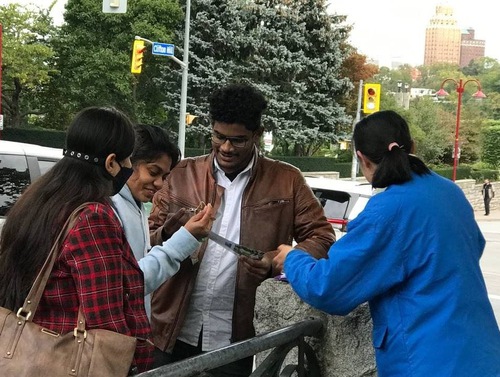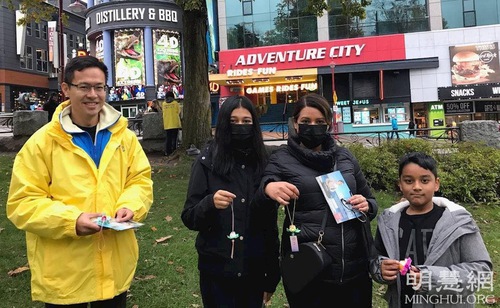 Tourists sign the petition to support practitioners' efforts to end the persecution.
Shedding Tears of Joy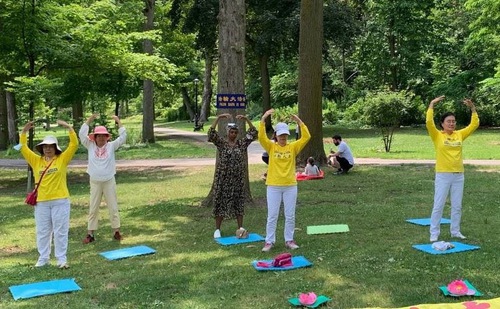 A young woman (middle) wept with joy after learning the second exercise.
A young woman asked practitioners to show her the exercises. She paid a lot of attention as they demonstrated and she carefully followed them. After doing the second exercise, she was moved to tears.
With a big smile and tears on her face, she said, "I don't know why I am so emotional. It feels like I just found something that I lost long ago and I couldn't control my emotions. I feel so lucky!"
She signed the petition and said that she would continue to practice Falun Dafa.
Shoulder Stops Hurting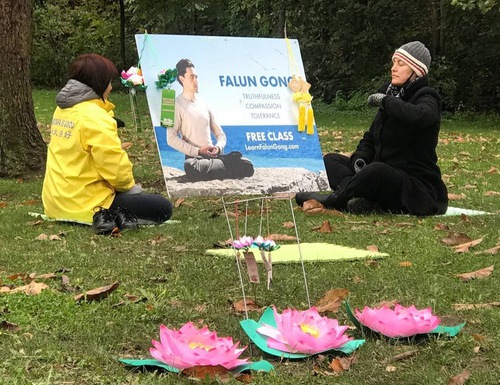 Amanda (right) came to learn the exercises.
Amanda lives and works in Niagara Falls. One day while a practitioner demonstrated the meditation exercise, Amanda sat down next to her. When the practitioner told her about Falun Dafa, she said, "I keep seeing you all do the exercises here. It feels peaceful and wonderful. I've wanted to give it a try and I finally did today."
She said that her shoulder was injured and it often hurt. The practitioner suggested that they meditate together. After meditating for 30 minutes, she said the meditation worked wonders. She felt light and comfortable and her shoulder stopped hurting. She asked how she could become a practitioner.
The practitioner suggested that she read Zhuan Falun, the main book of Falun Dafa's teachings, and that she could download it for free online. She said that she preferred to read a book and asked the practitioner to order an English language copy for her.
Amanda returned two weeks later, found the practitioner and said that she wanted to do the exercises with her. She carefully learned every movement until she learned all five of them. She said she would continue doing the exercises now that she knew how to do all of them.
"Falun Dafa Is Wonderful!"
Michael (right) learns the exercises.
One day before practitioners finished setting up their table, some tourists came and asked questions. A man in a mobility scooter quietly sat nearby and listened to their conversation. After they left, he came over and introduced himself.
His name was Michael. Before he retired, he had to work a heavy-lifting job ten hours a day, seven days a week. The workload damaged his health and now he has to use a mobility scooter to get around.
The practitioner told him examples of how many people, through practicing Falun Dafa, recovered from paralysis, cancer, and other terminal illnesses. "I want to learn Falun Dafa too," said Michael. He stood up from the scooter and asked to be shown the exercises.
Afterwards Michael said that he never felt so relaxed and energetic. He thanked practitioners for introducing Falun Dafa to him. Before he left, he raised both his thumbs and said, "Falun Dafa is wonderful!"
Family of Five Learns the Exercises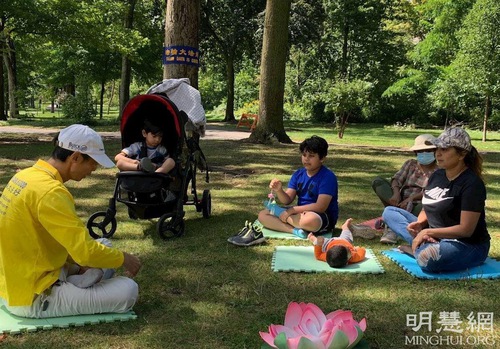 A mother and her family meditate with a practitioner.
A woman brought her mother and three children to the practitioners' table and said that she wanted to learn the exercises. She placed her infant on a mat in front of her. The baby was quiet while she learned how to meditate.
Afterwards the mother said she felt amazing and that she would definitely go online to learn the rest of the exercises.
"I Will Definitely Practice Falun Dafa"
A woman kept leaning forward when she learned to do the second exercise. She felt embarrassed and apologized. A practitioner asked if it felt like someone pushed her from the back. She said yes and that was why she couldn't stand still. The practitioner explained she was feeling the energy flow.
A woman (first on left) said she felt the energy when she learned the second exercise.
After she finished all the exercises, she said that her palms were quite warm. The practitioner explained that it was a good sign. She was happy and said, "I will definitely practice Falun Dafa."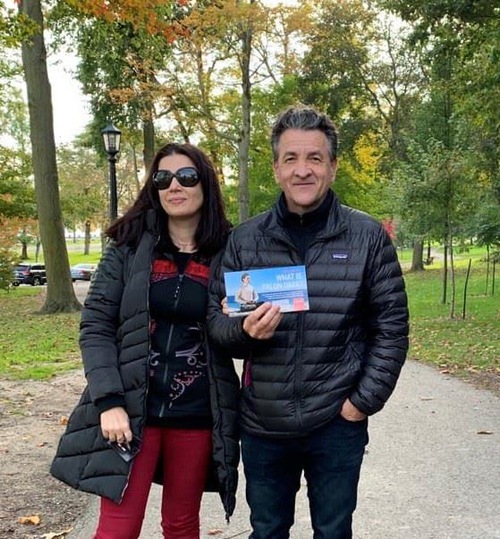 Daniel and his wife Daniela
Daniel and his wife Daniela moved to Canada from Romania 20 years ago and live in Newmarket. Daniel said that they meditate every day. They have been looking for a spiritual practice and planned to go to India to search for it.
A practitioner told them that millions of people practice Falun Dafa and feel that the book Zhuan Falun answered all their questions. The couple said they would learn the exercises from local practitioners in Newmarket.
Comes Specifically to Sign Petition Against Persecution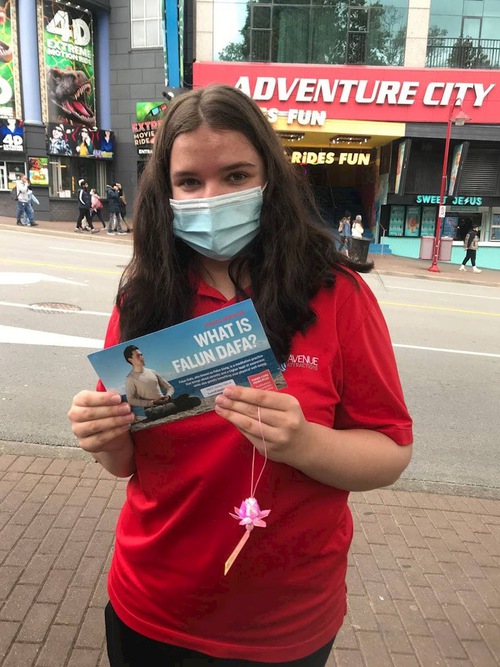 Emma accepts the fliers and a paper lotus flower from the practitioners.
Emma works in a shop across the street from the practitioners' table. She came over one day to sign the petition, "I have been watching you doing and teaching the exercises. Everything seems so peaceful and nice. I am glad to see all of this," she said. She happily accepted fliers and a handmade paper lotus flower.
Tourists often waited in line to sign the petition after they learned about the persecution. Ms. Wang, a practitioner who set up the table, said, "One day after we finished our activities, we headed to our cars. A tourist pushing a stroller hurried after us. As he tried to catch his breath, he asked to sign the petition."
He seemed relieved after he signed the petition and had a huge smile. He took the fliers and a paper lotus flower from practitioners before he waved goodbye.
Chinese Students Quit the CCP's Affiliations
The practitioners talked to five students from China and explained how they would stay safe by quitting the CCP and its affiliated organizations. They immediately agreed to quit. The practitioner gave them each an alias and helped them quit China Youth League and China Young Pioneers.
When they were about to leave the practitioner reminded them, "To stay safe, sincerely say, 'Truthfulness, Compassion, Forbearance is good' and 'Falun Dafa is good' when you come across hardships. May health and peace be with you." As he walked away, one of the students kept turning his head to say goodbye and told the practitioner, "Thank you, I will remember it."
Young People Say "Falun Dafa is Good"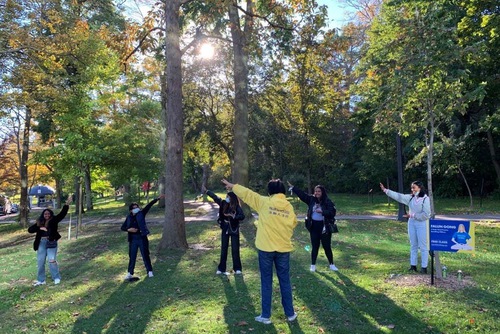 Young people learn the exercises.
As the practitioners packed up and got ready to leave one day, five young people walked by them chatting and laughing. A practitioner walked up to them, handed them fliers and the petition. All of them signed it after reading what it was about. The practitioner said in Chinese "Falun Dafa Hao (Falun Dafa is Good)" and they started to repeat after him.
The practitioner asked them if they wanted to learn the exercises and they agreed. Three more young people walked up and joined them. The other practitioners unpacked the mats and all eight young people learned the exercises that day. As they left, the practitioners heard them reciting "Falun Dafa hao!"
Background: What is Falun Dafa?
Falun Dafa (also known as Falun Gong) was first introduced to the public by Mr. Li Hongzhi in Changchun, China in 1992. The spiritual discipline is now practiced in over 100 countries and regions worldwide. Millions of people have embraced the teachings—which are based on the principles of Truthfulness, Compassion, Forbearance as well as five gentle exercises—and experienced uplifted health and well-being.
Jiang Zemin, former head of the Chinese Communist Party (CCP), perceived the spiritual discipline's growing popularity as a threat to the CCP's atheistic ideology and on July 20, 1999, issued an order to ban the practice.
Minghui.org has confirmed the deaths of thousands of practitioners as a result of the persecution over the past 22 years. The actual number is believed to be much higher. More have been imprisoned and tortured for their faith.
There is concrete evidence that the CCP sanctions the harvesting of organs from detained practitioners, who are murdered to supply the organ transplant industry.
Under Jiang's personal direction, the CCP established the 610 Office, an extralegal security organization with the power to override the police and judicial systems and whose sole function is to carry out the persecution of Falun Dafa.
All articles, graphics, and content published on Minghui.org are copyrighted. Non-commercial reproduction is allowed but requires attribution with the article title and a link to the original article.