Heavy Rain in India; A Million Lightning Bolts Hit Australia in One Day
(Minghui.org)
Heavy Rain in Southeast India
The streets of Chennai, India's "manufacturing capital," were flooded by the heavy rains that fell from November 7 to 8, 2021. Many people and vehicles had to wade through the water. Firefighters sent by the government used rubber boats to evacuate residents in the disaster area.
Chennai is located in southeastern India. It is the largest city along the Bay of Bengal and the fourth largest city in India.
The Indian Meteorological Department stated on November 7 that heavy rain was expected in the following four days, in different areas in Tamil Nadu, southern Andhra Pradesh and Pondicherry. The Meteorological Department has also issued a moderate to high threat of flash floods in certain areas of southern India.
High Tide Caused River Flooding in Bangkok, Thailand
The Chao Phraya River in Thailand was affected by high tide and its water level rose, and the overflowing water flooded many areas of the capital Bangkok from November 8 to 10. People had to wade through the streets, and many sandbags were stacked around the market.
The authorities in Bangkok, Thailand issued a warning on November 9 to remind residents in five areas along the Chao Phraya River to guard against surges in the river from the 9th to the 13th of November and from the 20th to the 26th of November.
Antarctic Penguin Found 3,000 Kilometers Away in New Zealand
The British Broadcasting Corporation (BBC) reported on November 12, 2021 that an Adélie penguin, mainly living in Antarctica, appeared recently in a coast sound of Christchurch, New Zealand, at least 3,000 kilometers away from its habitat. This is the third time in history that Adelie penguins have been found off the coast of New Zealand. The first two records were in 1962 and 1993.
The veterinarian checked the penguin and found that it was a little underweight and had symptoms of dehydration.
Experts said that the presence of Adelie penguins in New Zealand is still quite rare, but if there are more such incidents in the future, it may be a worrying sign. Philip Seddon, professor of zoology at Otago University, said that if Adelie penguins start to appear in New Zealand every year, and there may be some changes in the ocean that people need to understand.
A Million Lightning Bolts Hit Australia in One Day; Northern Territory Rainfall Sets 20-Year Record
According to data from the Lightning Detection Network of Weatherzone, Australia's largest weather information service company, within the 24 hours as of 8 a.m. on November 11, 1.37 million lightning bolts were detected in central and eastern Australia, including cloud lightning and lightning between clouds and the ground.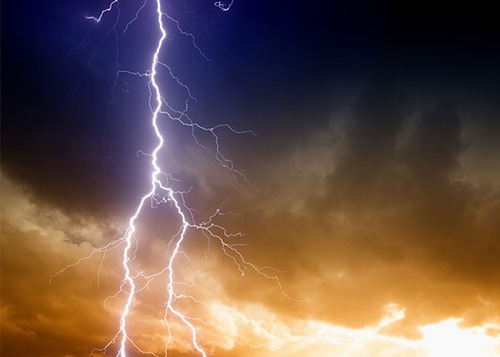 Lightning
Affected by large-scale thunderstorms, some areas of Australia saw record rainfall. The rain flooded many inland areas of Australia, and some roads were cut off.
Weatherzone's data shows that Alice Springs in the Northern Territory recorded about 140 mm of rainfall from November 9 to 11, of which Wednesday (November 10) saw rainfall as high as 100.2 mm, the highest amount in a single day in 21 years.
The rainfall in Applethorpe, a small town in Queensland, reached 86.8 mm in one day from November 10 to 11, a 9-year record.
All articles, graphics, and content published on Minghui.org are copyrighted. Non-commercial reproduction is allowed but requires attribution with the article title and a link to the original article.