Bedridden Woman Cured by Falun Gong, Sentenced for Distributing Materials about Her Faith
(Minghui.org) A 73-year-old woman who credits Falun Gong for enabling her to stand up after being bedridden for two years, was arrested and later sentenced to 2.5 years for telling people about her miraculous recovery. Ms. Chen Huan was allowed to serve time at home, but was recently arrested again and has been held incommunicado for three months. It's not clear whether the judge reversed his decision and has ordered Ms. Chen to serve time in prison.
Falun Gong, also known as Falun Dafa, is a spiritual discipline that has been persecuted by the Chinese communist regime since 1999.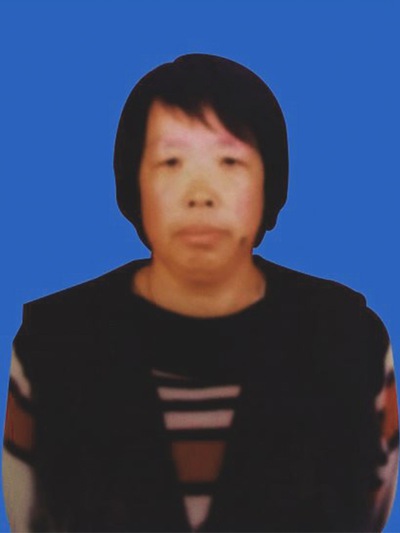 Ms. Chen Huan
Ms. Chen, a native of Heilongjiang Province, suffered a stroke in 2006 and was bedridden for the next two years. The doctor issued several critical condition notices for her.
Ms. Chen's younger daughter, who worked in Dalian City, Liaoning Province, took her to Dalian to care for her. In December 2008, Ms. Chen was introduced to Falun Gong by a local resident. After three days of practicing, she got out of bed and cooked for her daughter.
Deeply grateful for Falun Gong, Ms. Chen spent much effort sharing her story with people, hoping that more people could benefit from it. She was first arrested in December 2010 after being reported for distributing Falun Gong informational materials and held at the Wanli Police Station for two days. Only after she developed high blood pressure, did the police release her. 
During the pandemic in 2020, Ms. Chen was reported again in May for distributing Falun Gong materials. She was arrested by officers from the same Wanli Police Station and released in the evening. 
The police later submitted Ms. Chen's case to the procuratorate, which then indicted her and moved her case to the Pulandian Court. Although the court ordered that she be taken back into custody in late 2020, Ms. Chen was released two days later because of her health.
The court ordered Ms. Chen's arrest again in April 2021. She was held in a metal cage for three days and developed dangerously high blood pressure. A few days after she was released, the judge sentenced Ms. Chen to 2.5 years and allowed her to serve time at home. 
The police monitored Ms. Chen's daily life. She was seized by Zhang Junchi, an officer from the Wanli Police Station, outside her daughter's home on August 16, 2021. She has been detained incommunicado since. 
Perpetrators' contact information:
Chu Feng (初峰), head of Wanli Police Station: +86-411-87325710Zhang Hai (张海), police officer: +86-13332219583
(More perpetrators' contact information is available in the original Chinese article.)
All articles, graphics, and content published on Minghui.org are copyrighted. Non-commercial reproduction is allowed but requires attribution with the article title and a link to the original article.