Montreal, Canada: Practitioners Raise Awareness and Call for an End to the Persecution
(Minghui.org) Falun Dafa practitioners held a parade in Montreal on November 6, 2021, to call for an end to the Chinese Communist Party's (CCP) 22-year-long persecution. Many residents praised them, and some said that everyone should be concerned about the persecution. Practitioners told people about Falun Dafa, exposed the CCP's brutal persecution and forced live organ harvesting which targets practitioners.
Reports from witnesses and Chinese physicians reveal that large numbers of imprisoned Falun Dafa practitioners have been killed for their organs, which are sold and transplanted for profit in the CCP's state and military hospitals.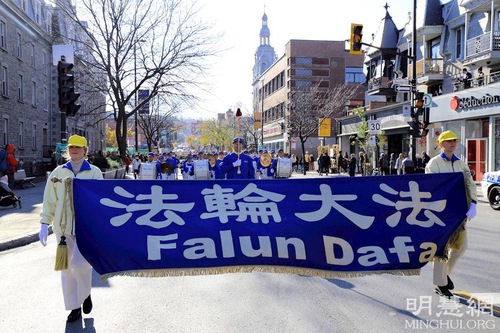 Practitioners held a parade along Montreal's Mont-Royal Avenue on November 6, 2021.
Falun Dafa Practitioners Parade Through a Notable Business District
As the parade started at 1:00 p.m., practitioners headed eastbound on Mont-Royal Avenue, one of Montreal's trendiest and most popular shopping areas. Many people stopped, applauded, put their thumbs up, or whistled to show their support for Falun Dafa practitioners as they paraded through the streets.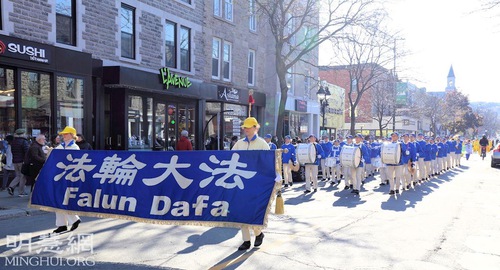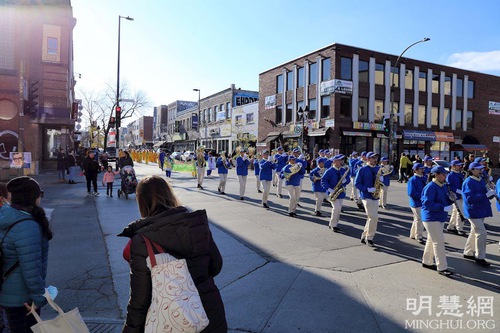 The Tian Guo Marching Band leads the parade.
A group of Western Falun Dafa practitioners followed the Tian Guo Marching Band and demonstrated the five sets of exercises. With smiles and serene expressions on their faces, they demonstrated the gentle, slow exercise movements.
The last group of practitioners in the parade carried banners that read, "Falun Dafa is good," "Stop Persecuting Falun Dafa in China," "Stop the CCP's Forced Live Organ Harvesting of Falun Dafa Practitioners," and "Heaven Does Not Tolerate the CCP for Persecuting Falun Dafa Practitioners."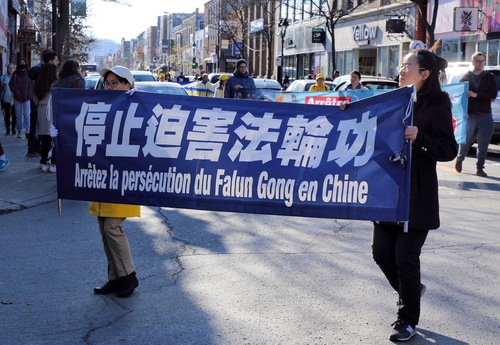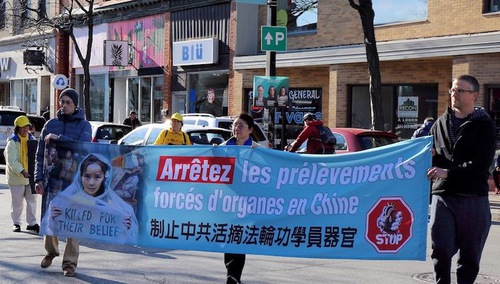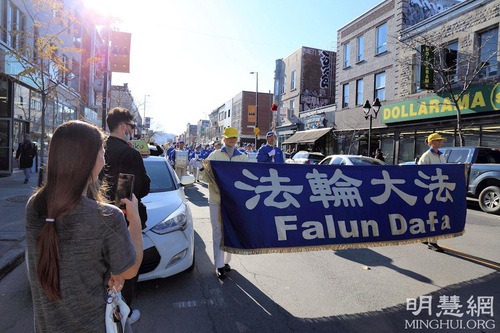 Locals Support Practitioners' Efforts To end the Persecution
Many local residents said that the message Falun Dafa practitioners were conveying was very important. A couple from Toronto, said, "The messages on the banners were memorable. The mainstream media avoids topics like this. Falun Dafa practitioners are doing great! Keep up the good work!"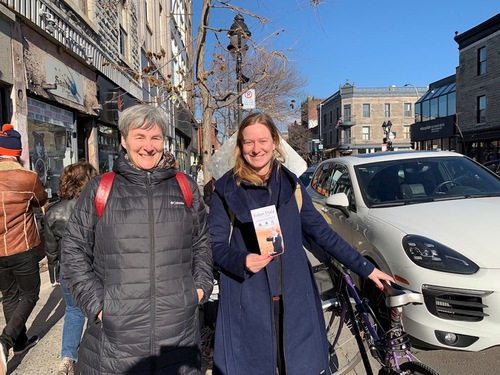 Montreal resident Ms. Gauthier and her mother support Falun Dafa practitioners in ending the persecution.
Ms. Gauthier was very happy to see the parade. After reading the information about Falun Dafa on the flyer, she said, "This practice is very beneficial. I am very happy to meet Falun Dafa practitioners. This parade is important because more people should know about Falun Dafa and how practitioners are persecuted. I follow the developments about the persecution in China, especially on the issue of forced live organ harvesting."
She stated that everyone should say "no" to the persecution. She said, "We should inform our local government representatives about the persecution. It is very important for them to stop the CCP."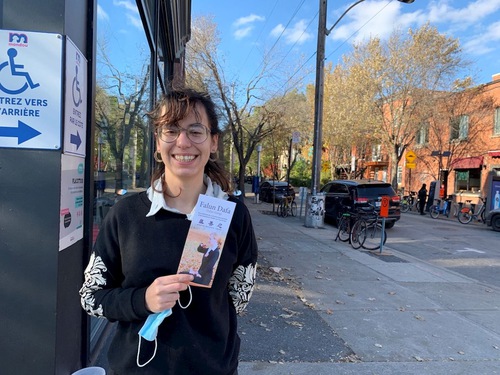 Ms. Williamson, who lives in Montreal, agrees with Falun Dafa's principles of Truthfulness-Compassion-Forbearance, and said that they are beneficial to society.
Ms. Williamson, a Montreal resident, said, "This parade is very important! We should be made aware of the persecution happening in China. It's better if we talk to practitioners and hear their first-hand experiences when they tell us about the persecution, rather than seeing it online or on television."
She agreed with Falun Dafa's principles of Truthfulness-Compassion-Forbearance. "Truthfulness-Compassion-Forbearance are very, very good universal values which will benefit society and make it a better place."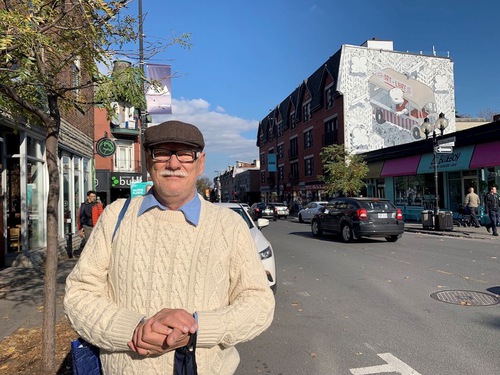 Montreal resident Mr. DuJohn said he was interested in practicing Falun Dafa. He was very happy after learning that free classes are held online.
Mr. DuJohn from Montreal watched the parade and said, "It was a pleasant surprise seeing the Falun Dafa practitioners in the parade." He wanted to learn the practice and was very happy after learning about the free online classes. He said that he was very inspired by Falun Dafa practitioners exposing the CCP's crimes and awakening people's consciousnesses. He knew that the CCP persecutes Chinese people and religions through forced labor and constant surveillance. He felt the CCP's behavior is quite shocking, and he stated that more people need to know about it.
Linda, another resident from Montreal, said that everyone should be concerned about this persecution. "You should invite the mainstream media to come report about this persecution at the next parade. When more people know about it, they'll start reflecting on this issue. What you're telling people is very important."
Background: What is Falun Dafa?
Falun Dafa (also known as Falun Gong) was first introduced to the public by Mr. Li Hongzhi in Changchun, China in 1992. The spiritual discipline is now practiced in over 100 countries and regions worldwide. Millions of people have embraced the teachings—which are based on the principles of Truthfulness, Compassion, Forbearance as well as five gentle exercises—and experienced uplifted health and well-being.
Jiang Zemin, former head of the Chinese Communist Party (CCP), perceived the spiritual discipline's growing popularity as a threat to the CCP's atheistic ideology and on July 20, 1999, issued an order to ban the practice.
Minghui.org has confirmed the deaths of thousands of practitioners as a result of the persecution over the past 22 years. The actual number is believed to be much higher. More have been imprisoned and tortured for their faith.
There is concrete evidence that the CCP sanctions the harvesting of organs from detained practitioners, who are murdered to supply the organ transplant industry.
Under Jiang's personal direction, the CCP established the 610 Office, an extralegal security organization with the power to override the police and judicial systems and whose sole function is to carry out the persecution of Falun Dafa.
All articles, graphics, and content published on Minghui.org are copyrighted. Non-commercial reproduction is allowed but requires attribution with the article title and a link to the original article.