Monthly Falun Dafa Parade in Toronto "Brings Joy and Hope — What This World Needs Now"
(Minghui.org) Since July this year, Falun Dafa practitioners in Toronto have been holding a monthly parade to introduce the spiritual practice to the community and call to end the Chinese Communist Party (CCP), which has been persecuting the practice in China for over 22 years. The recent November 6 parade was met with thumbs ups and cheers. Spectators thanked practitioners for bringing the peaceful and beneficial meditation practice to the community during the hardships of the epidemic. Many said that the parade offered a relief to pandemic stresses –what this chaotic world needs most.
Falun Dafa, also known as Falun Gong, is a meditation system practiced in over 100 countries. The monthly parades have helped many more people learn about and benefit from Falun Dafa. A number of Chinese people have chosen to quit the CCP and its affiliated organizations after they learned the facts about the spiritual practice and the brutality of the CCP's persecution.
Event Organizer: Received Special Permission to Hold the Event Without Police On-Site
Mr. Jiang Fan, the event coordinator, said that the police granted them special permission to hold the event without police supervision. He said, "The police didn't have the manpower for our parade today because they had to deal with eight other events in the downtown area. After discussing it with me on the phone, they said they trusted us because we were very disciplined. They let us hold the event on our own. After we set off, practitioners conducted on-site security. They carefully directed the procession and traffic, making our parade very smooth and successful."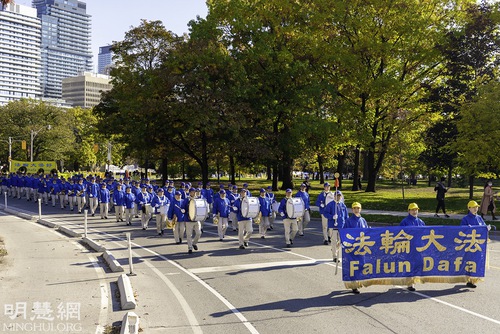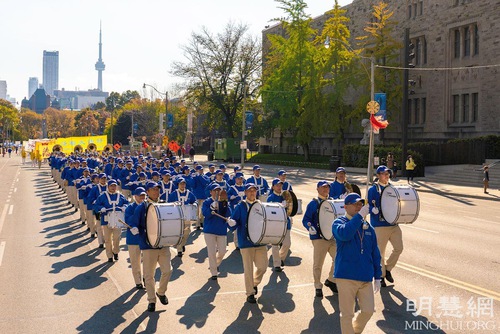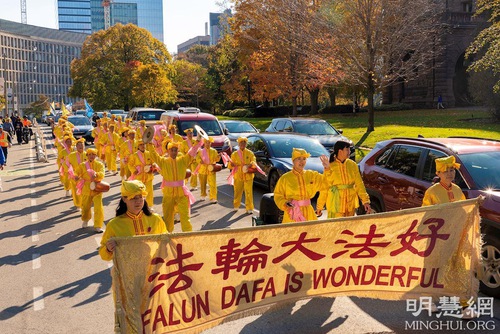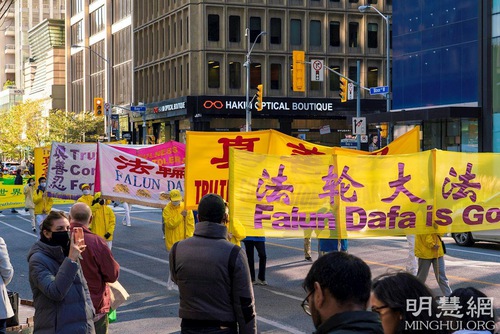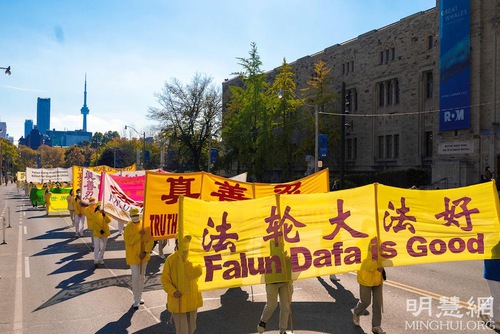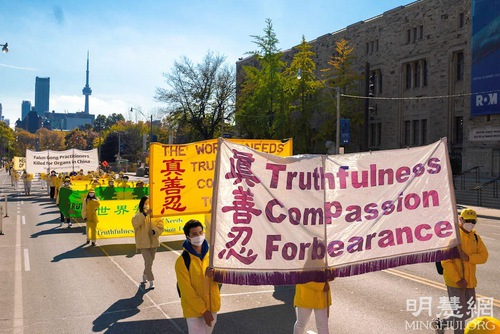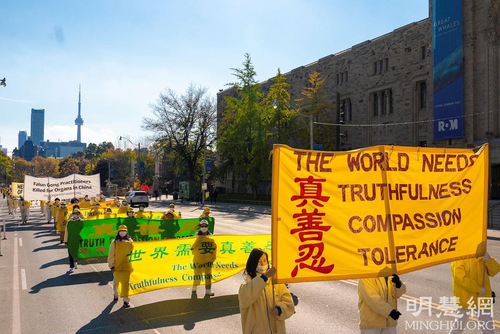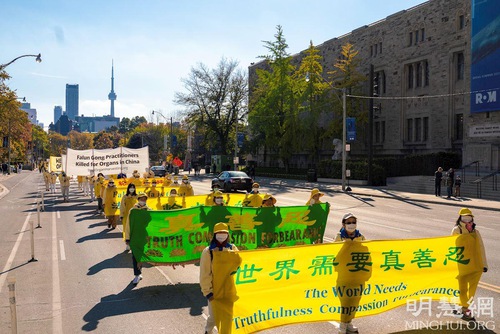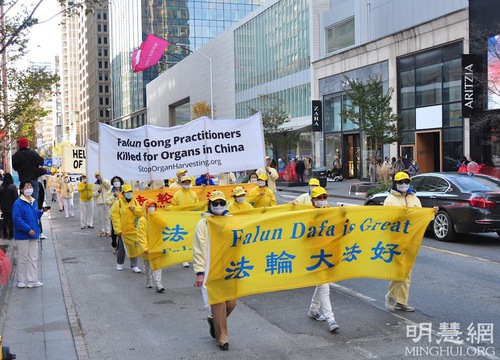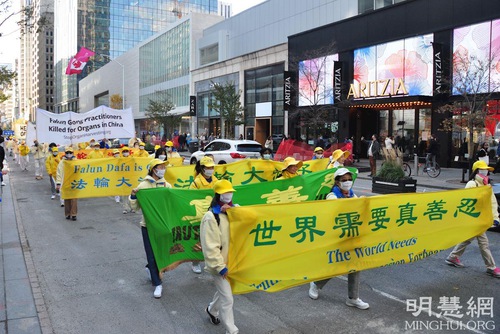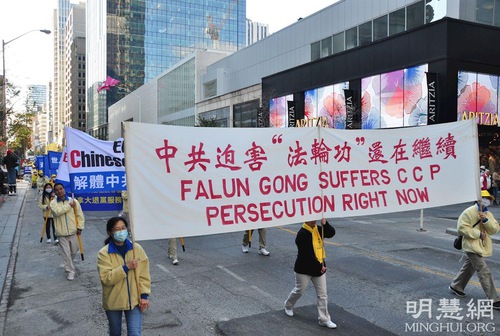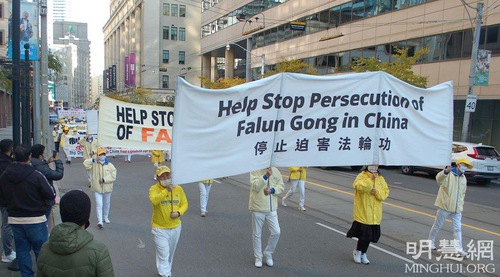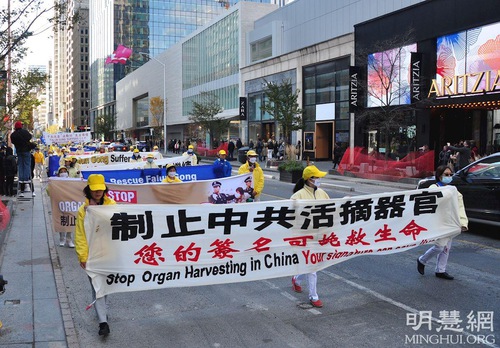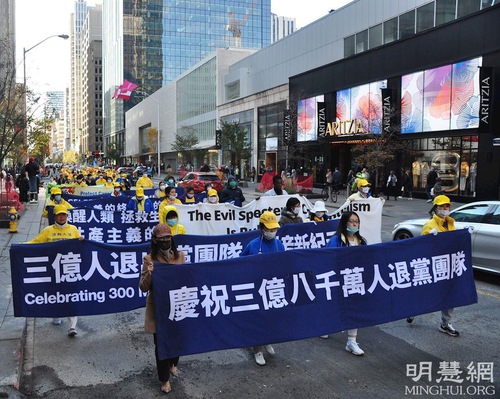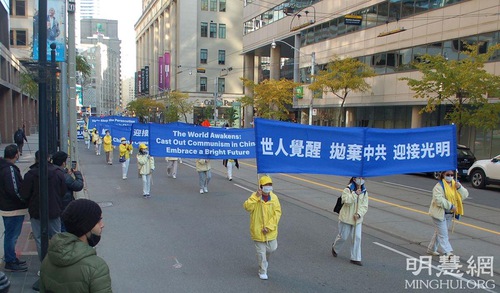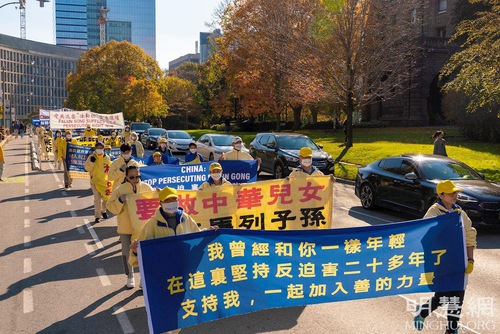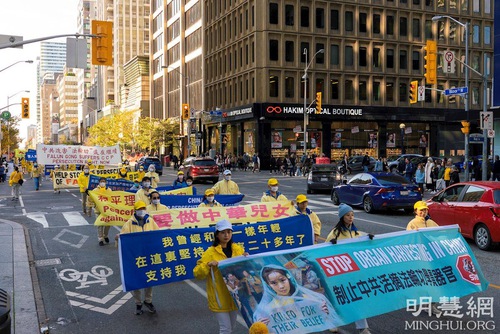 Falun Dafa practitioners hold a monthly parade in downtown Toronto on November 6, 2021.
Restaurant Manager: This Parade Brings Joy and Hope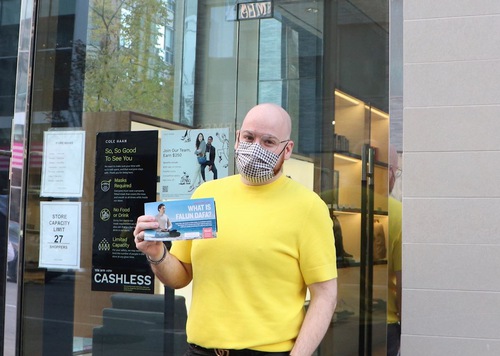 Pedro said that people need an event like this, which shows goodness and courage.
Pedro, manager of a downtown restaurant, read the leaflet offered to him by a Dafa practitioner and watched the parade as it passed outside his restaurant.
He said, "This is a wonderful parade. The participants are energetic and uplifted. They are all smiling and peaceful. The music of the marching band is penetrating. It is so pleasant and I feel so fortunate to see this parade amid the pandemic. This parade has brought joy, hope, and goodness to people, which is most needed now. I thank practitioners very much for the contribution they have made to the community."
Pedro added that he planned to visit the website on the brochure to learn more about Falun Dafa and give it a try. 
College Student: Truthfulness-Compassion-Forbearance Is Very Good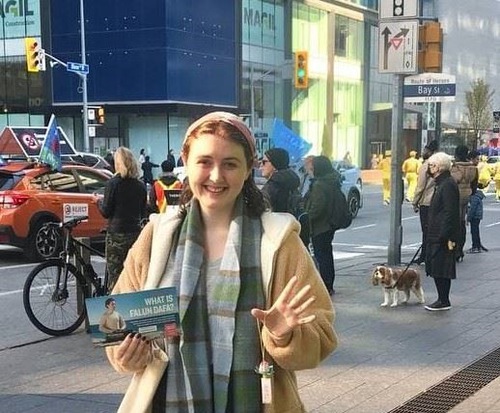 Meg, a college student, praised practitioners for doing something remarkable.
College student Meg smiled happily as she watched the parade. She accepted a small handmade paper lotus flower and a leaflet. Meg said, "I've lived in several cities and I have seen Falun Dafa parades in every city. As soon as I heard the drums, I knew it was a Falun Dafa parade. Truthfulness-Compassion-Forbearance is very good, and what the practitioners do is meaningful."
She also mentioned Shen Yun and said, "I hope to have the opportunity to see Shen Yun one day. The 5,000 years of divine culture in Chinese civilization is valuable."
Great Admiration for Falun Dafa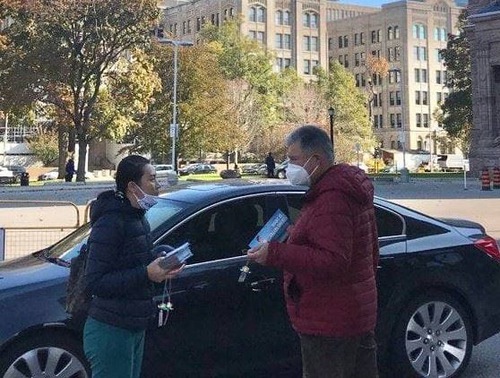 Carl (right), "Stick to what you are doing. I am cheering for you!"
Carl watched the entire procession. He said, "I've learned about Falun Dafa and I admire what practitioners are doing. My wife is a ballet dancer, and I have accompanied her to many countries to perform in many famous theaters. I enjoy observing the local customs and people everywhere I go, and I have seen Falun Dafa practitioners everywhere I have been. I appreciate their perseverance in upholding the principles of Truthfulness-Compassion-Forbearance." Then he said, "I support you! Keep it up!"
Chinese Students Quit the CCP Organizations and Participate in the Parade
Li, an international student from China, watched the parade with his classmates. A practitioner told him about Falun Dafa and the destructive nature of the CCP, including the staged self-immolation on Tiananmen Square. After Li and his friends learned the truth about the persecution of Dafa, they not only quit the CCP organizations they'd joined, they also walked a long way with the parade and helped distribute leaflets.
Yang, a graduate student from China, stopped to watch the parade. A practitioner told him about Falun Gong and why millions of Chinese have rejected the CCP. He said he's lived abroad for five years and wanted to quit the Young Pioneers, the CCP youth organization he'd had to join as a child.
Immigrant from China: Please Forward My Greetings to Master Li!
Ms. Gao from China, who moved to Canada three years ago, watched the parade with her child. She took a leaflet and talked with practitioners. She said she'd heard about Falun Dafa from the propaganda on the state-controlled media in China.
Ms. Gao said, "I only learned about Falun Dafa from the TV when I was in China. However, when I traveled to other countries, I saw practitioners everywhere, including in Korea and Indonesia. I felt that Falun Dafa is different from what the CCP propaganda says and has nothing to do with politics." She said that the persecution should not have happened.
Ms. Gao also expressed her greetings to Master Li Hongzhi (Falun Dafa's founder) and said she appreciated practitioners' efforts to expose the persecution.
International Student: Today Is the Turning Point in My Life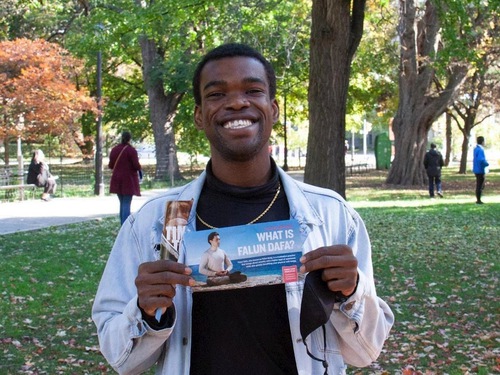 Chibuzor from Nigeria: "I will practice Falun Dafa."
Chibuzor from Nigeria is a Digital Media major at York University. He said, "A practitioner at my school gave me a link to the Falun Dafa website. She told me about the peace and goodness she felt after practicing Falun Dafa, and said it helped her become a very disciplined person. I was happy to learn about it because I was looking for something to give me inner peace. Now I feel like my life has a direction." It was the first time Chibuzor participated in a Falun Dafa event. He said today would be his first day to practice Falun Dafa.
He added, "My friend told me about the persecution that is happening in China. I think the purpose of the Communist Party is to control people. The persecution of various groups of people has been happening since the beginning of communism. Falun Dafa is not a religion but a method of self-improvement. It is heartbreaking to hear about the persecution of such a peaceful practice. Who wouldn't like such a group of peaceful people?"
"The CCP Never Needs a Reason to Persecute Anyone or Any Group"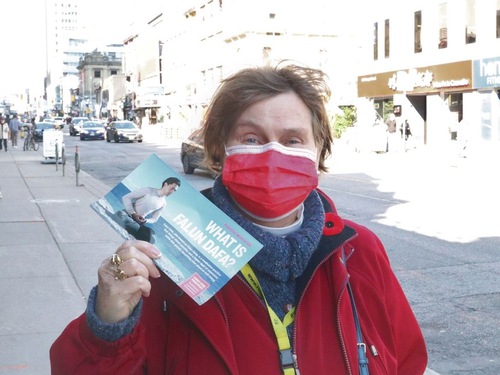 Jeannie: I will share the information with friends.
Jeannie said it was the first time that she saw a Falun Dafa parade and she really enjoyed it. She was shocked when she learned that this group is persecuted in China. "Why?" she asked, "Why persecute such a good practice and such a group of peaceful people? There is no reason for this persecution!"
Jeannie went on to say, "I know that the CCP does not need a reason to persecute anyone or anything. It never does. The CCP represents selfishness and evilness."
Before leaving, she stated, "I will tell my friends about this. Some of them haven't seen through CCP's lies. I will tell them the real side of the CCP."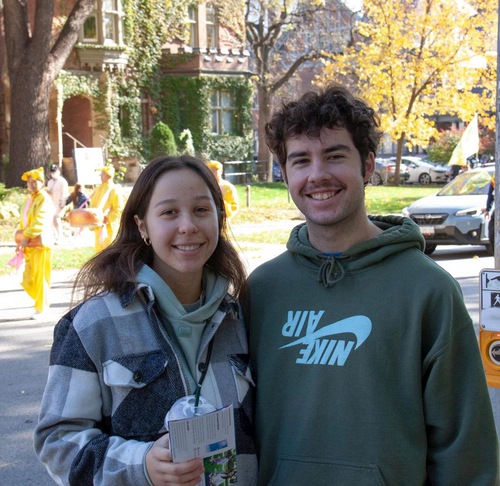 Aldwin, a student at the University of Toronto, and his friend.
Aldwin and his friend, both students at the University of Toronto, watched the parade. Aldwin said, "I was surprised to hear about the persecution of faith groups in China. The forced organ harvesting from practitioners while they are still alive is unimaginable." He added, "I enjoyed today's parade, and we will learn more about Falun Dafa."
Jesse, a lawyer who works for an insurance company in downtown Toronto, said, "I often see practitioners practicing the exercises in Queen's Park. I've learned a lot about Falun Dafa, including the CCP's persecution. My wife is from Latin America, and her family has suffered from Communist persecution in her country, so I empathize with you." He called for an end to this persecution as soon as possible.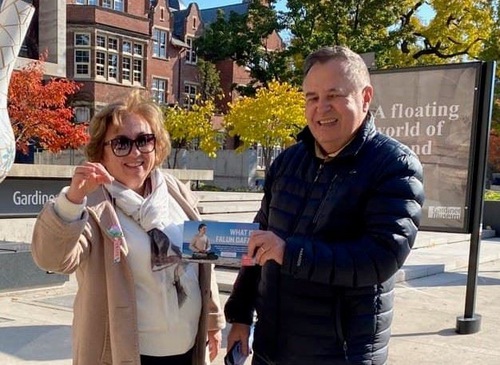 A couple from a communist country was happy to see the parade. The husband said, "You are doing a great job!"
A couple from a communist country intently watched the parade and talked with practitioners. The husband took photographs and video recordings. He told practitioners, "Great job, make sure to keep going!"
All articles, graphics, and content published on Minghui.org are copyrighted. Non-commercial reproduction is allowed but requires attribution with the article title and a link to the original article.