Son's Death from Illness Turned into Propaganda Against Her Faith, Jilin Woman Sentenced for the Third Time
(Minghui.org) A 75-year-old woman in Changchun City, Jilin Province was sentenced to three years in prison for practicing Falun Gong in August 2021. This is the third time that Ms. Ma Xiurong has been sentenced for her faith.
Falun Gong, also known as Falun Dafa, is a spiritual discipline that has been persecuted by the Chinese communist regime since 1999.
Ms. Ma was arrested at home on December 18, 2020, by officers of the Sijianfang Police Station and Zhang Guojun and Yang Chengyi of her apartment property management.
When her family called the police to inquire about her case, the police claimed that they were providing physical therapy to Ms. Ma in a hotel. Her family later learned that she was detained in the police hospital following her arrest and transferred to the Changchun City No. 4 Detention Center around May 2021, where she has been held since.
The Chaoyang District Court secretly sentenced Ms. Ma in August 2021. The court refused to provide any detail about her case, including the name of the judge that sentenced her.
Past Persecution
Ms. Ma is a retired employee of the Changchun Academy of Agricultural Sciences. Before she took up Falun Gong on March 1, 1996, she suffered from severe problems with her heart and liver. She also had asthma and numbness in her thighs. When she went to attend the Falun Gong lectures, she was unable to walk on her own. After the two-hour lecture, she ran to catch up with the bus.
On July 20, 1999, the day when the persecution started, a group of police officers, 610 Office agents, and reporters went to her home. They asked for her deceased son's photo and claimed that he had died from practicing Falun Gong, even though he died of a brain tumor that he was born with. The authorities also collected another 1,400 such cases around the country to demonize Falun Gong and justify the persecution.
Ms. Ma was sentenced to eight years in Jilin Province Women's Prison in October 2008. She was forced to sit on a small stool without moving from 5 a.m. To midnight. Her buttocks festered and bled. She wasn't allowed to talk to anyone. The inmates beat and verbally abused her when she moved. She had to ask for permission when she needed to use the restroom.
At night, she was forced to sleep on the mattress box without any bedding, comforter or pillow. The guards also forced her to watch propaganda materials slandering Falun Gong and ordered her to write thought reports. She developed severe health problems and was released on medical parole on December 31, 2011.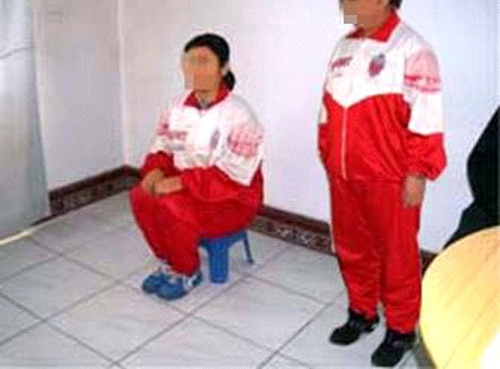 Torture re-enactment: Sitting on a small stool
Ms. Ma was arrested again on October 25, 2016 and sentenced to two years by the Luyuan District Court on July 13, 2017.
All articles, graphics, and content published on Minghui.org are copyrighted. Non-commercial reproduction is allowed but requires attribution with the article title and a link to the original article.