Man Arrested Twice in One Year for His Faith in Falun Gong
(Minghui.org) Mr. Gao Guoyuan, a Falun Gong practitioner in Zunyi City, Guizhou Province, was arrested in June 2021 and has been detained incommunicado since. This is the second time this year that he has been arrested.
After Mr. Gao, 49, began to practice Falun Gong, he has been following the principles of Truthfulness-Compassion-Forbearance to be a better person, and has greatly benefited both physically and mentally. After the Chinese Communist Party (CCP) began to persecute Falun Gong on July 20, 1999, Mr. Gao was arrested, detained, and persecuted in labor camps, detention centers, and brainwashing centers multiple times for upholding his faith.
Forced to Eat Excrement and Drink Urine During Three-year Labor Camp Term
Mr. Gao was arrested in 2001 and taken to the Zhongba Forced Labor Camp in Guizhou Province to serve a three-year term.
Guards Zhen Wei and Yun Changchun instigated drug addicts Guo Lin and Ren Hongjiang to beat Mr. Gao in mid-May 2004. After he fainted, they poured cold water on him to wake him up. Mr. Gao's entire body was bruised. He could not walk for several months, and he also suffered a mental collapse. The drug offenders forced him to eat excrement and drink urine.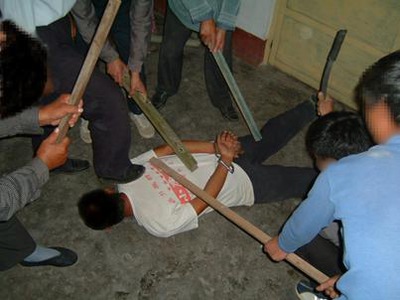 Torture Re-enactment: Beating
Second Labor Camp Term
Mr. Gao and his wife moved to Guangdong Province to make a living after he was released. He was arrested again in Dongguan City on August 30, 2007 and detained at the Dongguan Detention Center. His wife had to leave their 7-year-old child at home when she frequented the police station and detention center, while carrying her one-month-old newborn, to seek his release.
After one month of persistent efforts, she was finally allowed to see her husband on September 30. Mr. Gao had become extremely thin. He was handcuffed, his hands were wounded and bandaged with gauze, and he was pale. He told her that he was forced to do unpaid labor for more than ten hours every day, but he was not allowed to eat a regular meal, and was compelled to eat the leftovers of others.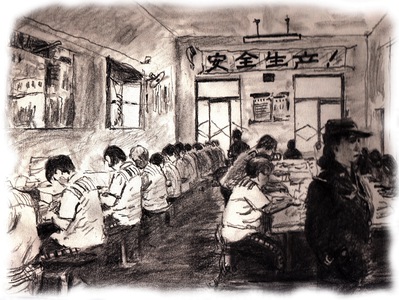 Illustration: Forced labor in the prison
Mr. Gao was given a second forced labor camp term of 18 months, and was taken to the "specially managed" team in the Sanshui Forced Labor Camp of Guangdong Province on November 16, 2007. He was beaten, shackled, and shocked by electric batons. The guards also deprived him of sleep. He was released on January 24, 2009.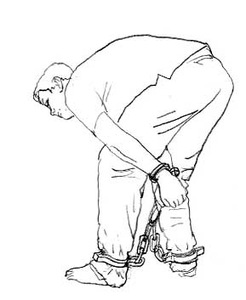 Torture illustration: Hands and feet chained together
While Mr. Gao was serving time, his sister Ms. Gao Qiying, who had a disability and took up Falun Gong in 2000, was arrested on June 12, 2008. She was later sentenced to three years in the Yanai Prison in Guizhou. She died from the torture on February 11, 2010. She was 40 years old.
Persecuted in Lannigou Brainwashing Center in Guiyang
Mr. Gao's wife later moved back to Longkeng Town in Guizhou Province with their children. When Mr. Gao returned home to visit them in October 2010, he was deceived by the local neighborhood committee into going to their office, with the excuse of needing to fill out paperwork for a low income subsidy for his late sister's child. He was arrested as soon as he arrived at the neighborhood committee, then taken to the Lannigou Brainwashing Center in Guiyang, where he was held for three months.
On January 13, 2011, after Mr. Gao was released from the brainwashing class, he was ordered to call the Longkeng Police Station and the community director regularly to report his whereabouts.
Persecuted in Niushan Detention Center in Dongguan City
Mr. Gao's wife owned a small photo studio in Longkeng Town to make ends meet. The local police station and the neighborhood committee harassed and monitored her frequently, and often inquired about Mr. Gao's situation.
Dozens of armed police and plainclothes officers suddenly broke in and ransacked the studio in November 2011. They took away three computers used to do business. The wife went to the police station and demanded the of return the computers. The police said that the computers were missing and refused to return them. The police also tied her tightly to a tiger bench torture device until midnight. Her father died of grief and anger at home that day.
Mr. Gao was arrested again in Dongguan on June 4, 2012. He was taken to the Niushan Detention Center the next day. He became emaciated after more than a month of torture.
All articles, graphics, and content published on Minghui.org are copyrighted. Non-commercial reproduction is allowed but requires attribution with the article title and a link to the original article.