Taiwan: Practitioners in Taipei Wish Falun Gong Founder a Happy Chinese New Year
Jan. 31, 2021 | By Minghui correspondents in Taipei
(Minghui.org) On the occasion of the coming Lunar New Year, Falun Gong practitioners in Taipei gathered on January 24, 2021 to express their gratitude to the founder of Falun Gong, Master Li Hongzhi, and wish him a happy new year.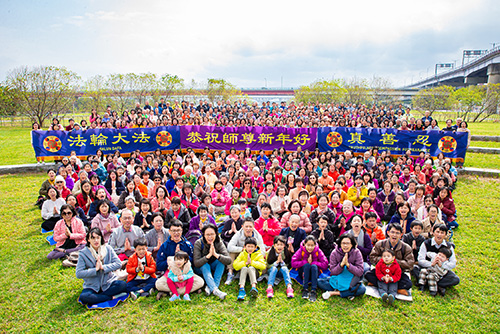 Practitioners celebrate the coming Lunar New Year and wish esteemed Master Li a happy new year.
Falun Dafa Changed My Life
Huang Qiyu, manager of the R&D department in an IT company credits Falun Dafa (also called Falun Gong) for changing his life. From a young age, he excelled in his studies, but was unable to sit for long due to a sports injury. While studying for a PhD in electrical engineering at the National Taiwan University, a classmate told him about Falun Gong. He later came across  Falun Gong, an introductory book on the practice, at a book store and decided to buy it.
He used to search for the truth about the universe and meaning of life, but could not find answers in religions or science. He was deeply moved by the profound teachings in the book. "This is what I have been searching for and I finally found it," he exclaimed.
He had a hot temper in the past. He said, "If I didn't practice cultivation, it is likely that I would've gotten caught up in earning money and reputation, competing with others for personal gain." 
He recovered from his sports injury as a result of the practice. He also recovered from 2-300 degree short sightedness and astigmatism. 
He is very grateful to Master Li and takes the opportunity to wish him a happy New Year.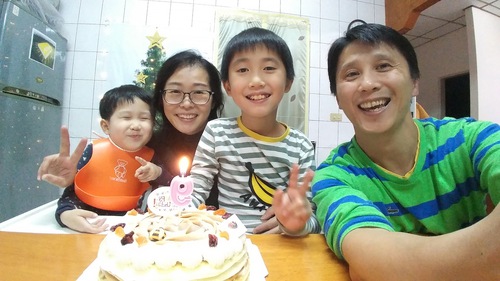 Huang Qiyu and his family of four practice Falun Gong. They are blessed and get along well.
Cultivating Truthfulness and Forbearance
Artist Lei Xiaozhen, known for using exquisite wool felting craftsmanship to produce realistic food, had gradually lost herself after gaining fame. Last year, after the CCP virus broke out, her sales dropped 90%. After reading  Zhuan Falun diligently, she discovered her inflated attachment to fame and gain as well as egotism. She said: "I became increasingly attached to fame after my work was widely reported in the media. I stopped caring about how my customers feel and did not sincerely serve every customer. I did not pay much attention to the quality of my products, either."
As she reconsidered the meaning of cultivation and put into practice the principles of Truthfulness, Compassion, and Forbearance, everything slowly moved in a positive direction. "I put my heart into building my brand and spent a lot of time organizing my products, packaging, product description and website. I felt calm and relax. Indeed, practicing cultivation opened my wisdom," she said. Although the pandemic led to a drop in sales, she unexpectedly found another line of business: DIY classes on wool felt crafts. She reminded herself to be peaceful and show how wonderful Falun Dafa is with a steady mindset, because that is a part of cultivation.
Grateful Practitioner
Retired teacher Cai Shouren used to think money was the only means to happiness until he found Falun Dafa. The practice helped him return to the origin of life and he is extremely grateful to Master Li for imparting such a precious way.
He said, "Master teaches us to assimilate to Truthfulness, Compassion, Forbearance in our everyday life. This has helped me tremendously. In cultivating truthfulness, I feel that I am able to truly express myself instead of covering things up. When I cultivate compassion, I learn to forgive and be tolerant of others."
Trustworthy, Kind, and Selfless 
Jiang Jimei who works as a packaging designer said that 20 years ago, she got acquainted with a business partner who was especially trustworthy, kind, and selfless. 
She said, "There are all kinds of beliefs in Taiwan, but I saw how wonderful Falun Dafa is and the demeanor of a practitioner through my business partner. I began to take up the practice, too." Her health improved and her understanding of the teachings became deeper. 
"In the beginning, I thought Dafa was teaching us to be good people in society. However, as I kept practicing, I realized cultivation was a way to help us return to our origin in heaven. Therefore, I follow the principles of Truthfulness, Compassion, and Forbearance, and look within when conflicts arise. I've learned to be more considerate and follow the standards required by Dafa in every problem I encounter." 
Wang Quanlong, who is an interior designer, said that from a young age he would often catch colds. Soon after he started to practice Falun Gong, he became stronger and was no longer easily chilled. 
He shared a cultivation experience saying: "I try to put Master's teachings into practice bit by bit, learning to be considerate, willing to accept losses and take hardships in stride. Although it is hard, my family members began to change after I changed my habits." He and his wife used to despise each other. Since he became more tolerant and kind, their relationship improved. 
Wang sends New Year's greetings to Master Li every year and hopes to practice cultivation more diligently in the new year. 
Finding Meaning in Life
Chen Biqin who works in the media industry said she had been searching for her purpose in life. She tried many different religions but felt they were not what she was looking for. The book  Zhuan Falun answered all her questions. Since then she has no longer felt lost.
She said, "I found my goal in life through practicing Falun Dafa. No matter how the environment around me changes, I am no longer scared. I know many people will have worries and troubles, but my heart is always calm and steady." She sends New Year's greetings Master Li every year to express her gratitude.
Li Shujuan, a supervisor in a primary school, feels very fortunate to have found Dafa. As the oldest child in her family, she used to be domineering and wanted others to follow her suggestions. She was bossy and a perfectionist, so her co-workers didn't want to work with her. "I used to think I was always right. Now I am able to let go of the attachment that things must go my way. Many volunteers at school who have known me for many years say I have become a very considerate person," she said.
She feels she has made spiritual progress. "When you are stuck in your own mindset, you make others uncomfortable. I regard everything with greater wisdom and try to resolve them. My transformation is all thanks to Master." She hopes people will give Falun Gong a try because it is a virtuous practice that helps one embrace the true purpose of life.