"This Is Genocide!"—Finnish People Condemn CCP's Persecution of Falun Gong
Jan. 24, 2021 | By a Falun Dafa practitioner in Finland
(Minghui.org) "Our organs cannot be harvested. This is too terrible. Such as thing should not happen!" said Niina, a local resident, as she passed by an information booth with her daughter. She was upset to learn how the Chinese Communist Party (CCP) removes organs from living Falun Dafa practitioners and she signed the petition to end the persecution. 
Despite the harsh winter weather of -18°C, Falun Dafa practitioners in Finland held activities to raise awareness in Kamppi, a local shopping district on January 16, 2021.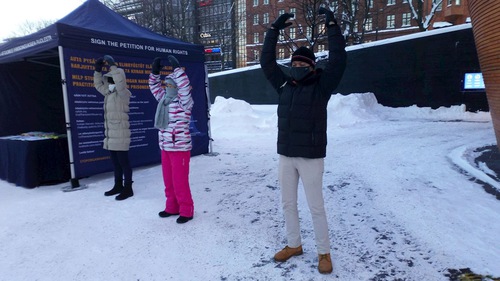 Practitioners demonstrate the Falun Dafa exercises in Kampii on January 16, 2021.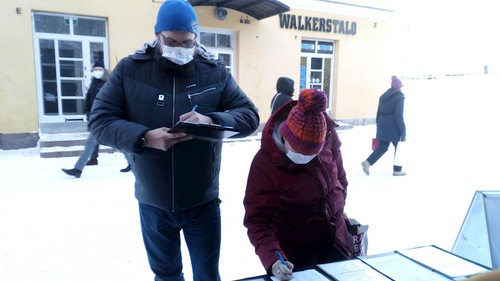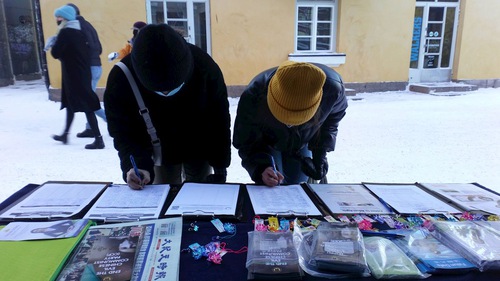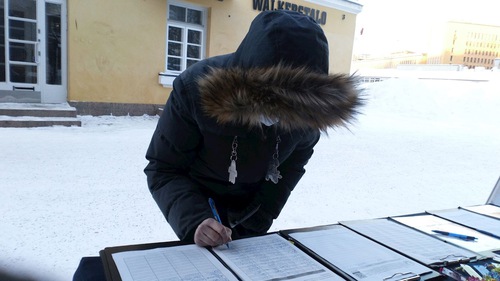 Local residents sign the petition to end the persecution of Falun Dafa.
"This Is Genocide!"
Renis, an architect from Latvia, said that Falun Dafa, "is a meditation exercise that raises and uplifts one's moral standards. People benefit from practicing the exercises. They are a group of good people."
Referring to the persecution Renis said, "This is genocide! Falun Dafa practitioners did not do anything wrong. The CCP is afraid of people having different ideas." He explained why he decided to sign the petition. "The CCP is a terrible organization. I am Latvian and so I once lived under a Communist regime. I know about the history of communism. They have done many awful things."
Nhe, an architect from Vietnam, said, "I've seen news reports about Falun Dafa. What the Chinese government has done in the past is wrong and the same is true about the people in Hong Kong. People have the right to choose political parties, to vote, and to choose who leads the government. The government cannot suppress people in such a brutal way and send them to labor re-education camps. We are living in the 21st century. We are human beings and have the right to choose how we live our lives."
Retired Lawyer: More Western Democratic Countries Should Take Action
Retired lawyer Andens said that he has practiced Tai Chi for ten years. He does not understand why the CCP regards Falun Dafa practitioners as a threat since they are just a group of people who wanted to improve their mental and physical health. He said the persecution was "unbelievable" and that "the CCP refuses to let people think for themselves."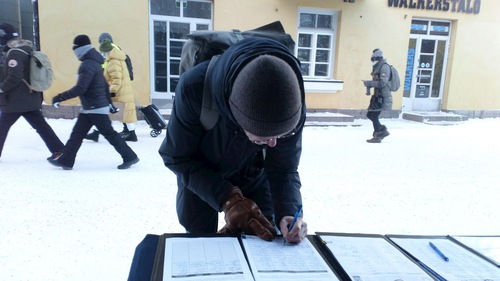 Andens hopes more western democratic countries will take action.
Referring to the live organ harvesting of Falun Dafa practitioners, Andens said, "This is sickening and terrible. I've seen some reports on it in Finland and in Sweden." He sighed deeply and said, "We do not have enough information. The media outlets are not reporting enough!"
Andens hopes more western democratic countries will take action. "Opposing the CCP's persecution and policies is very important to Western democracies. The CCP suppresses human rights and freedom and is forcibly harvesting people's organs. This is absolutely unacceptable and absolutely against the law."
"The people in Finland and Sweden should take more initiative. However, due to the trade and economic interests they have with China, they ignore human rights issues." Mr. Andes said that he has always supported human rights activities and has participated in Amnesty International. 
After Andens left the information booth, he came back again and gave his contact number to practitioners and said he'd like to do more for Falun Dafa.
"The Government Should Do More at a National Level"
Eric said he learned about Falun Dafa while surfing the internet and occasionally saw information on the news. He said, "In Finland, we have freedom of speech and the right to chose and decide for ourselves. The CCP is doing the opposite. Even though the living standards of the Chinese people have improved, the direction is still wrong. Chinese people should have more freedom."
He knew about the CCP's live organ harvesting and said, "This is very disturbing behavior. It should not be allowed" When he learned the persecution has gone on for 21 years he said, "This is such a pity. Many minority groups, including Falun Dafa practitioners, are still being persecuted. It is truly unbelievable to see how Western societies are oblivious to everything. The government should do more at a national level." Eric hopes that the media will have more coverage on what is happening.
"Forced Organ Harvesting Is Horrible"
Viviane said, "Every person has their basic rights. We should not live in fear and we should have equal rights."
She said, "Forced live organ harvesting is horrible. No country should ever do such a thing. This is a violation of human rights and people's lives are in danger. I hope the Chinese people can enjoy democracy one day and live like normal people. The CCP is terrible! They do not let people voice their opinions."