Staged Self-Immolation Incident: A Lie of the Century
Jan. 23, 2021 | By Zhong Sheng
(Minghui.org) Of all the groups suppressed by the Chinese Communist Party (CCP) since it came to power in 1949, Falun Gong – a meditation group based on the principles of Truthfulness-Compassion-Forbearance – is the single largest. In July 1999, former CCP leader Jiang Zemin launched a nationwide campaign against Falun Gong, and the persecution remains unabated to this day.
Even after mobilizing the entire state apparatus to persecute innocent Falun Gong practitioners, Jiang and his followers failed to find any legitimate reasons to justify the persecution. The violence against innocent practitioners also gradually lost public support.
Given these facts, Jiang's regime staged the self-immolation innocent on January 23, 2001, on Chinese New Year's Eve, with five people setting themselves on fire at Tiananmen Square. The self-immolators were quickly labeled Falun Gong practitioners by Jiang and his followers. This incident was aimed to instill fear of and hatred towards Falun Gong in both government officials and ordinary citizens.
Twenty years have passed and numerous pieces of evidence has confirmed that this incident was a hoax set up by the CCP to frame Falun Gong, making some people deem the allegation that Falun Gong made people go astray and set themselves on fire "the Lie of the Century."
Lie of the Century
China Central Television (CCTV) and Xinhua News Agency, both mouthpieces of the CCP, claimed that several Falun Gong practitioners set themselves on fire at Tiananmen Square, but there many flaws throughout the incident.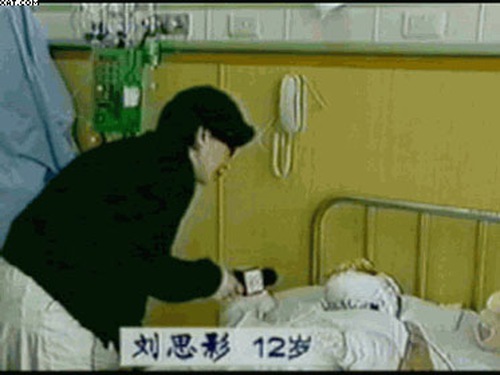 A reporter interviewing Liu Siying, who was said to have been severely burned
Liu Siying, 12, was reported to have been severely burned over large areas of her body. If that was true, strict controls would have been put in place to avoid infection. As the picture above shows, however, Liu was interviewed by a CCTV reporter four days after a surgery in which her trachea was cut open.
Not only that, the CCTV reporter was not wearing isolating clothes, a mask, or a headcover while interviewing Liu with a microphone. This contradicts medical common sense.
Remaining Calm In Burning Gasoline?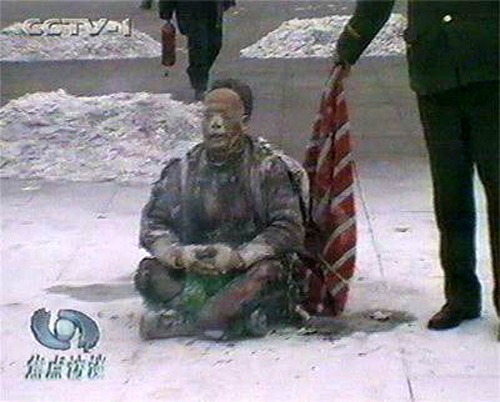 Wang Jindong, another alleged victim of the incident. His entire body was turned black, but his Sprite bottle of gasoline was still intact.
Scientists say that when gasoline is on fire, the temperature can reach as high as about 500º C. Even if one put his hand in 100º C boiling water, he would immediately retreat his hand due to the unbearable heat. In the video played by CCTV and Xinhua, however, Wang was very calm and did not seem to be bothered by the Sprite bottle filled with gasoline between his legs.
Some people said that even a little bit of hot oil spilled on the arm during cooking would result in pain that could make one jump. If the self-immolation were real, Wang would have a strong, instinctive reaction due to the high temperature, rather than sitting there still.
Another inconsistency was that Wang's clothing seemed to be ragged due to "burning," but the Sprite bottle between his legs (pictured above) seemed fine, as was his hair – something highly inflammable.
According to data, had a plastic bottle containing gasoline been burning, it would soften in 5 seconds, deform in 7 seconds, and shrink into a ball in 10 seconds. Again, the fact that Wang's Sprite bottle remained intact contradicts science.
Footage from Reshooting
The flaw of Wang Jindong was so obvious that CCTV reporter Li Yuqiang admitted it was not real.
In early 2002, Li went to Hebei Province Law Education Center, a brainwashing facility, to have a "talk" with detained Falun Gong practitioners. When a practitioner questioned why Wang's plastic Sprite bottle was not on fire under the high temperature, Li did not know how to respond. "The bottle was added at a later time for reshooting," she said, "If we knew we'd be caught faking self-immolation, we would not have put that bottle there."
Another loophole came from the video quality. Although the incident was an emergency, the video camera seemed to be gliding horizontally and Wang Jindong's slogan claiming he was a Falun Gong practitioner was loud and clear. Although Chinese authorities claimed that footage was from a surveillance camera, it is known that the surveillance cameras in 2001 did not have a voice recording function or tracing capability. Apparently, a professional crew was in place to obtain stable and clear video that followed the incident with a long shot, medium shot, and close up views.
Revealing the Truth
At a United Nations conference on August 14, 2001, the International Educational Development (IED) criticized the CCP for the staged self-immolation incident, referring to it as a state-terrorism. Based on video analysis, IED believed the incident was plotted by the Chinese government to frame Falun Gong. The Chinese delegates were unable to refute the strong evidence, and this statement was archived in UN documents.
The Washington Post published an article on February 4, 2001, on its front page by Philip Pan titled "Human Fire Ignites Chinese Mystery – Motive for Public Burning Intensifies Fight Over Falun Gong." Pan went to the hometown of Liu Chunling, one of the alleged victims in the incident, and her neighbors said they had never seen her practicing Falun Gong.
False Fire: China's Tragic New Standard in State Deception, a documentary produced by NTDTV, analyzed the loopholes of the incident in detail. In November 2003, the film won a Certificate of Honorable Mention at the 51st Columbus International Film & Video Festival. The award ceremony was held in the Kansas Center, at Columbus Arts College, Columbus, Ohio.
Nonetheless, Jiang's regime and the CCP continued to poison people with lies about the incident, which was written into textbooks to harm students and was often included in major news media and magazines to mislead the public. Furthermore, Falun Gong practitioners' efforts to clarify the facts to the public was severely suppressed. After practitioners in Changchun City, Jilin Province intercepted the cable television network to broadcast videos about the truth of the staged self-immolation incident, about 5,000 practitioners were arrested in the city. Several of these practitioners, including Mr. Liu Chengjun, died due to torture during detention.
Holding Perpetrators Accountable
After the self-immolation incident and the spreading of other defamatory propaganda, the CCP ramped up its persecution against Falun Gong, which has resulted in hundreds of thousands of practitioners being imprisoned or sent to labor camps over the past 21 years. Over 4,000 practitioners have lost their lives to the persecution, and more than 800 have suffered abuse in psychiatric hospitals. The abuses also include sexual abuse and forced organ harvesting.
The persecution continues to this day. In 2019, police in Siping City, Jilin Province recklessly arrested practitioners, earning ten points for each arrested Falun Gong practitioner. In comparison, each officer earned only one point for every real criminal arrest. Such incentive policies instigated more officers to arrest innocent practitioners.
As practitioners inside and outside of China continue to expose the CCP's persecution of their faith, over 370 million Chinese have decided to quit the CCP and its junior organizations. Jiang himself also became the target of over 200,000 criminal complaints filed to the Chinese Supreme Court and Supreme Procuratorate. Jiang was also indicted in a Spanish court on allegations of genocide in Tibet.
According to data compiled by the Minghui.org website, Jiang is not the only perpetrator facing consequences for crimes against Falun Gong. During the past two decades, at least 10,000 perpetrators involved in the persecution of Falun Gong have received retribution in various forms. As the Chinese saying goes, good will be rewarded and evil will be punished. We urge those perpetrators to stop persecuting Falun Gong.
The international community has also begun to take action. In May 2019, Minghui published a notice explaining that the U.S. State Department had encouraged Falun Gong practitioners as well as other religious groups to submit lists of perpetrators to be subject to sanctions such as denial of visas. Dozens of countries around the globe have adopted or plan to implement the Magnitsky Act against human rights violators.
At the crossroads of history, we hope that more people will have a clear understanding of the CCP and say no to the regime, so that the world will remain a safe place for us and our future generations.
All articles, graphics, and content published on Minghui.org are copyrighted. Non-commercial reproduction is allowed but requires attribution with the article title and a link to the original article.
Category: Self-Immolation Hoax on Tiananmen Square