Father of Two Young Children Sentenced to Two Years for His Faith
Jan. 20, 2021 | By a Minghui correspondent in Hebei Province, China
(Minghui.org) A father of two was recently sentenced to two years for his faith in Falun Gong, a spiritual and meditation discipline that has been persecuted by the Chinese communist regime since 1999.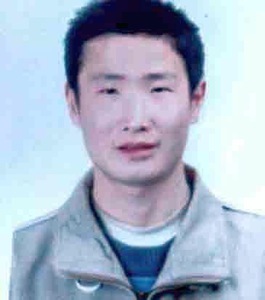 Mr. Gao Xiaoxiong
Mr. Gao Xiaoxiong, a native of Yi County, Hebei Province, was arrested on August 7, 2020, at his residence in Zuiyi City, Guizhou Province.
The Hebei police traveled 1,200 miles from Yi County to Zunyi to arrest Mr. Gao, after another practitioner, Gan Yuefeng, who was arrested earlier, was forced to report on him after being interrogated.
On November 27, after three months of detention, Mr. Gao was tried through a video hearing by the Zhuozhou Court at the Yi County Detention Center.
In recent years, both the Zhuozhou City Procuratorate and Zhuozhou City Court have been assigned to handle all Falun Gong cases in the ten counties in north Baoding City, which has jurisdiction over Yi County.
Mr. Gao's mother was allowed to attend half of the hearing, before being driven out by the judge midway with the excuse that she was a witness to the case. She said Mr. Gao appeared to be fearful and worried. She suspected that he had been threatened and intimidated before the hearing.
Mr. Gao's lawyer entered a not guilty plea for him. He argued that no law criminalizes Falun Gong in China and his making Falun Gong informational materials to raise awareness about the persecution didn't harm anyone either, let alone "undermine law enforcement," as claimed by the prosecutor in the indictment against him.
Mr. Gao also testified in his own defense and denied any wrongdoing.
In early December, Mr. Gao's parents were informed by the court that their son has been sentenced to two years in prison with a 10,000 yuan fine.
Mr. Gao's father, 69, and mother, 54, said his sentencing and fine dealt a heavy blow to them. Mr. Gao's own children are only 3 and 7 years old and they are currently living with their mother in Zunyi. The entire family, including Mr. Gao's parents, who didn't have stable incomes, has been relying on him as the sole breadwinner. Now they are left in a dire situation to make ends meet.
Prior to Mr. Gao's latest persecution, he and his wife were arrested at their home in Zunyi at around 11 p.m. on September 8, 2019. His laptop, printer and a cellphone were confiscated. While his wife was soon released, Mr. Gao was held at the Zunyi City No.2 Detention Center for a few days before being allowed to go home.
Related report in Chinese: