Massachusetts: Falun Dafa Practitioners in Boston Wish Revered Master Happy New Year
Jan. 2, 2021 | By a Minghui correspondent in Boston, USA
(Minghui.org) Falun Dafa practitioners in Boston gathered at group practice and Fa-study sites with the year 2021 around the corner. They wished Master Li, the founder of Falun Dafa, a happy new year and expressed their heartfelt gratitude to Master for all that he has done for them. They also put up Falun Dafa information booths in local parks to introduce the beauty of Dafa to local residents and inform them about the ongoing persecution of Falun Dafa in China.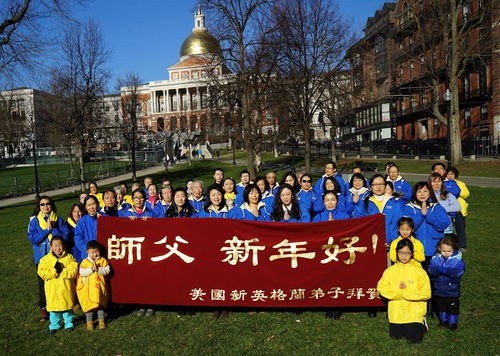 Falun Dafa practitioners wish Master Li a happy new year at Boston Common.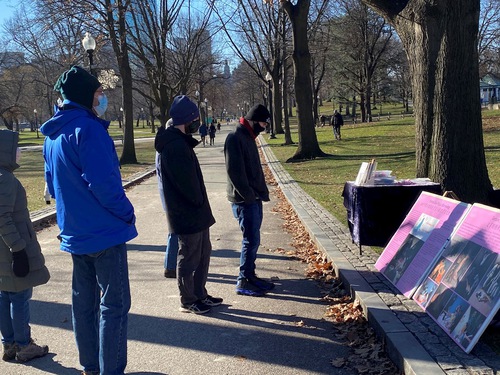 Local residents read about the persecution of Falun Dafa in China.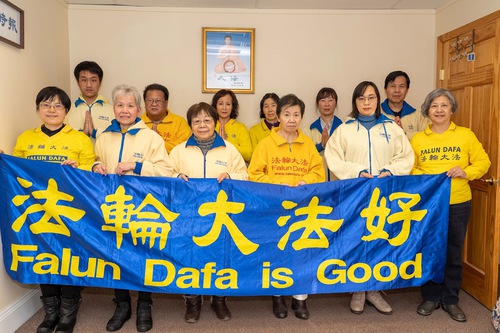 Falun Dafa practitioners wish Master a happy new year in Cambridge, Massachusetts.
Returning to Dafa After 10 Years
Jacob first encountered Dafa 10 years ago when he was attending Massachusetts Institute of Technology. When life took a toll on him, Jacob decided to search online for Falun Dafa practitioners in Massachusetts.
He was able to get in touch with a practitioner and had the opportunity to attend a nine-day lecture session online. He understood that Falun Dafa is a spiritual practice that is rooted in Buddhist traditions and cultivates both the mind and the body. He was determined to cultivate and has benefitted a lot from practicing. "I've finally found the way home," he said.
One Flyer Benefits Three Families
Adel and her husband Diego both live in Massachusetts. When they traveled to the Museum of London in 2018 with Diego's sister Julia, they received a flyer about Falun Dafa. The information about the persecution and the state-sanctioned live organ harvesting from practitioners in China left a deep impression on them.
Julia returned to Argentina and started practicing Dafa in January 2019. Not long after, Adel and Diego also started to cultivate Falun Dafa.
Adel and Diego's three-year-old son Andriana appears to have a predestined relationship with Dafa. When he first opened the Chinese version of the book Zhuan Falun, he could see words jumping out. At times when Adel was slacking off, Andriana would remind his mother, "Go do Falun Dafa." Though he does not read yet, Andriana follows his parents to the Fa-study group and is very polite. He would often say "thank you" and "good night" in Chinese to people before leaving.
After reading Zhuan Falun, Diego understood the breadth and profundity of the principles Truthfulness-Compassion-Forbearance and enlightened to the mysteries of life in the universe. When he meets with setbacks, he now abides by the principles of Truthfulness-Compassion-Forbearance, treats people more calmly, and solves problems proactively.
When Adel practices the fifth exercise, the sitting meditation, she often sees colorful scenes. She shared her cultivation experiences with her parents in Russia. This year, her parents also started to practice Dafa.
Adel's parents, Julia, Adel, and Diego study the Fa and practice the exercises online every Saturday. They encourage each other to be more diligent in cultivation.
Falun Dafa practitioners in Boston are very grateful to Master for his salvation and will continue to do well in cultivation and not let Master down!