Italy: Falun Gong Practitioners Call for End to Persecution During Visit by Chinese Foreign Minister
Sept. 3, 2020 | By a Falun Gong practitioner in Italy
(Minghui.org) When Chinese foreign minister Wang Yi visited Italy on August 25 on his five-country European tour, Falun Gong practitioners asked Italian Foreign Minister Luigi Di Maio to urge the Chinese Communist Party (CCP) to stop the persecution and state-sanctioned forced organ harvesting from practitioners in China.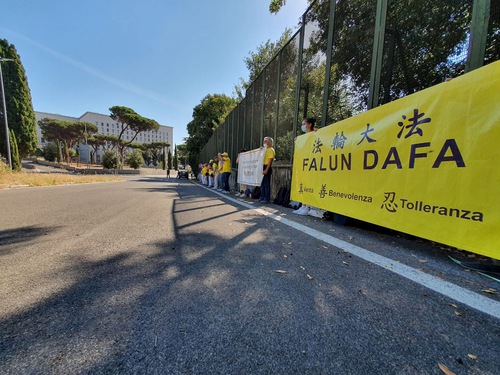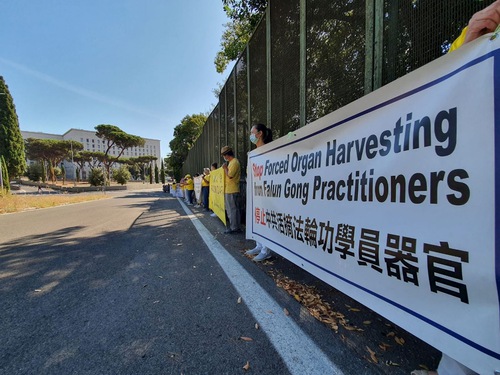 Falun Gong practitioners protest the CCP's persecution of their faith during the visit of Chinese foreign minister Wang Yi.
Falun Gong practitioners held banners along the route from the Ministry of Foreign Affairs to Villa Madama, the meeting location. They wished to deliver their message to the officials in the meeting. Reporters paused to learn about the peaceful protest, and some passing drivers slowed down to read the banners, take photos, and give the practitioners thumbs-up.
The Falun Dafa Association of Italy wrote to Foreign Minister Di Maio and the Prime Minister to urge the Italian government to take substantive actions to help stop the brutal persecution in China.
The letter stated, "A few weeks ago in marking the 21st anniversary of the CCP's persecution, over 600 elected officials, including members of the Italian Parliament, signed a joint statement to urge the CCP to stop the genocidal persecution. The Inter-Parliamentary Alliance on China (IPAC) issued a statement urging the end of the persecution of Falun Gong."
The letter also mentioned the judgment by the independent China Tribunal, which found that Falun Gong practitioners are the main victims of the CCP's forced organ harvesting, a crime against humanity.
"As evidenced by the global spread of the COVID-19 coronavirus, the world lacks a mechanism to stop the CCP's crimes. The Chinese and Westerners are all victims. David Matas, a human rights lawyer investigating the CCP's organ harvesting from living Falun Gong practitioners in China, said, 'If the rest of the world had been more aggressive in combating all this misrepresentation and cover-up and denial and counter factual narrative in dealing with organ transplant abuse; if the global system had insisted on transparency and accountability in dealing with organ transplant abuse; and if China had [faced] global pressure for transparency and accountability in its health system in dealing with organ transplant abuse, we wouldn't have this coronavirus now. And we are suffering the consequences now of turning a blind eye to organ transplant abuse.'"