People in Stockholm: Exposing the Truth Is Critical
Aug. 8, 2020 | By He Ping, Minghui correspondent in Stockholm, Sweden
(Minghui.org) Falun Gong practitioners held activities at Mynttorget next to Riksdag in Stockholm, Sweden, on July 28, 2020, to expose the Chinese Communist Party's (CCP) persecution of Falun Gong. Their activities received great public support.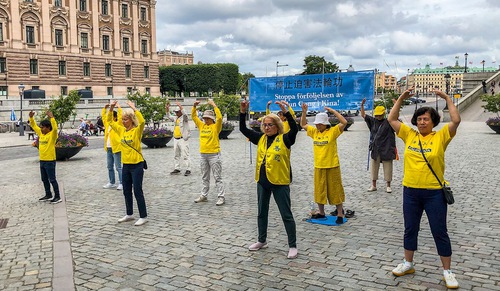 Falun Gong practitioners demonstrate exercises at Mynttorget in Stockholm.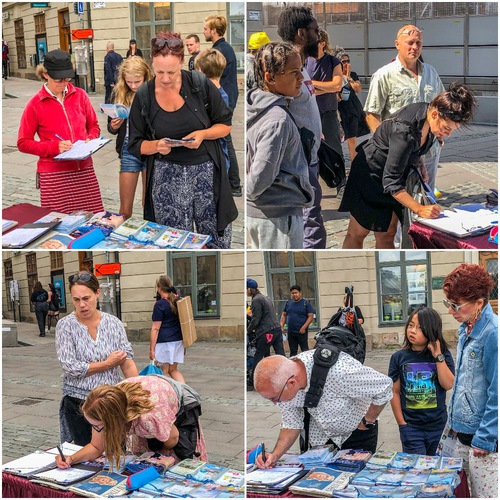 Signature collection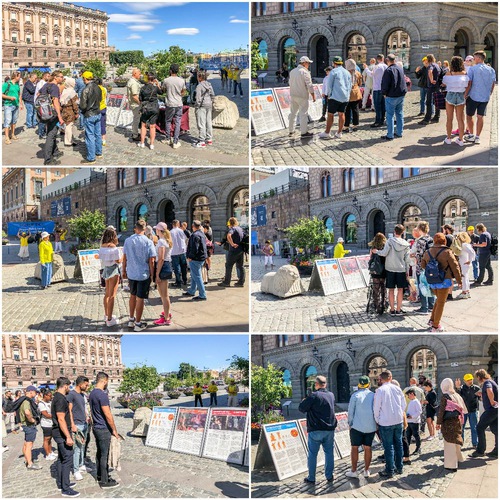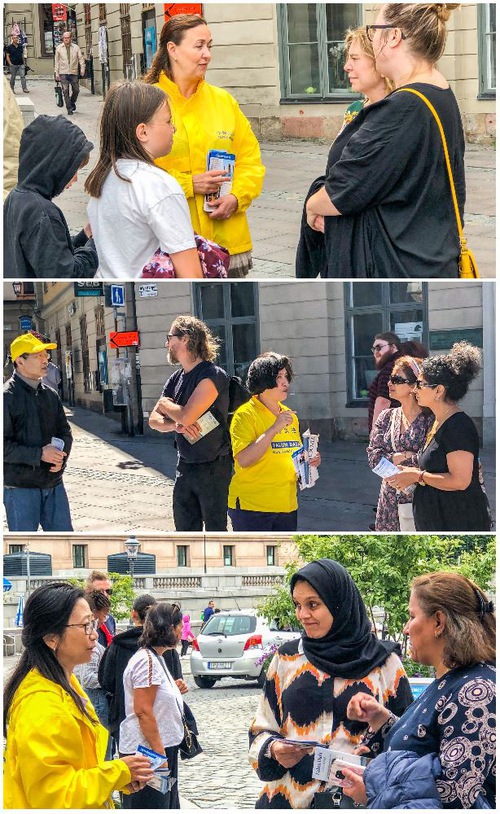 People in Stockholm find information about Falun Gong
Many people signed a petition calling to end the persecution. A woman read the practitioners' display boards and then talked with a practitioner.
"Twenty-one years!" she said, "The persecution has lasted incredibly long. The totalitarian government has used despicable means, like fabricating lies and covering up crimes. Its appalling atrocities are completely unacceptable!"
The woman said that she works in a hospital department which treats coronavirus patients. She was angered by the CCP's cover-up of the pandemic outbreak, which has harmed so many people all over the world. She and her husband signed the petition to support Falun Gong's work of bringing the persecution to an end. She told a practitioner, "Thank you for being here! It's so critical for us to know all of this!"
A man told a practitioner that he believed all these facts and supported Falun Gong, but he didn't think signature collection would work because the Swedish government had put economic interests over human rights.
The practitioner said, "If we don't tell people the facts and people don't show concern, the CCP would trample on human rights even more arbitrarily. About 30 Swedish politicians have signed a joint statement condemning the unprecedented persecution. MP Ann-Sofie Alm has stressed that we needed to unite to end the persecution. More and more people will join the forces calling for justice."
A young woman joined the conversation and said the practitioner was right. She signed the petition and hoped that more politicians would step up. "We can't give up on morality and ethics for the sake of economic interests," she said.