San Francisco Bay Area: Car Tour Raises Awareness of the Persecution
Aug. 25, 2020 | By Minghui correspondent Wang Ying
(Minghui.org) Falun Gong practitioners in the San Francisco Bay Area participated in a car tour on Sunday, August 16, 2020, to remind people about the menace posed by the Chinese Communist Party. The car tour passed through popular shopping districts and Chinatowns in Oakland, Emeryville, and Berkeley California.
Practitioners installed banner boards on top of their cars in the morning, printed with phrases that read, "Stay Away from the Chinese Communist Party (CCP), Stay Away from the Coronavirus Pandemic," "Heaven Disintegrates the CCP," and "Stop the Persecution of Falun Gong." Their procession garnered a lot of interest from local people.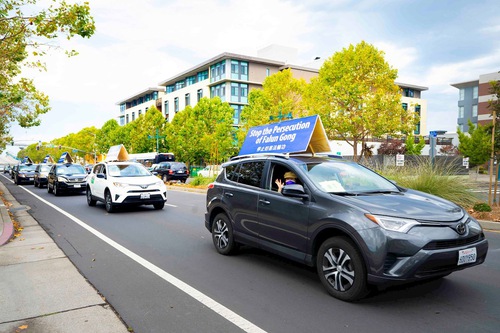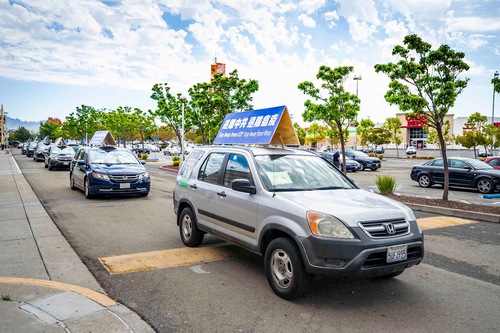 The car tour passes by a shopping center.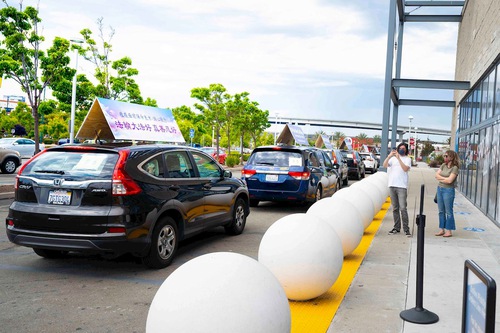 Customers in a shopping center take photos.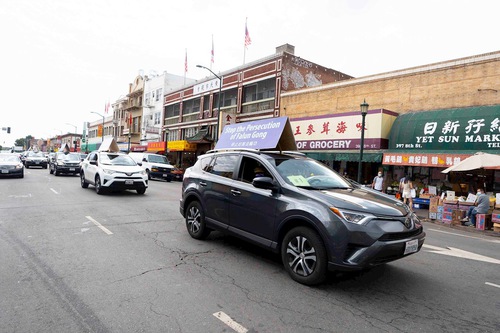 The car tour passes through Chinatown in Oakland.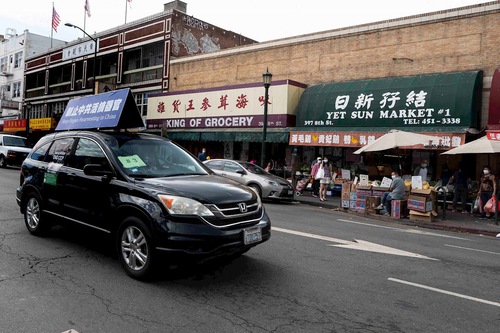 The procession attracts people's attention.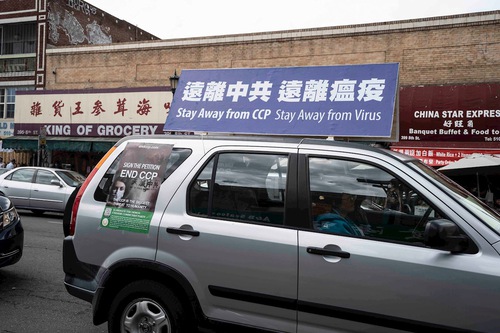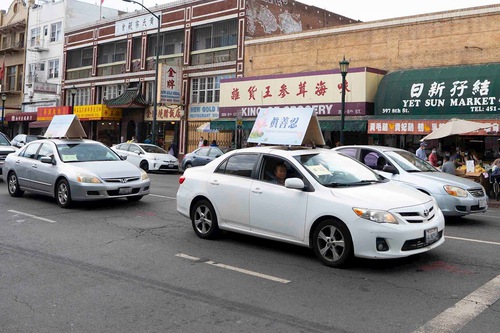 The car tour passes through Chinatown in Oakland.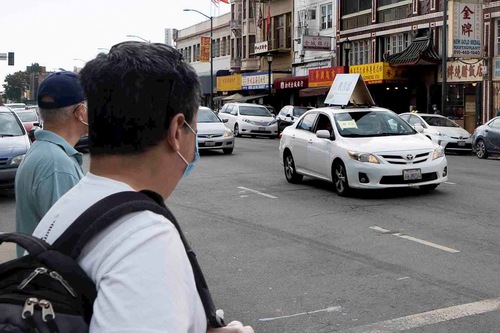 Onlookers in Chinatown
Shoppers in Chinatown read the posters about Falun Gong
Thank You for the Car Tour
Shortly after the banners were installed on top of the cars, a man named Victor ran over and gave practitioners two thumbs up. "I saw your banners from the shop across the street," he said. "You are amazing. Thank you for holding the car tour. No one is doing what you do now."
"The CCP is a demon. But many do not know this," he said. He also said that the CCP's cover-up of and disinformation about the coronavirus epidemic led to the loss of many lives.
"I came to tell you thank you. Thank you for your courage to tell us this information," he said.
Victor pointed at the banner that said, "Stop the CCP's Live Organ Harvesting" and said, "No one is talking about the CCP's crimes of live organ harvesting,"
He said people were silent about China's organ harvesting and that everyone should look at this carefully.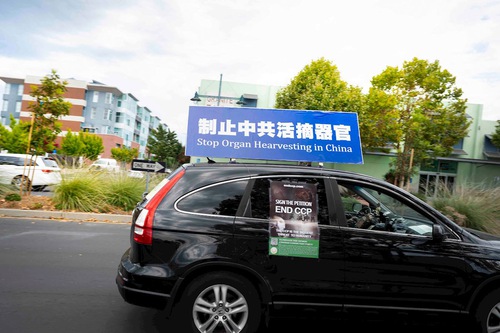 "I know that the CCP has persecuted Falun Gong for a long time," he said. He pointed out that the CCP's live organ harvesting was against humanity. He thought it was a demonic act. He called on people to wake up and be aware of the persecution. He said he supports traditional values and wishes more people would join the efforts to raise awareness about what is happening in China.
Shopping Center Security Guard Thanks a Practitioner
Phillip, a security guard at a shopping center, walked over to see what the practitioners were doing. After learning about the car tour to raise awareness of the persecution in China, he said, "Thank you for letting everyone know this."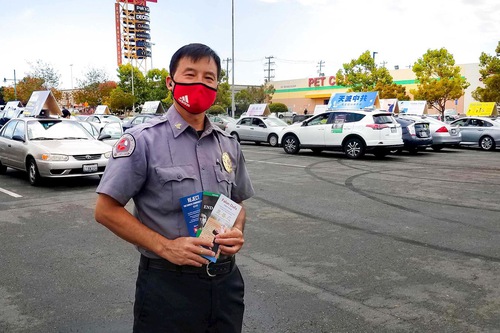 Phillip, a security guard
He said he knew about the CCP's persecution of Falun Gong and that it had led to many deaths.
A man named Richard, who was out shopping, accepted a flier. He told practitioners that he believed in Truthfulness-Compassion-Forbearance and that he supported the car tour.
He said, "Live organ harvesting?" He was shocked. "This is horrible. I thought it was a conspiracy and a lie. Now I understand it is true."
He said he did not know why people still deal with the CCP. He believes that all relations with the Party should be cut.
Coordinator: People Have Thumbs Up for Us
About a dozen cars participated in the tour of three cities in the East Bay Area. Wendy, who coordinated the tour, said that practitioners hoped people would learn about Falun Gong and the CCP's persecution by seeing the tour.
Wendy said, "Today's tour was successful. Many drivers honked their horns. Some people in the windows of apartment buildings along the streets showed a thumbs-up for us. Some took photos of our tour. Someone in Oakland's Chinatown even wanted to donate to support Falun Gong. I told the person we don't take donations."
She said there were many, many touching moments, but not enough time to catch them all on camera. The cars drove slowly and she greeted passersby by waving her hands and handing them fliers. Many people accepted the fliers with pleasure.
New Practitioner: Falun Gong Teaches Me to be a Better Person
Brandon Baker, who has practiced Falun Gong for two months, participated in the car tour.
"I think Falun Gong is great," Baker said, "I especially like doing Falun Gong exercises in the morning. Falun Gong books teach me to be a better person."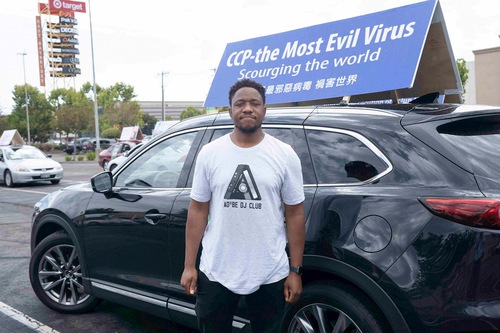 Brandon Baker
"I am more patient and worry less than before. I feel I can be more sincere in dealing with others."