Once Incarcerated Six Years, Retired Teacher Faces Prosecution for Her Faith Again
Aug. 24, 2020 | By a Minghui correspondent in Heilongjiang Province, China
(Minghui.org) A 70-year-old retired teacher is facing trial for her faith in Falun Gong. Also known as Falun Dafa, Falun Gong is an ancient spiritual and meditation discipline that has been persecuted by the Chinese communist regime since 1999.
Ms. Yan Xihua, of Shuangyashan City, Heilongjiang Province, was arrested in mid-March 2020 for distributing informational materials about Falun Gong. The Jianshan District Procuratorate approved her arrest on April 30. She was indicted and had her case forwarded to the Jianshan District Court in late July 2020.
Because Ms. Yan shouted "Falun Dafa is good" at Shuangyashan City Detention Center, she was beaten by the guards. She lost a significant amount of weight due to the abuse.
This isn't the first time that Ms. Yan has been persecuted for her faith. In the past two decades, she was arrested four other times and tortured in custody.
Tortured in the Shuangyashan City Detention Center
Ms. Yan was first arrested in July 2002 and detained at Shuangyashan City Detention Center for more than five months. As a result of the abuses there, she kept vomiting and had prolonged dizziness.
She lost consciousness one night, and the guards didn't provide her with any treatment. When the detention center doctor came the next day, he accused Ms. Yan of causing trouble for him and ordered four male inmates to force-feed her. Only after her cellmates explained her worrisome health condition did the doctor stop the force-feeding procedure.
Ms. Yan later started to do the Falun Gong exercises to improve her health, only to be beaten by the guards and forced to sit in a metal chair with shackles on her.
Three Years of Forced Labor
In January 2003, Ms. Yan was given three years at Jiamusi Forced Labor Camp. The guards once hung her up by her wrists for seven days after finding out that she had torn off slanderous slogans demonizing Falun Gong.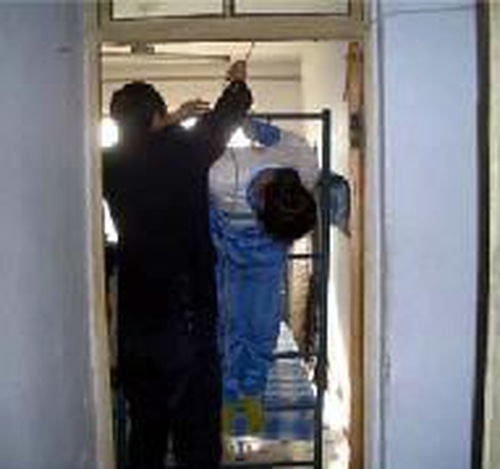 Torture reenactment: Being hung up
She was beaten on March 3, 2005, for resisting the persecution. The guards beat her back and buttocks with an electric baton. She had intensive pain and sever swelling around her tailbone.
Two More Arrests
Ms. Yan was arrested one more time on September 26, 2007. The police videotaped her home and confiscated her Falun Gong books. Her family was forced to sign a statement renouncing Falun Gong on her behalf before the police agreed to release her.
The police took Ms. Yan back into custody on October 15, 2007, and detained her for 15 days.
Three Years in Prison
Ms. Yan was arrested again on April 25, 2009, and later sentenced to three years in Harbin Women's Prison.
The guards often beat her and forced her to sit on a small stool without moving for long hours. Her legs became severely swollen as a result.
Related reports:
Ms. Qi Shuyan and Ms. Yan Xihua Arrested and Brutally Beaten in Heilongjiang Province
Police in Shuangyashan City, Heilongjiang Province Break Into Practitioners' Homes and Take Them Into Custody
As Two Physicians and a Teacher Finish Their Illegal Prison Terms, 610 Office Plots to Continue Persecuting Them