Bringing Falun Dafa to Hualien, Taiwan
(Part 1)
July 7, 2020 | By a Minghui correspondent in Taiwan
(Minghui.org) Mr. Zhang Putian from Guizhou Province, China, visited his sister in Hualien County, Taiwan, in late November 1995. He was already a Falun Dafa practitioner, and he brought along three bags of Falun Dafa books,video and audio recordings of Master Li's lectures, exercise music, and practitioners' experience sharing articles to Hualien. His trip marked the introduction of the ancient spiritual practice to Hualien, the largest county on Taiwan's east coast.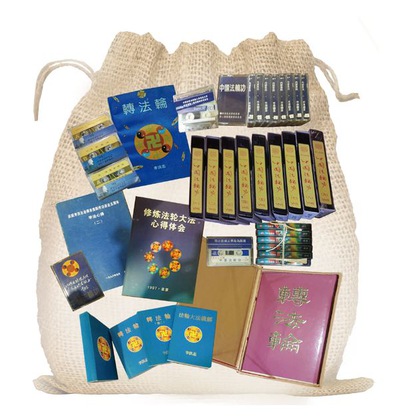 Mr. Zhang brought Falun Dafa books, video and audio recordings of Master Li's lectures, exercise music, and practitioners' experience sharing articles to Hualien in November 1995. (Photo courtesy Broad Press)
Trip to Hualien
Mr. Zhang Putian was somewhat worried when he headed to the airport in Guiyang. He wondered if he would be able to bring the Falun Dafa materials through customs. To his surprise when the inspector opened his bags, he said, "All clothes," and he passed without any problem. After changing planes in Hong Kong, he flew to the Taoyuan Airport in Taiwan and then took a bus to Hualien. It was a long trip for a man in his 70s – one he couldn't have imagined taking a year prior, due to his poor health.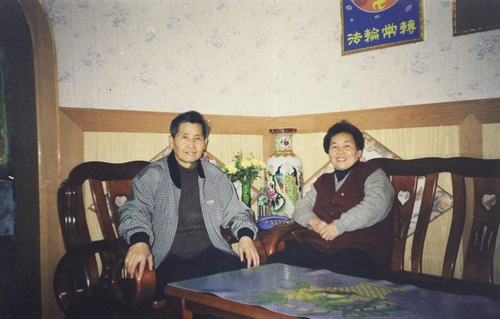 Mr. Zhang Putian and his wife at their home in Guizhou
Mr. Putian had had three surgeries on his brain, and had struggled to recover. His relatives in Taiwan recalled that he nearly died. They were happily surprised to see how healthy and strong he was when he finally arrived.
Mr. Putian told them that practicing Falun Dafa had helped him recover so quickly, and that his body now felt strong and light. His wife's health was also restored by practicing Falun Dafa. They wanted to share this great practice with their relatives in Taiwan.
Zhang Zhenyu, Putian's nephew in Taiwan, recalled what his uncle told them about an early Falun Dafa experience sharing conference held in Guizhou.
Practitioners quietly lined up early in the morning on the day of the conference. When the local police department heard about the event, they sent several officers to the site. When they arrived, they found everyone in line, quietly waiting for the doors to open. The police stepped aside. Between 5,000 and 6,000 practitioners entered the conference hall and seated themselves starting from the back rows. Several practitioners read what they'd written about their understandings and how they had applied Falun Dafa's principles in their lives. After the conference was over, they all left as quietly as they had come, leaving no trash behind. The officers were so touched by what they heard and so impressed by how orderly the attendees were that some of them started to practice Falun Dafa.
Mr. Putian and the other older practitioners overcame difficulties to tell people in remote areas about how wonderful Falun Dafa is. Traveling far from home, they sometimes had to spend the night outdoors. Their exercise site soon grew to several thousand people.
Zhenyu, his wife, and parents were touched by his uncle's stories. He said, "You could tell from what he said how Falun Dafa improved people's character and showed them how to be unselfish and considerate."
Zhenyu read Falun Dafa's main book Zhuan Falun in three nights. He said, "Master Li explained many complicated things in simple sentences, including the universe." He said it was because he trusted and respected his uncle that he initially began practicing. As he continued to read the teachings, he gained a better understanding of the principles and came to value Dafa more every day.
His wife Lu Liqing said that the Falun Dafa exercise movements seemed familiar the very first time she did them. She had never done anything like them before, because she didn't enjoy physical exercise. To her surprise, she even found the content of Zhuan Falun familiar the first time she read it. As she watched Master Li's lecture videos, when the Buddha statue appeared at the beginning, she remembered seeing it in a dream years before. She realized that she had a predestined relationship with Falun Dafa.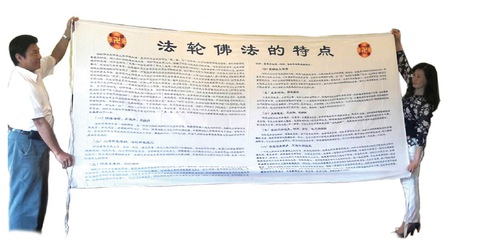 Zhenyu and his wife display a banner about Falun Dafa, which their uncle Putian brought from China. (Photo courtesy Broad Press)
Before Putian returned to China, Zhenyu's entire family, including his parents, child, sister, and brother-in-law, and his brother-in-law's family, 16 in all, had started to practice Falun Dafa. Putian made a Falun Dafa banner and had his photo taken with all of them in front of the banner. Falun Dafa had taken root in Hualien.
Facial Nerve Paralysis Gone
After his uncle left Taiwan, Zhenyu and his family practiced at home. The first person that Zhenyu introduced to the practice was Wu Wanying, who was his friend's sister and also a colleague. Wanying's son was diagnosed with cerebral paralysis when he was a baby. He couldn't walk and was blind. He could only hear and touch. Wanying devotedly cared for and loved him. However, carrying her son up and down the stairs had left her knees swollen and red. Her doctor told her that she would soon need knee replacement surgery. She had also been diagnosed with facial nerve paralysis, which made her face droop on the left.
Zhenyu told Wanying about Falun Dafa and offered to show her the exercises. "Yes! I have to live longer and be healthy, so that I can take care of my son," she said.
Zhenyu and Wanying did the exercises in their company's auditorium during lunch breaks. Three months later, Wanying suddenly realized that her knee problem had completely disappeared. One day, as she looked in a mirror she noticed that her once crooked face looked normal. She realized her facial paralysis was gone, too.
One day while Wanying was doing the second exercise, the Falun Standing Stance, she vaguely saw a tall man walk over and correct her posture. Wanying didn't know who the man was.
A few months later, she received a copy of Zhuan Falun. When she opened it and saw Master's picture, she was shocked to realize that it was Master who had corrected her exercise movements.
Another day when she meditated with just one leg up, she saw her body was like an hourglass filled with black sand. As the sand slowly leaked out, her body turned white and eventually became transparent. She was able to meditate with both legs crossed the next day.
Wanying couldn't explain the wonderful changes she experienced, but she made up her mind to cultivate herself according to Falun Dafa's principles.
Stories of Practitioners in Hualien
After exchanging cultivation experiences and understandings of the Fa with fellow practitioners, Zhenhu realized the importance of establishing a group exercise site in a public place and holding nine-day workshops. The first group exercise site was established in April 1998 at the Hualien County Cultural Center.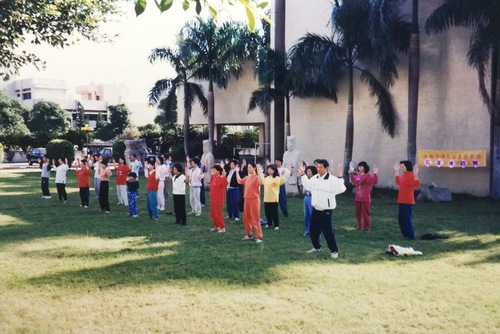 The first group exercise site was established in the Hualien County Cultural Center in April 1998. (Photo courtesy Zhang Zhenyu)
Ms. Zhang Lizhu and her husband Mr. Yang Kunmao came to the Hualien County Cultural Center and learned the exercises. Recalling those early days, Kunmao smiled and said that he endured a lot of pain to cross his legs while meditating. He couldn't believe his wife was able to cross both legs as soon as she started, while he had great difficulty crossing even one leg. When he practiced sitting with both legs crossed, the pain made him cry. However, he could feel his body being purified, so he persisted with his teeth clenched. Kunmao said he received a lot of encouragement from the other practitioners when they did the exercises together.
Zhang Shunhuang, a high school student, joined the group two days before his college entrance exam. He had great difficulty putting both legs up. While he meditated, he sweat and shivered but managed to meditate for an hour with the others. He practiced sitting with his legs crossed. After a year he was finally able to sit with one leg above the other. One morning, his happy voice broke the quiet as everyone meditated, "Yes! I can sit with both legs crossed!" Everyone was happy for him. Shunhuang took the national exam for the second time and was admitted to college.
A slender man joined the group one day. From that day on, he never missed the morning exercises, and, in fact, always came 20 minutes early to clean up the exercise site. No one knew who he was until the day they made a short film about Falun Dafa cultivators.
The man was the general manager of a marble company. He owned a mine and an electric power plant, but the power plant was destroyed in a hurricane and he lost 200 million Taiwanese dollars. However, he continued to come early to do the exercises every morning even during the disaster. "The power plant was destroyed in a landslide," he said. "If I didn't practice Falun Dafa and hadn't learned the true meaning of life, it would have been hard for me to get over that loss."
Zhenyu's father introduced Falun Dafa to many people his own age. He originally came from Shanxi Province in China and had owned many properties there. After he moved to Taiwan, however, his relatives seized his properties. Zhenyu's father said that if he hadn't practiced Falun Dafa, he would have gone back to fight for what was his, but he was now able to talk about it as if it had nothing to do with him.
Another practitioner in Hualien was a chef. He frequently got drunk, gambled, and went to brothels. He broke his right hand in a car accident. His doctor told him that he would never be able to lift a pot again. He heard Falun Dafa was great and came to learn it. After practicing for some time, he discovered that he was able to lift his right hand during the third exercise. He eventually returned to his position as a chef and now tells everyone about the power of Falun Dafa.
More than one thousand people have learned Falun Dafa in Hualien County. Zhenyu's group hasn't kept a list of names, but they have personally taught the exercises to more than 400 people. When help was needed to establish new group exercise sites elsewhere, Zhenyu and his fellow practitioners never hesitated to go wherever they could be useful.
(To be continued)