Seoul, South Korea: Hope and Healing at 9-Day Falun Dafa Workshops
July 5, 2020 | By a Falun Dafa practitioner in South Korea
(Minghui.org) Despite the coronavirus pandemic, two 9-day Falun Dafa workshops were held recently at Tianti Bookstore in Seoul, South Korea. During both sessions (April 21 - 29, and May 26 - June 4), recordings of video lectures given by Mr. Li Hongzhi, the founder of Falun Dafa, were played. Workshop attendees learned the Falun Dafa exercises and explored Dafa's principles of Truthfulness-Compassion-Forbearance.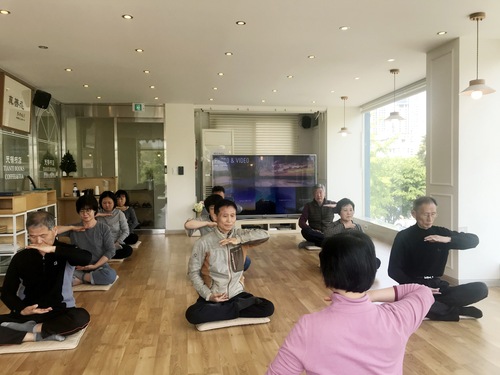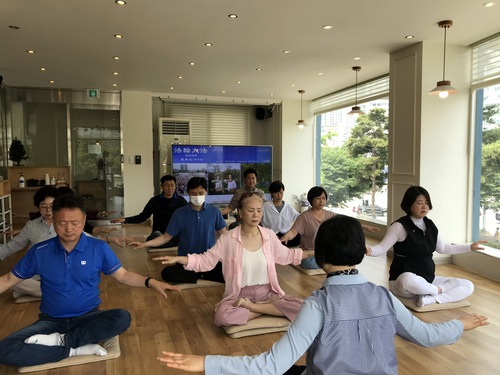 Workshop attendees learned the exercises during two 9-Day Falun Dafa Workshops held at Tianti Bookstore in Seoul, South Korea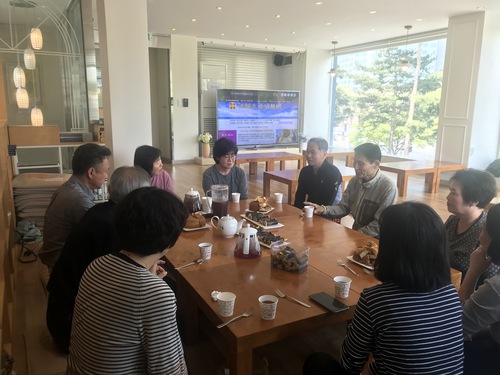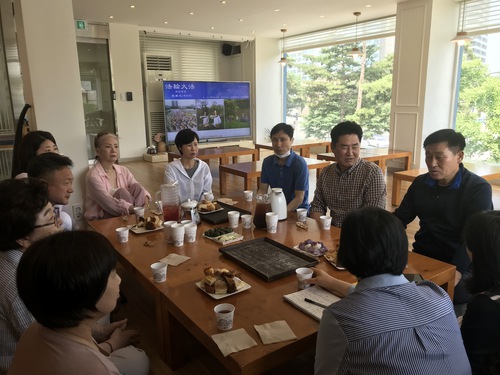 Practitioners compare experiences and discuss how to implement Falun Dafa's principles in their daily lives.
"The Teachings Go Deep into My Heart"
Sulli from Seongnam heard about Falun Dafa from her friend. Curious about the physical and mental benefits of the practice, she visited the Falun Dafa website and read several of the books. "I'd previously tried other spiritual methods or meditation systems, and I had many questions," she said. "Falun Dafa answered all of them."
By following the instructions and videos online, Sulli learned the exercises in late February and March. Then, she contacted a group practice site near her home, where practitioners showed her the finer points of the movements. She continued doing the exercises at home. 
In early April, Sulli heard about the 9-day workshops in Seoul, but she hesitated because of social distancing due to the coronavirus pandemic. She thought she would attend the next time it was offered. "The day before the workshops, I saw an announcement from Tianti Bookstore. So I made up my mind—that's it, I will go!" she said. 
Sulli was very happy about her decision. Her experience while attending the video lectures was phenomenal, she explained. The muscle pain in her shoulder was relieved and other ailments were also resolved. Her entire body felt relaxed and comfortable. "I felt energy flowing from head to toe, and my entire body felt renewed," she added. Especially when doing the sitting meditation before going to bed, she said that both her body and her mind felt relaxed and light. 
Sulli believes that Falun Dafa's teachings are very profound. "The teachings go deep into my heart," she explained. "For example, when experiencing discomfort while doing the exercises, I knew it was caused by karma. So I told myself, 'You can make it.' And I was able to continue until the [exercise] music ended."
No Longer Attached to Fame
Kitack, who lives in the Dongjak District of Seoul, shared that his friend recommended the 9-day workshop to him. While studying the teachings of Falun Dafa, he understood the importance of eliminating bad thoughts. "At the time, I thought I had done pretty well—I never argued with my wife and I let her decide on family spending," he recalled. "I later realized that was not enough, as being a practitioner means letting go of all attachments and becoming a righteous person."
Through reading Falun Dafa's teachings, he gained a better understanding of paying little attention to worldly matters while achieving spiritual enlightenment. In the past, he had a strong desire to move up at work and always dreamed of being promoted to the highest rank. Because of his ambition, he was very tough on himself as well as his subordinates. 
Due to heart disease, however, Kitack was hospitalized twice. While in the intensive care unit, he was under video surveillance 24/7, even when he used the toilet. He felt so humiliated that his desire for promotion weakened significantly.
After this experience and another hospitalization due to heart disease, he realized that some things are more important than fame and rank. He became nicer to other people including his subordinates. 
"Looking back at my experiences of severe illness, I think they were not accidental. Rather, they taught me a lesson of what's important and what is not," he explained. "Many of our illnesses are related to our ambitions and desires. We need to examine ourselves and be responsible for our actions."
A Righteous Way
Hong from the Eunpyeong District of Seoul said she'd tried many things before she found Falun Dafa, which were not only confusing but also costly. Falun Dafa, on the other hand, is free of charge and focuses on the fundamental issues of improving oneself. 
"My deepest feeling is that Falun Dafa is truly righteous and it is something I will definitely continue," she added. She said that just relying on willpower to get rid of bad thoughts is not enough; one should rely on the teachings of Falun Dafa to constantly improve. 
Another new practitioner, Kim, agrees. Because of health issues, she took a break from work. "Luckily I was able to attend this 9-day lecture. While doing the exercises and reading with the others I could feel strong energy," she said.
On the fifth day of the video lectures, she experienced a feeling of peace and relaxation. "It was something so wonderful, which I'd never experienced before. So I know this is something I will not give up," she explained. 
Resuming Practice
Zhenfu is from China but lives in Siheung. She said that she practiced for a few months in 1999, but after the Chinese Communist Party (CCP) began to persecute Falun Dafa, she stopped. 
When she moved to South Korea in 2008, she saw Dafa practitioners' posters about the Chinese regime's forced organ harvesting of persecuted Falun Dafa practitioners. Due to long term brainwashing from the CCP, however, she refused to believe it. But in her mind, she still knew that Falun Dafa was good and that Master Li, the founder, is righteous. 
Last winter she started to experience health problems, including muscle tremors, similar to Parkinson's Disease. She visited many doctors but they could not diagnose her condition. Realizing there was no other hope, she purchased Falun Dafa books from the Tianti Bookstore in January and resumed practicing. 
Zhenfu said it was an amazing experience. "On the way to purchase the book, my legs were aching. But on the way back, I suddenly realized that the pain in my legs was gone! I even easily walked up the stairs in the subway station," she said. Two days after she began to read the Falun Dafa books, her lower back pain also disappeared. 
After reading Master Li's books, Zhenfu regrets that she wasted so many years. "I have decided to cultivate diligently," she affirmed. 
Light as a Feather
A resident of Ganghwa Island, Shin had a long commute to attend the 9-day lecture series. She had to take a taxi, then a bus, followed by taking a subway into Seoul. 
Because of a brain tumor that was first diagnosed about 10 years ago, Shin often had headaches and even stroke symptoms. In fact, on the first day of the workshop, she had just been released from hospital at 3 a.m. Instead of going home, however, she went directly to the workshop. 
The physical changes were huge. Because of her chronic health problems, Shin always felt weak and had pain in her head and neck, and her legs felt as heavy as lead. "After attending the first day of the lectures, I woke up the next morning and my headache had totally disappeared. My body felt as light as a feather! It was a great experience," she said. During the first three days of the lectures, she always felt as if she could fly. Her insomnia disappeared as well, and her mind is clear. 
After attending the workshop, Shin says she feels more peaceful and she's stopped arguing with her husband. When she returned to the hospital for an MRI, there was no longer any indication of a brain tumor. 
Tianti Bookstore has locations in Middletown, NY, U.S.A.; Sydney, Australia; Seoul, South Korea; and Toronto, Canada, as well as online. Nine-day Falun Dafa workshops are held periodically at each bookstore. Further information can be found at tiantibooks.org.