Philadelphia: Falun Dafa Practitioners Return to the Liberty Bell to Raise Awareness of the Persecution in China
July 3, 2020 | By Falun Dafa practitioners in Philadelphia
(Minghui.org) Falun Dafa practitioners in the Greater Philadelphia area resumed their activities outside the Liberty Bell Center at Independence Mall on June 27, 2020, after a three-month break due to coronavirus restrictions.
Around 20 practitioners participated in the activities. They demonstrated the Falun Dafa exercises on the grass and displayed information about the practice and the persecution in China on large boards. Several practitioners handed out flyers and introduced the spiritual discipline to passersby.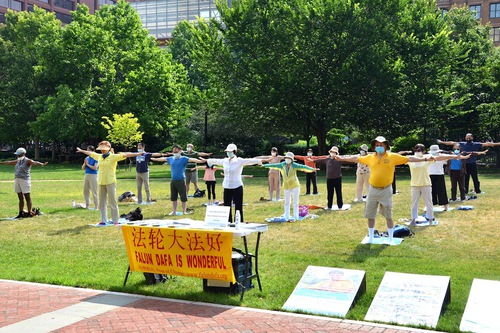 Practitioners demonstrate the exercises at Independence Mall.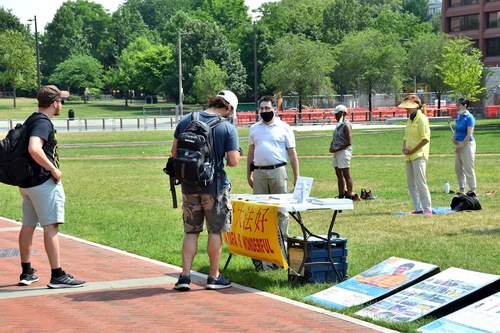 People stop to learn more about the persecution of Falun Dafa in China.
The Liberty Bell Center is one of the most popular tourist attractions in the United States. Before the coronavirus outbreak, thousands of tourists from all over the world queued up daily to see the bell.
Falun Dafa practitioners have been raising awareness of the persecution at the birthplace of freedom and democracy since the repression began in China in 1999. In mid-March of this year, the state of Pennsylvania imposed a stay-at-home order and banned all nonessential commercial activities and public gatherings. Restrictions were eased gradually on June 27 with outdoor activities of up to 25 people allowed.
Veri, a practitioner, said, "Although indoor facilities within the park are closed and there aren't many visitors, we still spoke to several people about the persecution. A woman even signed the petition calling for an end to the organ harvesting of Falun Dafa practitioners in China."
Another practitioner, Alex said, "The Liberty Bell is a symbol of freedom. I am so glad that we can return to this place to do the exercises and share the beauty of the teachings of Truthfulness-Compassion-Forbearance with people. I can feel a strong, positive energy field."
Mr. Wang, his wife Ms. Lin, their two daughters and his mother-in-law, immigrated to the U.S from China at the beginning of the year. They were really excited to join practitioners in doing the exercises outdoors.
"This is the first time we have participated in group exercises outside. In China, we can only practice Falun Dafa secretly at home. It is so wonderful to be able to do it openly. It is truly enjoyable and I feel very peaceful," Mr. Wang said.
Ms. Lin, recalled, "I used to do the exercises outside [in China] with my mother when I was young. That was before the persecution. Today is the first time I've done the exercises outdoors in a long time. I felt surrounded by a strong energy field. I saw a red, warm light in front of me," she said.