Nagoya, Japan: Practitioners Hold Events to Call for an End to the Persecution
July 28, 2020 | By a Falun Gong practitioner in Japan
(Minghui.org) Falun Gong practitioners held activities at Sakae, Sakae-Hiroba, downtown Nagoya City, and in front of the Chinese Consulate on July 18-20, 2020. They called on the Chinese Communist Party (CCP) to end the 21-year-long persecution.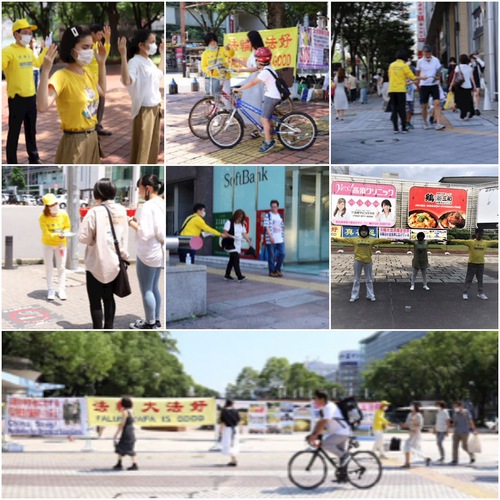 Practitioners held activities to expose the CCP's persecution at Sakae, Nagoya City.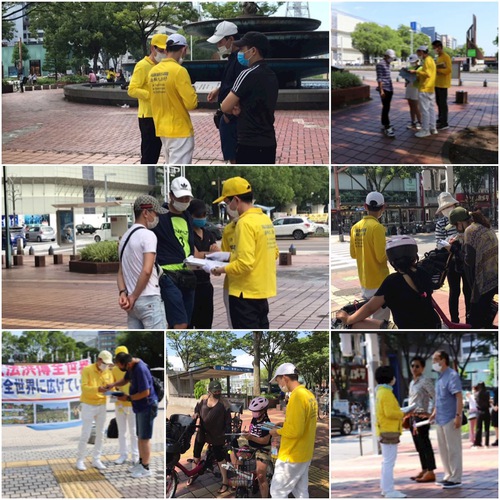 Practitioners talk with passersby about the persecution and collect signatures.
Practitioners distributed fliers at Sakae, the busy business center, on July 18. They did the exercises, distributed fliers, and talked with people at Sakae on July 19. Several people signed the petition condemning the persecution.
When a practitioner noticed an older man reading a flier under a tree he asked if he had any questions. The man said in Chinese, "I know about this persecution. The CCP is the worst."
He said he was in his 80s and had never joined the CCP. But he joined the Communist Youth League. The practitioner advised him to quit his membership so as not to be held accountable for its crimes. He agreed without hesitation. Before he left he thanked the practitioner.
Several young Japanese men came to sign the petition when they saw the large banners calling to stop the CCP's live organ harvesting.
Many passersby signed the petition. A mother and her daughter on bikes waited for the traffic light. A practitioner told the mother about the persecution and signature drive. She signed the petition and asked her daughter to sign it too.
Calling for Ending the Persecution in Front of Chinese Consulate
Falun Gong practitioners held a peaceful protest in front of the Chinese Consulate on July 20. They held large banners worded in both Chinese and Japanese, urging the CCP to stop the persecution and live organ harvesting.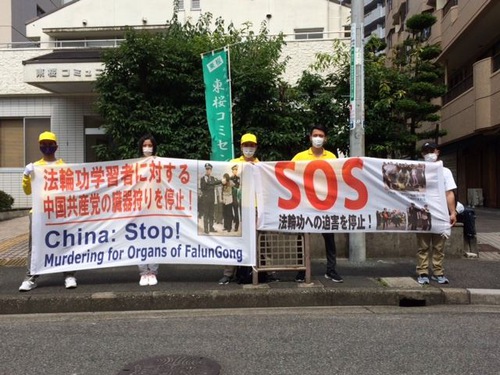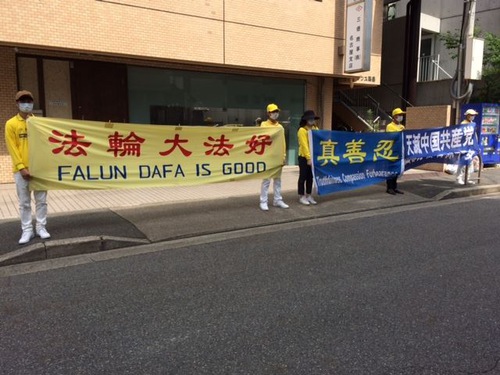 Practitioners held a peaceful protest in front of the Chinese Consulate on July 20.
A police officer said that the consulate only accepted appointments but not walk-ins, due to the pandemic. The practitioners thus met with a small number of Chinese people, told them about the persecution, and advised them to withdraw from the CCP and its affiliated organizations.
"I Hope the CCP Collapses Soon!"
During the event at Sakae-Hiroba on the afternoon of July 20, practitioners did the exercises, distributed fliers, and told people about the persecution.
A man in his 50s said he knew about Falun Gong and the persecution. He said, "I hope the CCP collapses soon!"
Practitioner Duy participated in the activities for three consecutive days. He said that after practicing Falun Gong, he and his family have benefitted both physically and mentally, and feel it's a great practice. They said the CCP must stop the persecution immediately.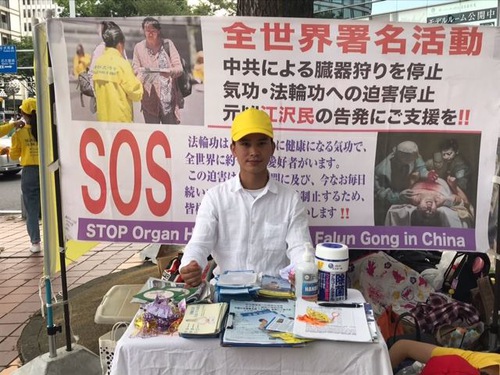 Practitioner Duy