New Zealand: Parade in Auckland To Remind People of 21 Years of Brutal Suppression by the Communist Regime
July 28, 2020 | By a Minghui correspondent in New Zealand
(Minghui.org) Twenty-one years ago, the Chinese Communist Party began to brutally persecute Falun Gong practitioners who live by the principles of Truthfulness-Compassion-Tolerance. Practitioners have been resisting the suppression through peaceful means all these years. Auckland is the largest city in New Zealand, and one third of the country's population live within the city limits. Practitioners held a rally and parade on Queen Street, the city's busiest area, on Saturday July 18, 2020.
The parade commenced from the center of Queen Street and finished at the end, which is a busy downtown area. This was the first time that practitioners had held a parade where a police vehicle cleared the way for them, closing off roads on both sides of Queen Street.
The parade was led by the Tian Guo Marching Band performing its majestic music, and followed by sections portraying different messages, including commemorating the persecution in China and the international movement to quit the CCP. Many Chinese people were among the spectators, and some decided to renounce their memberships in the CCP and its affiliated youth organizations on the spot. Some Chinese people told practitioners, "We support you." Some of them said they had disapproved of the CCP from a very young age and had never joined the Party or its affiliated associations.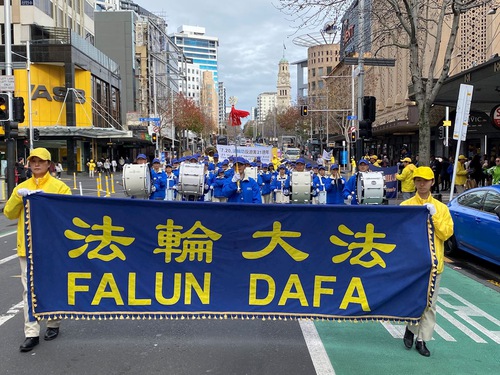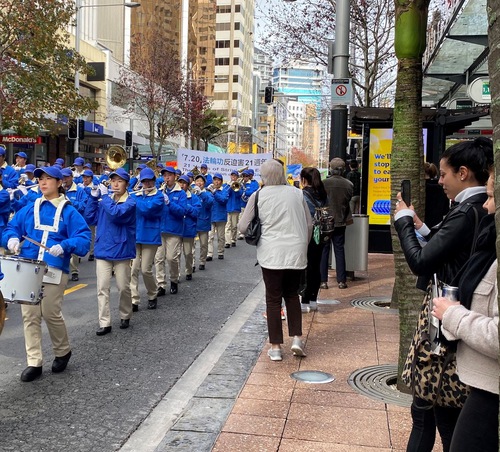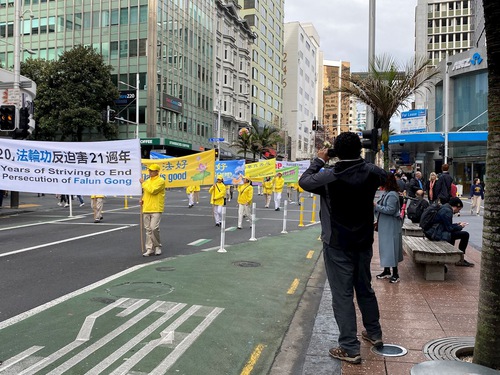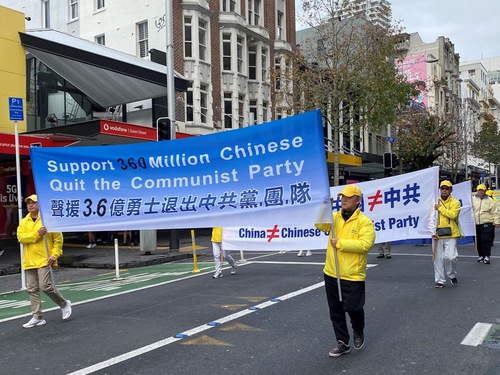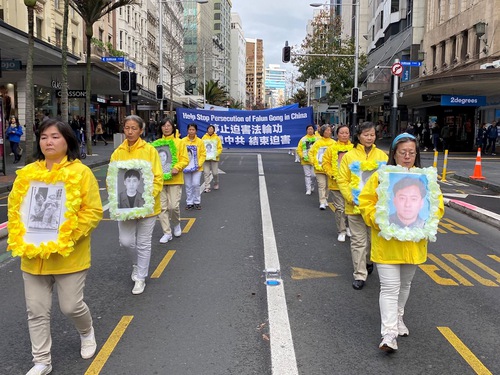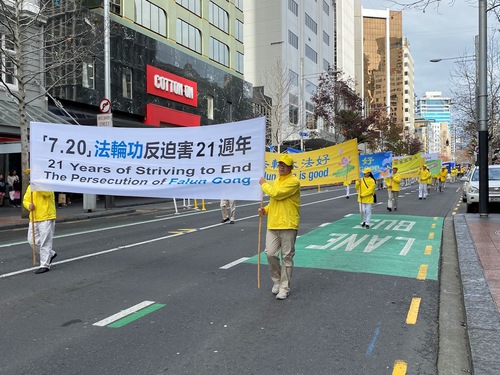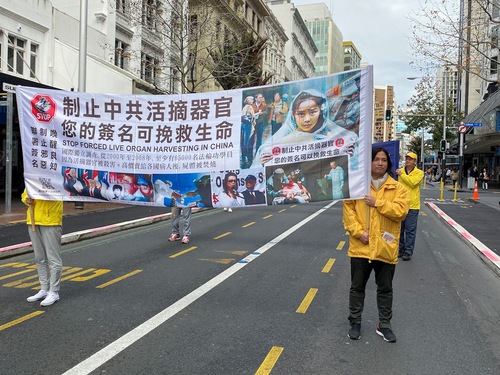 Parade to resist the 21-year long persecution of Falun Gong in China
During a rally before the parade, several Falun Gong practitioners spoke about their personal experiences of being brutally tortured for their faith in China.
Practitioners Deserve the Highest Praise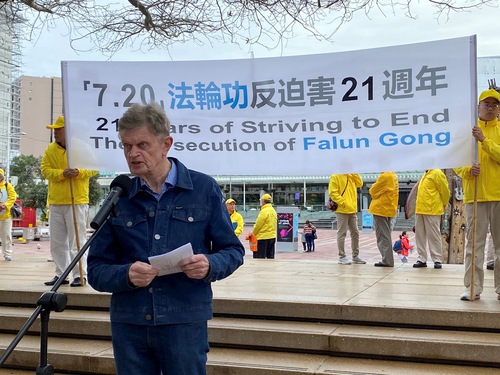 Barry Wilson spoke at the rally.
Barry Wilson, president of the Auckland Council for Civil Liberties, spoke at the rally. He said in his speech that the findings announced by the independent people's tribunal in London last year concluded that the CCP has been harvesting organs from prisoners of conscience on a large scale for many years. The major source of these organs came from detained Falun Gong practitioners. Medical authorities in Australia concluded that organ harvesting is still taking place in China today, because the figures disclosed by the communist regime are far below the actual number of transplants that are being carried out.
Mr. Wilson said, "The CCP betrayed Hong Kong citizens and wants to take over Taiwan. It is also persecuting Falun Gong practitioners. The regime has singled out groups of people, attempting to destroy freedom and independent voices."
He called on the New Zealand Government to tell the CCP to stop taking Falun Gong practitioners' organs and give Hong Kong citizens in New Zealand permanent residency.
He concluded his speech by saying that practitioners deserve the highest commendation for so many years of hard work and persistence.
We Have the Moral Responsibility To End This Persecution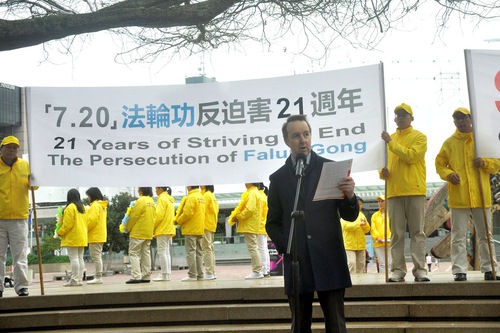 Human rights lawyer Kerry Gore speaks at the rally.
Kerry Gore, a human rights lawyer in New Zealand, said in his speech at the rally that the communist regime's suppression of Falun Gong has gone on for 21 years. The scale and extent of the persecution is unprecedented in history.
"As a lawyer, I was once told by practitioners their blood samples were taken, urine tested, chest examined (ECG), X-rays taken of major organs and so on. These are procedures for organ transplants. These people were physically and mentally tortured and some even raped. These medical examinations on a large scale cannot be for their health," Mr. Gore said.
Mr. Gore also said, "In terms of scale and extent [of the persecution], the earliest historical record I can find is the Nazi's persecution of the Jews from 1933 to 1945. If we have any sense of morality, sympathy, or conscience, then all of us have a moral responsibility to end this horrific persecution."
Condemning the CCP Has Become a Global Trend
Ding Haijiang, a democratic activist from China, began his speech by sharing how he had changed his attitude toward Falun Gong. Influenced by the CCP's anti-Falun Gong propaganda, he said he initially had misgivings about the spiritual discipline. After moving to New Zealand, he got to know about the practice and changed his attitude.
"I got to know real Falun Gong practitioners after coming to New Zealand," he said. "An elderly woman handed out information at a market every Sunday. She has been doing this for a dozen years. There are practitioners doing the exercises and peacefully protesting outside the Chinese consulate all the time. It is easy to do this for one or two days, or even one to two months. But to persist for 10 or even 20 years is a feat. This is remarkable."
"I realized these people are kind, tolerant, and easy going. If everyone in China practiced Falun Gong, the society would turn for the better."
He also spoke about the CCP's influence overseas. "Whether you care about politics or not, the influence of the Wuhan virus is for real. The impact on the world's economy is immeasurable. I would like to give a word of advice to Chinese living overseas. If you used to be indecisive or hope to gain from both sides, now is the time to evaluate the situation. Condemning the CCP has become a global trend now. Break away from it and you are standing on the side of justice," he said.
We Should Stand Up as a Witness of this Era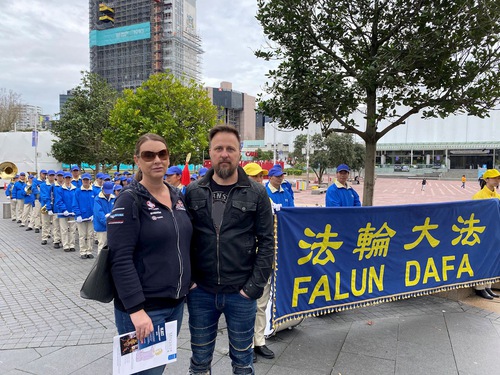 Mr. and Mrs. Cocker
Deborah Cocker owns a project management company. She and her husband Garrick stood listening as practitioners spoke at the rally about the persecution they went through.
"I heard a speaker talk about the CCP taking away organs from prisoners without consent and selling them for a profit. I remembered seeing a human parts exhibition showing human organs, blood vessels, muscles and so on when I was in high school. We were very excited then thinking this was science and we needed to know this. It was only afterwards that we realized most of the parts came from prisoners in China. In today's world and in a country like China, such a terrible thing is still happening. I feel really sad for these victims. The CCP is truly incurable. The coronavirus broke out in China some time ago but the regime kept silent leading to a global pandemic. Such actions are selfish. They let millions of Chinese travel around the world potentially transmitting the disease. This is wrong. Furthermore their tough stance in Hong Kong during the coronavirus makes one wonder what is this for, why is this happening now?"
The couple was reminded of the Tiananmen Square student massacre in 1989. Mrs. Cocker's mother had a co-worker who was from China. Her husband, a university lecturer in China, was arrested and disappeared after the massacre. It was terrifying.
"Some of us have personally experienced the regime's brutalities while some have witnessed it with their eyes. As witnesses of such times, we have the responsibility to come forward on behalf of those who cannot do so," Mrs. Cocker said.
Falun Gong Practitioners Are Admirable
Leanne and Chris
Married couple Leanne and Chris said that they admired Falun Gong practitioners.
"Falun Gong practitioners have been through so many dreadful things. Yet they resist the suppression peacefully and positively. I find it really admirable. Such peaceful resistance is very powerful. Your activities are not only informative and knowledgeable, but entertaining too. You have shown passion, understanding, and intelligence. This is remarkable," Leanne said.
"We are born and bred Kiwis. Everyone can have our own beliefs and thoughts. It has been like that all of our lives. To New Zealanders, meditation makes one healthy. That's why many people like doing it. I cannot understand why the communist regime is persecuting people who practice meditation. We are free to do what we want in this country. We won't disappear just like this," Leanne said.
Her husband said the government should take in people who have suffered from the hardships in China and stop New Zealand citizens from going to China for organ transplants.
"Now that I know where these organs come from, I will never go to China for such operations. Therefore you should let more people know about this. Find more ways to draw people's attention, just like today's activities. I think the marching band is great. I have never seen such a spectacular band. Many people stopped to watch their performance. It's awesome," he said.
The Parade Stirs One's Heart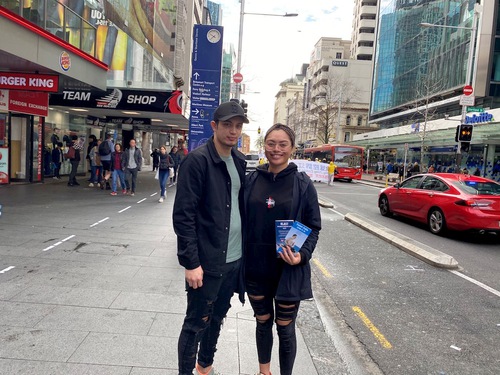 Jayleeka Nicholls (right) loved the Tian Guo Marching Band.
Jayleeka Nicholls was very excited to share her thoughts on the event.
"I did not know about these things [the atrocities committed by CCP] before. I have already signed the petition. What else can I do to help these people? I will share this on my social media page and get my friends to pass on the message," she said.
She continued, saying, "I think it is great that you have a parade on Queen Street. There are so many people here and they will ask, what is this about? They see your banners, read the brochures, and find out more about it when they go home. The band has drawn a lot of people's attention. Their costumes and the music they play is excellent. They look tranquil but the performance is powerful. I see young faces in the band. They look cool. Young people should know about this."
A woman from Amsterdam came up to the practitioners after the parade to thank them. She said it with tears in her eyes.
"Thank you so much for the parade. You have done a wonderful job. I will sign your petition and share your website, as well as information with friends. Everything you have done will change the world. I am very moved by your actions," she said.