Florida: Events Held Throughout the State to Call for an End to 21 Years of Persecution
July 28, 2020 | By a Falun Gong practitioner in Florida, U.S.
(Minghui.org) Activities were held throughout Florida on July 18 and 19, 2020, to mark 21 years of Falun Gong practitioners' peaceful efforts to end the persecution in China which began on July 20, 1999. Practitioners clarified the truth and held candlelight vigils to mourn the thousands of fellow practitioners who died due to the CCP's (Chinese Communist Party) persecution. 
Due to the coronavirus, large scale gatherings are currently not allowed in Florida. At events in different cities, practitioners demonstrated the Falun Gong exercises in small groups and told people about the persecution. Many people signed a petition to condemn the CCP and to call for an end to the persecution. 
Several people expressed their sympathy for Falun Gong practitioners and said they hope the persecution in China will end soon. 
The Heartfelt Voices of the Orlando Practitioners
On July 19, more than 30 practitioners from Tampa, Daytona Beach, and Orlando gathered at Lake Eola Park in Orlando's city center to demonstrate the Falun Gong exercises, hold a candlelight vigil, and tell people about the persecution. 
Lake Eola Park is a popular destination for the locals. Practitioners have done the exercises and clarified the truth in the park since 1998. On July 19, they did the exercises for two hours and held a candlelight vigil. It was peaceful and calm, and many people who stopped to watch were surprised to learn about the significance of the event. Approximately a hundred people heard about the persecution that evening. Many said that they would come to learn the exercises.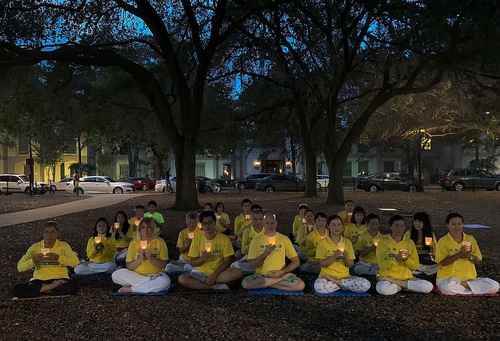 Practitioners held a candlelight vigil at Lake Eola Park in Orlando on July 19.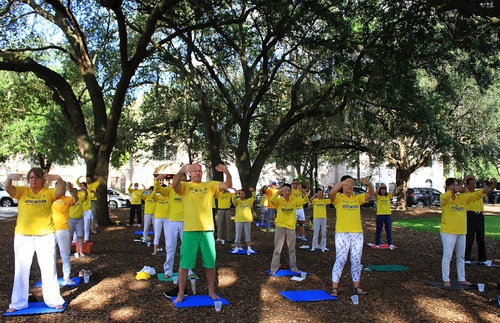 Falun Gong practitioners demonstrate the exercises at Lake Eola Park.
Vincent, a practitioner from Orlando, organized the event. He said the candlelight vigil was held in memory of the practitioners who've been persecuted to death by the CCP. He said, "We want to let people know the truth about the persecution of Falun Gong and let them understand the true nature of the CCP. Everyone needs to make their choice. I sincerely hope that people all over the world can stay away from CCP and totally avoid its influence. That would really be a true blessing for the world."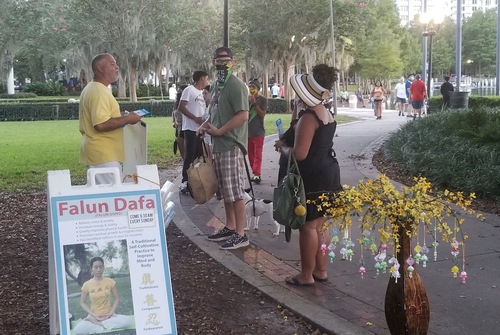 Vincent hands out information about Falun Gong and the persecution.
Nick Shwade has practiced Falun Gong since 1998. He said, "Twenty-one years of persecution is too long. The persecution must stop. I am really sad that the persecution is still ongoing. In China, Falun Gong practitioners risk their lives to clarify the truth to people and to remain steadfast in their belief. This deserves our respect. The persecution should stop immediately."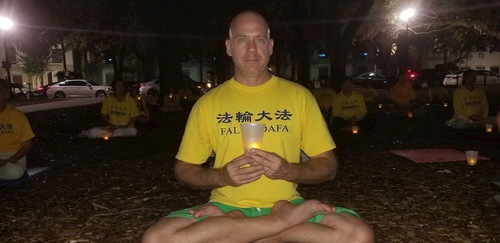 Nick Shwade participated in the candlelight vigil.
Doctor Tatiana Danny started practicing two years ago. She was in Florida on a business trip and participated in the Orlando event. She said, "It is really hard for me, a Westerner, to understand the things that the CCP does to people. It's a shame that the world's people and governments did not stand up to make the CCP understand that the persecution is wrong and it should be stopped. Just like the holocaust, when the people at that time chose to feign ignorance, the CCP went all out to make use of their media to defame Falun Gong, making it very hard for people to understand the truth about Falun Gong." 
She also said, "The CCP withheld the truth about the coronavirus, then spread it to the rest of the world. Our country's economy was hit hard, millions of people lost their lives, and we lost family members, too. These horrible things show us that the CCP is just like the virus. Its aim is to destroy the world—that is what their originator Karl Marx said. I hope that everyone can realize that the CCP is a threat and take a righteous stand. Time waits for no one. We should not let the CCP cause more harm to more people."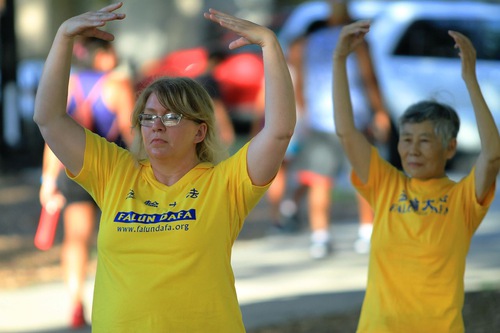 Dr. Tatiana Danny, on a business trip in Florida, joined the exercise demonstration.
Pei Qi started to practice Falun Gong in China in the summer of 1998 when she was a junior high school student. When she was 19, she was reported and arrested for distributing Falun Gong literature. In 2010, she was accepted by a university in the U.S. as a post-graduate student. After moving here, she said she finally has the freedom to openly practice. She said, "21 years of persecution is a long time. I want to let everyone I meet how good Falun Gong is. I want everyone in the world to know so that this inhumane persecution can quickly end."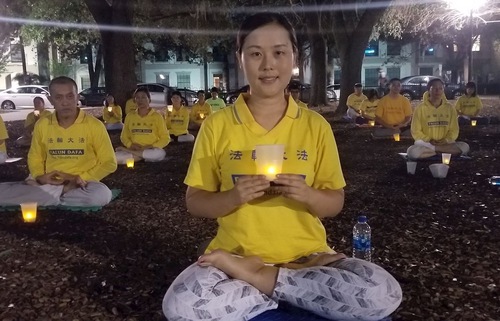 Pei Qi hopes that everyone will know that Falun Gong is good so that the persecution can quickly end.
Lu Yuanqing from Tampa misses her mother who is imprisoned in China. Her mother, Deng Cuiping, was arrested for distributing truth clarifying materials to passersby four years ago, on July 24, 2016. Yuanqing explained why her mother hasn't given up despite the ongoing persecution: "Mom feels that Falun Gong can guide people to improve their moral standards and can bring about positive changes in their lives. After the persecution began, the situation in China was very serious. She knew that this was a form of political persecution and not because her belief was wrong. This persecution is wrong and she hopes that more people can understand that. This is why she has continued to clarify the truth to people all these years, risking her life, losing her job and family, and ultimately being arrested and sentenced to jail."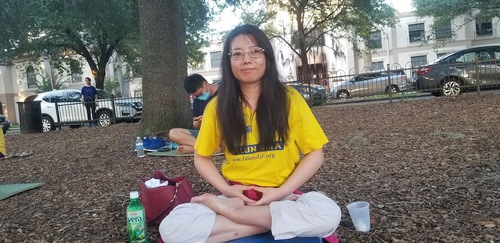 Lu Yuanqing from Tampa hopes that she can rescue her mother as soon as possible
Other Events in Florida Call for the Persecution to End 
On July 18 and 19, Falun Gong practitioners from north Florida gathered at Plaza de la Constitución in St. Augustine to distribute flyers to passersby. Several tourists stopped to read the information boards and listen as practitioners explained the persecution and the live organ harvesting in China under the CCP regime.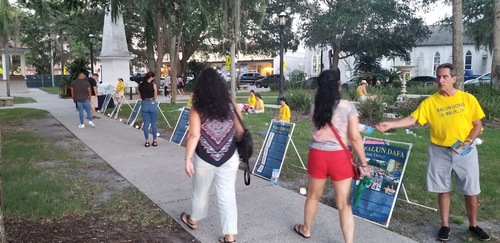 Many people stopped and talked to practitioners.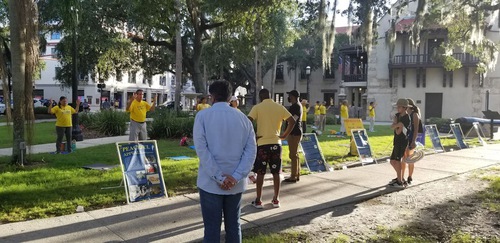 Tourists stop to read the information about Falun Gong and the persecution.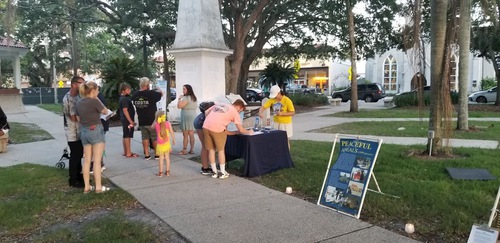 Tourists sign the petition to show their support for Falun Gong and call for an end to the persecution after learning the facts.
On July 18 and 19, Falun Gong practitioners from south Florida demonstrated the exercises on Las Olas Beach. They also held a candlelight vigil that evening in memory of the practitioners who were persecuted to death by the CCP.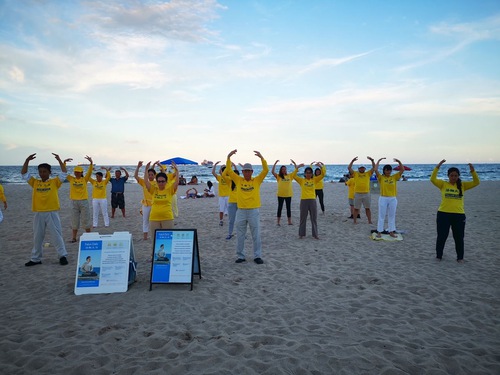 Practitioners in south Florida demonstrate the exercises on Las Olas Beach.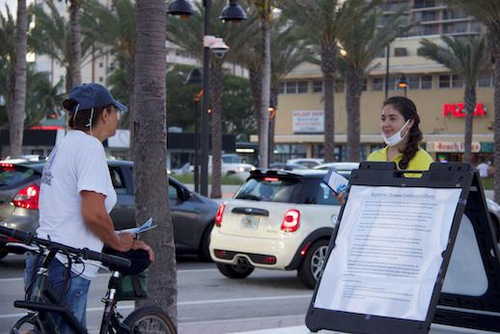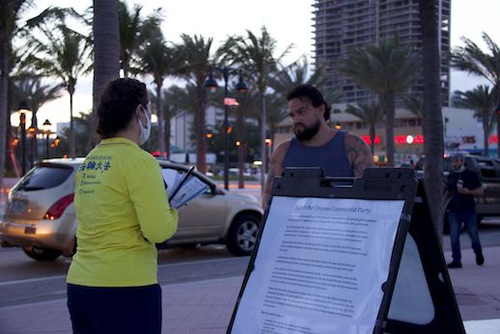 Local residents listen to practitioners explain the persecution and the CCP's live organ harvesting in China.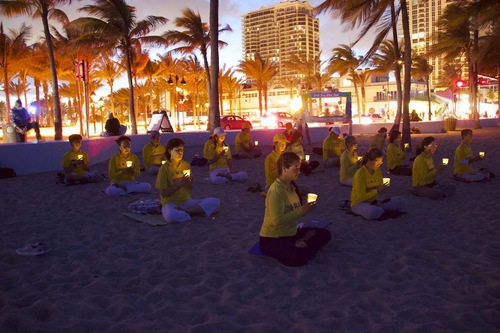 Practitioners in south Florida held a candlelight vigil on Las Olas Beach in memory of fellow practitioners who've died due to the persecution. 
On July 20, 1999, the CCP, led by Jiang Zemin, initiated a campaign of persecution against Falun Gong practitioners for their belief in Truthfulness, Compassion, and Forbearance. Over these 21 years, Falun Gong practitioners have persisted in exposing this injustice. According to verified reports on Minghui.org, thousands of practitioners have lost their lives due to this persecution, many having their organs removed while they were still alive.