Taiwan: Group Exercise and Candlelight Vigil Held to Peacefully Protest the 21-Year-Long Persecution
July 27, 2020 | By a Minghui correspondent
(Minghui.org) Twenty-one years ago, on July 20, 1999, the CCP (Chinese Communist Party) initiated the persecution of Falun Gong. Every year practitioners around the world hold activities to commemorate fellow practitioners who have died, and to expose the ongoing persecution.
Falun Gong practitioners from Taoyuan, Hsinchu and Miaoli demonstrated the exercises and held a candlelight vigil on July 19, 2020.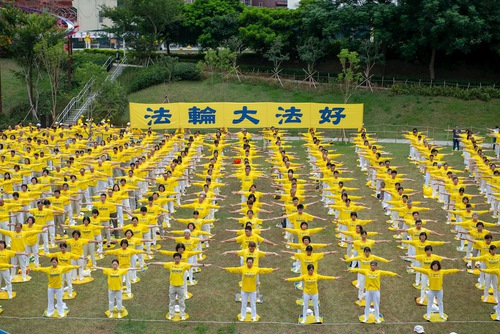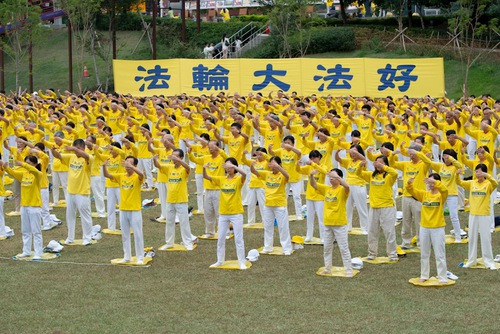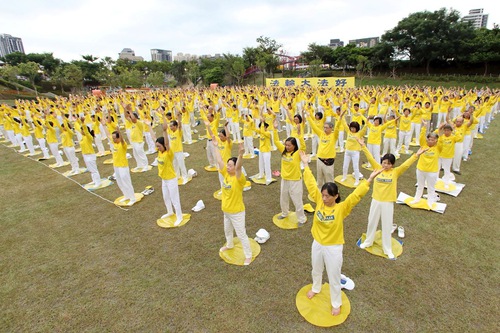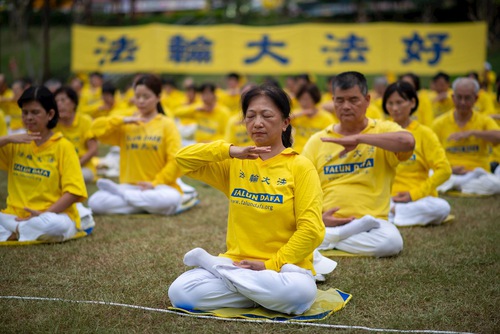 Group practice in Taoyuan on July 19, 2020.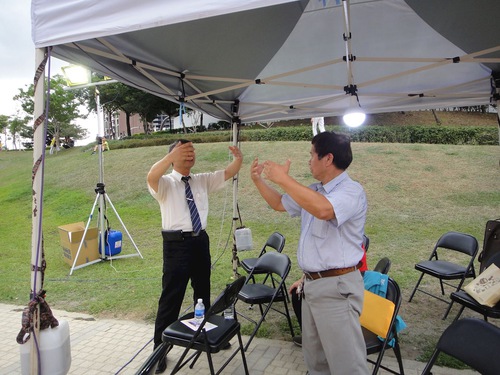 Chief secretary Huang Hsing-hsuan (right) for Legislator Tang Hui-chen learns the second Falun Gong exercise. 
The group exercise attracted several passersby. They learned about Falun Gong and many signed a petition to condemn the persecution.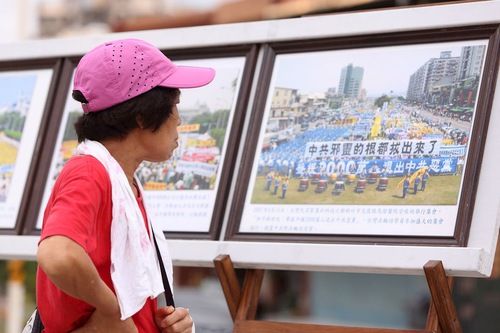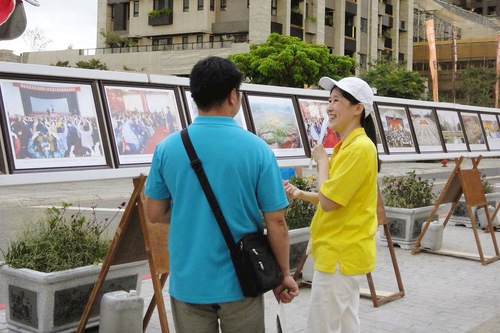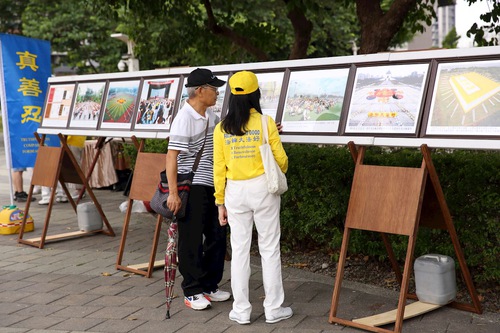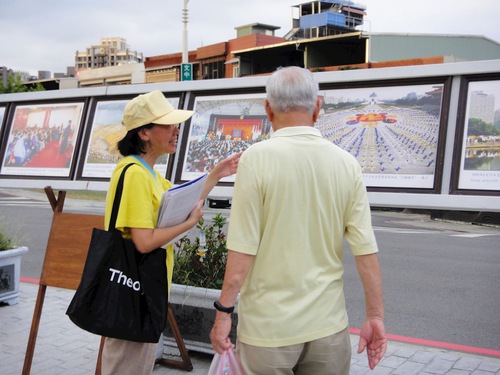 Several people stopped and read the posters about Falun Gong and the persecution. 
After reading the information, Chang He-lin condemned the CCP and the state-sanctioned live organ harvesting. He said the CCP will soon collapse. 
Lin Shao-chun, a practitioner and a graduate student, said he started practicing Falun Gong when he was in high school. He said after he began practicing he became more considerate of others.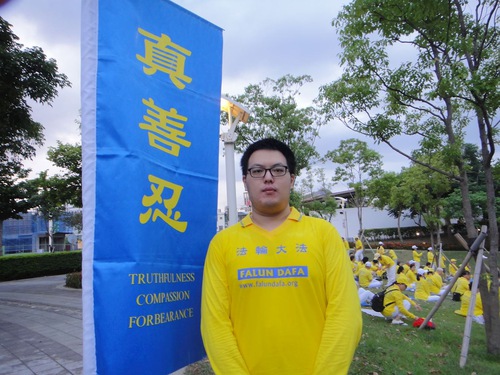 Lin Shao-chun said Falun Gong's teachings helped him become more considerate of others.
Referring to the persecution, Lin said that some people still did not know about Falun Gong. He hopes more people will pay attention to the severe human rights violations in China, and help to end the persecution. 
Candlelight Vigil
As part of the day's events, practitioners held a candlelight vigil in Taoyuan on the evening of July 19. They quietly sat holding lit candles to commemorate fellow practitioners who died in the persecution. The scene was sacred and solemn.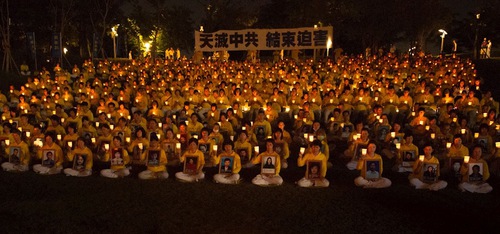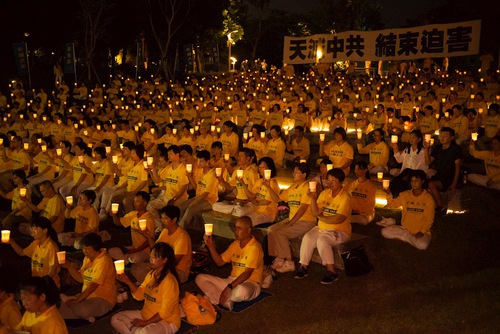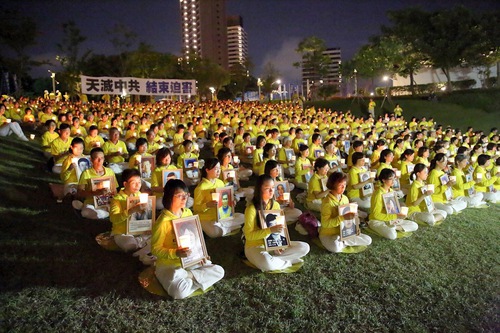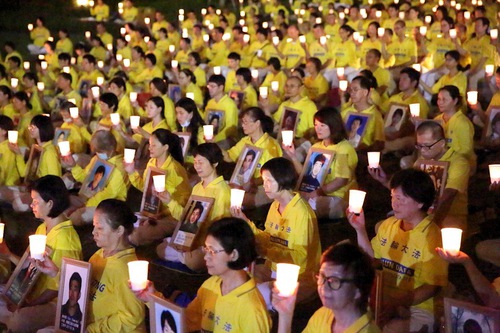 Candlelight vigil in Taoyuan on July 19, 2020.
Practitioners have persisted in clarifying the truth for many years and have won support and encouragement from people from all walks of life. Each year officials participate and express their support and condemn the CCP's persecution and organ harvesting. 
Candlelight vigil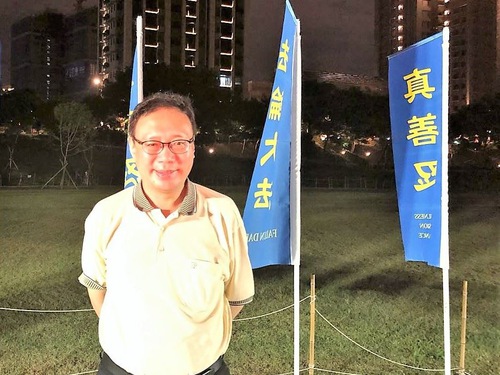 Huang Shi-chuo, former legislator and current chairman of Taoyuan Aviation City Co., Ltd., says that practitioners' peaceful protest lets the public know the true nature of the CCP. He feels that practitioners' efforts gives Chinese people hope.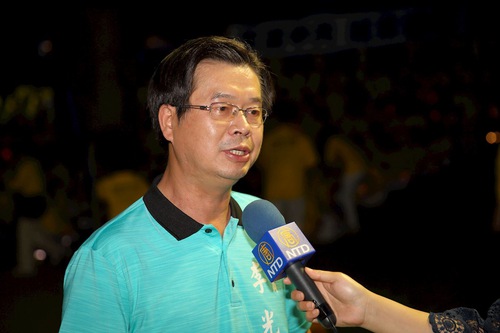 City councilor Lee Guang-da said that the CCP's brutal persecution is beyond comprehension. He looks forward to the day the persecution ends.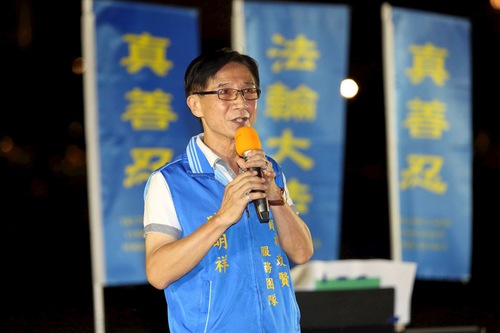 Deputy Director Chen Ming-hsiang of Taoyuan City Councilor Lin Cheng-hsian Service Team said that the CCP lies about Falun Gong and even conducts live organ harvesting.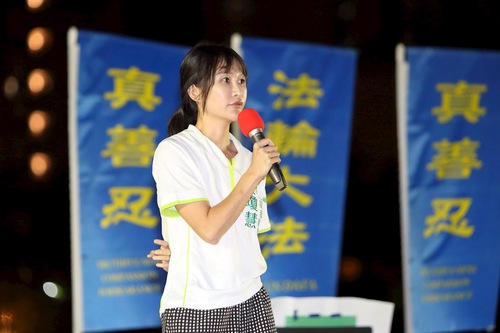 Special assistant Huang Qing-hui of Taoyuan City councilor Huang Ching-hsi commended Falun Gong practitioners' peaceful protest. She signed the petition against the persecution. 
About Falun Gong:
Falun Gong (also known as Falun Dafa) is a spiritual belief based on the principles of Truthfulness-Compassion-Forbearance. Practicing Falun Gong improves one's health and character. Due to the spiritual practice's wide-spread popularity, the Chinese Communist Party (CCP) initiated the persecution 21 years ago, on July 20, 1999. 
The deaths of more than 4500 Falun Gong practitioners have been documented since July 20, 1999. Hundreds of thousands practitioners were imprisoned, incarcerated, tortured and even subjected to the state-sanctioned live organ harvesting.
The actual number may be much higher due to the CCP's intentional cover-up and information censorship. Falun Gong practitioners across the world conduct activities around July 20 each year to peacefully protest the persecution and call for it to end.
Relevant article in Chinese: Candlelight vigil in Taoyuan