Texas: Rally and Vigil in Houston Commemorate 21 Years of Peaceful Resistance to CCP Persecution
July 26, 2020 | By a Minghui correspondent in Houston
(Minghui.org) Falun Gong practitioners in Houston held a rally and a candlelight vigil in front of the Chinese Consulate on July 18, 2020, to mourn their fellow practitioners who have died from the persecution of Falun Gong by the Chinese communist regime. They called on Americans to help stop the persecution.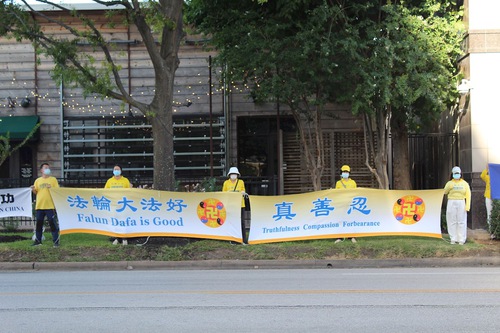 Practitioners display banners in front of the Chinese Consulate in Houston on July 18, 2020.
During the rally, practitioners read letters of support from U.S. House Representatives Dan Crenshaw, Ron Wright and Van Taylor. Several practitioners also recounted their own experiences of being persecutd by the Chinese Communist Party (CCP).
Mr. Pan, a practitioner, said, "Falun Gong practitioners in China have suffered various forms of persecution since July 20, 1999. The CCP's harvesting organs from practitioners while they are still alive crosses humanity's bottom line. The Party has now exported its evil. By covering up the coronavirus outbreak, it has brought disaster to the entire world."
Ms. Kun, another practitioner, said, "The CCP's inhumane persecution couldn't wipe out our compassion. Such a selfless group of people who practice compassion has made the regime afraid. The CCP has utilized its state apparatus to commit appalling crimes like genocide and organ harvesting." Ms. Kun called on all people to reject the CCP and stand on the side of justice.
Passersby stopped to sign the petition to show their support. Asha, a nearby resident, said that she didn't know such a terrible persecution was taking place. Tears came to her eyes. She signed the petition and took copies of flyers to share with her family and friends.
Jason, another local resident, said he knew about the persecution and deeply sympathized with practitioners. He and several other people who live close to the consulate signed the petition to show their ongoing support.