Washington, D.C: Falun Gong Practitioners Mark 21 Years of Peacefully Resisting Persecution in China
July 26, 2020 | By a Minghui correspondent in Washington, D.C
(Minghui.org) To mark the 21st anniversary of peacefully protesting the persecution of Falun Gong in China, practitioners gathered at the Washington Monument on July 19, 2020, where they demonstrated the exercises and called for an end to the persecution.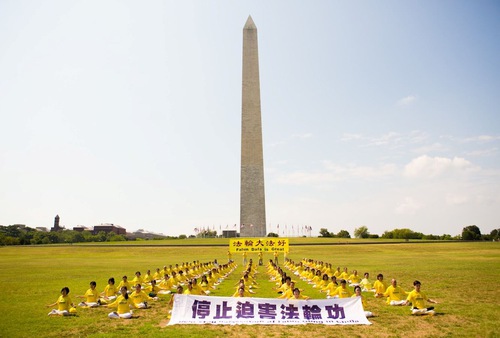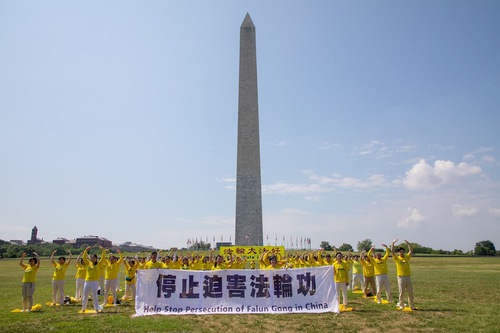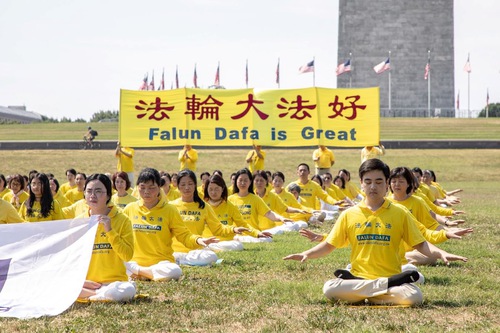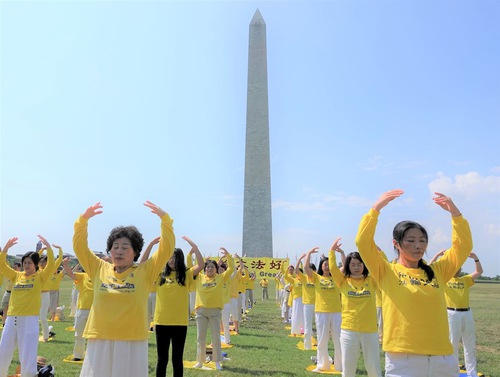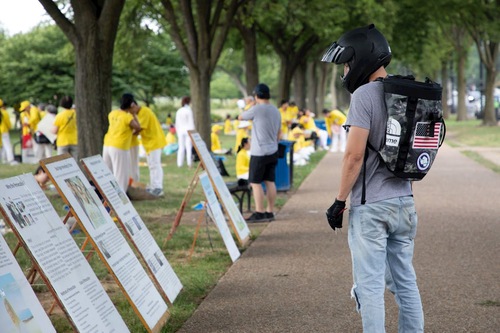 Practitioners do the exercises and display information at the Washington Monument.
Under the scorching July sun, practitioners did the exercises and held banners reading "Falun Dafa is good" and "Stop Persecuting Falun Gong." Many who attended the activities travel to D.C. every year to let people know about the persecution. In the 21 years of resisting the persecution, former students are now in their 50s and those who were middle-aged when the persecution began are now in their 70s.
Some practitioners in attendance were imprisoned and tortured in China for refusing to give up their belief.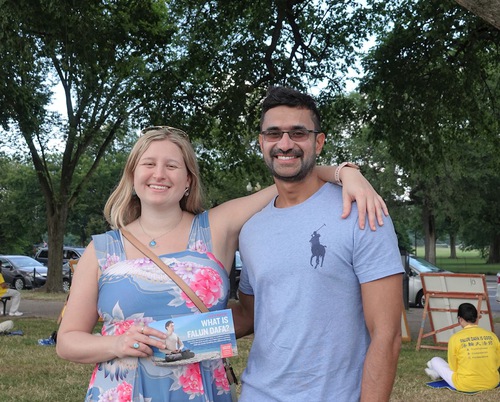 Jweshan and Shea, tourists from Florida
"They look so noble, so we came over to check it out," said Jweshan and Shea, two tourists from Florida. They said they wanted to do everything possible to help stop the persecution. Shea added, "I know the Communist regime restricts belief, but I didn't know they're so brutal. Truthfulness, Compassion, Tolerance are universal values. We should follow them in our daily lives."
Mr. Smith and his wife moved to Washington, D.C from Huntsville, Alabama six months ago. A government employee, he said he'd seen practitioners doing the exercises many times. He said some media reports about Falun Gong are misleading, so he was glad to have the opportunity to chat with practitioners. "It would be great if we all followed Truthfulness, Compassion and Tolerance," he said.
Mr. Hong, a tourist from Northeastern China, asked if practitioners had information in Chinese. He said people in China don't know the truth, and only a handful can break through the Internet censorship to read news from outside. He said the CCP controls every aspect of society and that people in China passively accept the regime's lies and propaganda. He hopes China's Great Firewall will come down soon so people can learn the truth.
Arrested in China for Talking to People About Falun Gong
For 21 years, many practitioners in China have risked detention, torture, and even forced organ harvesting. Despite the oppression, they've continued to expose the CCP's slander of the Falun Gong.
Ma Chen, 30, is a software engineer in the greater Washington area. This was his first time participating in such a Falun Gong event. His mother was reported to police in China while talking to people about the persecution, and she was arrested and held at a detention center in Caoba town.
His mother, Wang Chunmei, 57, is a retiree in Kaiyuan City, Yunnan Province who worked at Honghe power supply company. According to Ma Chen, she was frequently arrested for telling people about Falun Gong, nearly once every year or two. He has lost count of the number of times she was been arrested.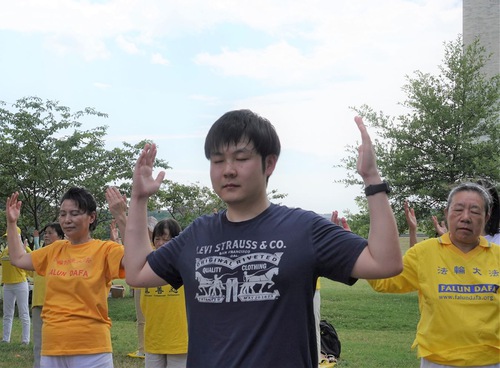 Ma Chen calls on the Chinese communist regime to release his mother immediately.
"Once when I was in the third year of primary school, my mother went out at night with another practitioner to distribute information about Falun Dafa. They were arrested. My father was away on a business trip. I went to live with my grandparents. It was very difficult period of time. Even when she wasn't arrested, we were under constant surveillance. Someone would follow us whenever we went out. When I went to university in Shanghai, the police refused to let my mother send me off to school. In the end she took me to Kunming airport with the police following us. The police even threatened to get the university to expel me if she did not stop practicing," Ma Chen said.
"I've lived in fear since childhood. My experiences had a huge, negative impact on me."
"My mother has been imprisoned for nearly two months now. I want to let people know how evil the CCP is and to help rescue my mother. The CCP must release her immediately."
Yu Xiyu, a programming teacher at a community school in Maryland, and Ma Chen are peers. Yu is from Langfang City, Hebei Province. She was raised by her mother Yu Jing, who began to practice Falun Gong in 1997. Yu Jing was arrested three times and her house ransacked twice after the CCP started the persecution in 1999.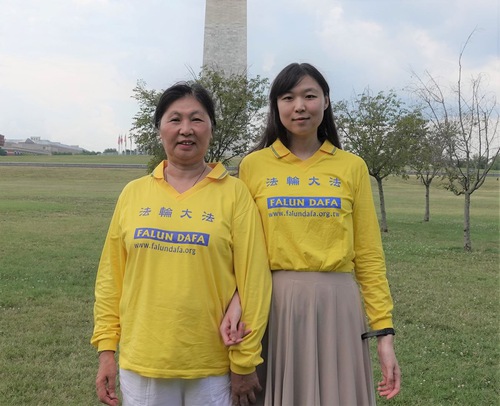 Falun Gong practitioners Yu Jing and her daughter Yu Xiyu
Yu Xiyu said, "The police would go to my place and arrest my mother on 'politically sensitive' days. The most horrifying time was when I was in high school. My mother helped carry my bicycle down the steps. Just as I got on the bicycle, a group of police officers pounced on her and pushed her to the ground. I was stunned. My mother was taken away in a car before I could do anything. The police returned afterwards to ransack our house."
Recalling another harrowing experience, she said, "The police broke into our house in the middle of the night. My mother jumped out of the window from the second floor and escaped."
"Nearly all the kids my age around me went through the same ordeals. Some of them lost their parents who died as a result of the persecution. Only those who personally experienced these things would understand the fear and pain we've gone through," she said.
Western Practitioners Hope the Persecution Will End Soon
As more Westerners learned about Falun Dafa during these years of persecution, many of them became practitioners.
Robert Stenerson's wife began to practice in 2001. He was inspired to learn more about the mind-and-body practice after he noticed her positive changes. He said, "I was raised in a Catholic environment, but Falun Gong struck a chord in my heart."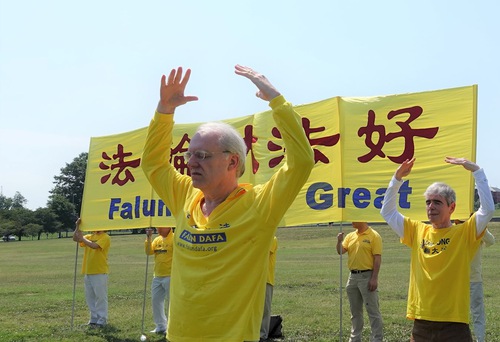 Robert Stenerson
Stenerson, a subcontractor for the federal government, shared that although he had a prosperous life before he began practicing, he wasn't happy. After he began practicing, he experienced a sense of joy he'd never felt before. "I feel all the energy channels in my body are open. I am healthy and free of ailments," he said.
"My temperament changed too. I no longer have any bad thoughts or misgivings about other people. My friends and family saw these changes."
He said friends and colleagues are very grateful to him for telling them about the persecution. "In America, most people in mainstream society know the communist regime is bad but they don't talk about it. They just ignore it. Nowadays everyone comes to me to find out what the regime has done and how it operates."
Bjorn Neumann and his daughter do the exercises at the Washington Monument.
Bjorn Neumann, a German American, has a small business. He brings his entire family to join in the July 20 activities every year. He said, "We can practice Falun Dafa freely here, but across the ocean, people are tortured for doing this.
"The CCP has infiltrated the U.S and wants to destroy American society as well as its foundation. It is more and more obvious that this evil specter is ruling the world," he said.
He concluded by saying, "Falun Gong practitioners have resisted the persecution for 21 years through rational, peaceful means in keeping with the principles of the teachings Truthfulness, Compassion, Tolerance. I am very proud to be a member of this group."
21 Years of Peaceful Resistance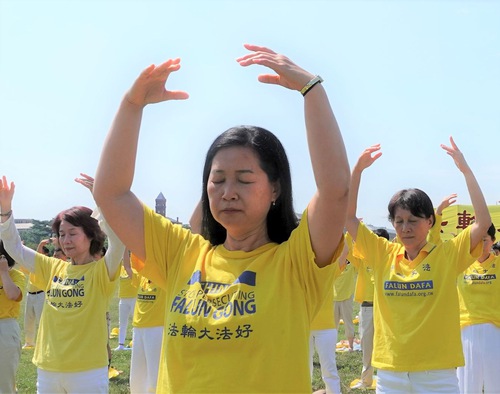 Cui Aidong has attended Falun Gong activities in Washington, D.C every year for the past 21 years.
Recalling what happened on July 20, 1999, Cui Aidong said, "I was studying in North Carolina at that time. I drove to Washington, D.C. to call for an end to the atrocities. My thinking was very simple then. I thought if we appealed, the Chinese government would let practitioners practice freely. I come here every year with the same hope, that is this will end soon. Year after year, I hope that this ordeal will end. Never did I expect that it would continue for 21 years."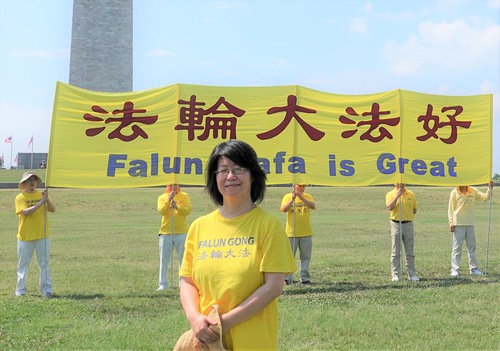 Professor Shao Xin, a Falun Gong practitioner
Shao Xin was a 26-year-old PhD student at the Georgia Institute of Technology in Atlanta in 1999. "After persevering for 21 years, I feel that things are getting better," she said. "More and more people's conscience have awakened. The environment has changed tremendously, and this persecution will soon end."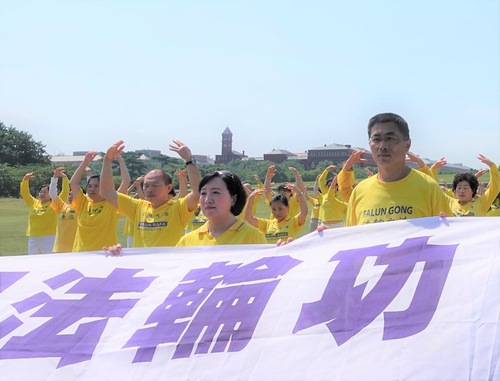 Xue Bin (right) participates in July 20 activities at the Washington Monument.
Xue Bin, formerly an official in China's Ministry of Agriculture, came to study in the U.S in the early 1990s. He began to practice Falun Gong in January 1999.
"My heart is very heavy every time July 20 comes around. So many practitioners are persecuted, but Falun Gong teaches people to be good and kind," he said.
"It gets very hot in Washington, D.C every July. The temperature is often over 100F. Practitioners from all over the world gather here to call attention to this persecution.
"This year is unique. The coronavirus has changed everyone's lives. Everywhere you hear people calling for the end of the CCP. We will not stop exposing this persecution as long as it continues."