Montreal, Canada: Rally in Front of Chinese Consulate Protesting the 21-Year-Long Persecution
July 22, 2020 | By a Falun Gong practitioner in Canada
(Minghui.org) Falun Gong practitioners held a rally in front of the Chinese Consulate in Montreal on July 16, 2020. The practitioners were protesting the Chinese Communist Party's (CCP) 21-year-long persecution and calling for an end to the human rights atrocities in China.
Falun Gong is a spiritual practice based on the principles of Truthfulness-Compassion-Forbearance with five simple, but effective exercises. The practice was very popular in China in the late 1990s with an estimated 100 million people practicing it daily. Because the number of practitioners surpassed the number of Party members, the CCP launched the persecution of Falun Gong on July 20, 1999.
Hundreds of thousands of practitioners have been illegally detained and incarcerated in forced labor camps, suffering all types of physical and mental torture. Many practitioners have been killed by Chinese authorities through torture, and many have been subjected to forced organ harvesting.
Falun Gong practitioners have continued to raise awareness of the persecution and spread the grace of the spiritual practice despite the tremendous pressure.
Practitioners at the rally spoke in English, Chinese, and French as they exposed the CCP's brutality and called on consulate staffers to understand the CCP's evil nature and not be accomplices to the persecution.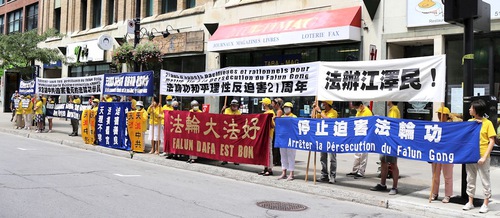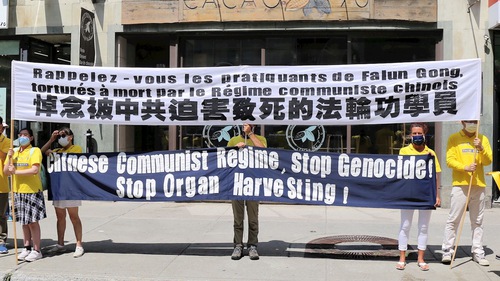 Rally in front of the Chinese Consulate in Montreal on July 16, 2020
Peacefully Protesting the Persecution
Pauline, a local Falun Gong practitioner, participates in the protests in front of the Chinese Consulate every year. "The July 20 event is very important," she said.
Pauline said the peaceful protests at the consulate help more people learn about the persecution and also call on people to help end it.
Falun Gong practitioner Pauline
Pauline started practicing Falun Gong in 2001. She had cancer before she started to practice and her body was very weak. She could not walk for more than five minutes. She had not slept soundly for seven years.
Two weeks after she started to practice Falun Gong Pauline found that she slept very well. Two months later, she suddenly felt refreshed and discovered her illnesses were gone. She said Falun Gong gave her inner peace and made her energetic.
Pauline follows Truthfulness-Compassion-Forbearance in her daily life, and said her life has changed a lot. She sincerely hopes that Chinese people will all learn about the grace of Falun Gong. She practices the exercises in front of the consulate every week to help more people understand the truth about the practice.
Carole, a Falun Gong practitioner, said protesting the persecution has been a part of her life for the last decade or more.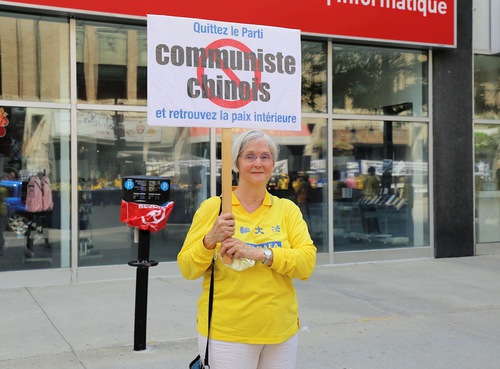 Falun Gong practitioner Carole
"I have practiced Falun Gong for 13 years," Carole said. "The persecution in China has led to the deaths of many Falun Gong practitioners. From the time I started to practice, I knew the best way to stop the persecution was to let more people learn about it and know about the brutality."
Carole was a nurse in a hospital in 2007 and had health problems. She came across Falun Gong when she was away from work on sick leave. She remembers feeling that she had finally found the high-level school of practice that she had been seeking for so long.
Her life went through tremendous changes after she started practicing Falun Gong. She was uplifted physically and mentally, and her morality improved as well. The improvements were all subtle and harmonious, without any negative aspects.
People Support Practitioners' Efforts
People paused to learn more about Falun Gong. After hearing that practitioners in China are persecuted for their faith and even subjected to live organ harvesting, people were genuinely appalled. A Chinese person who had just left the consulate accepted a flier and thanked the practitioner for handing it to him.
Julie often travels to China. She paused after seeing the banners and asked a practitioner what had happened. The practitioner told her about Falun Gong and explained the CCP's ongoing persecution.
"You are doing great to educate us about the issues happening in China," Julie said. "The CCP does not allow freedom of speech. This event is very good. Please keep doing this. I support you."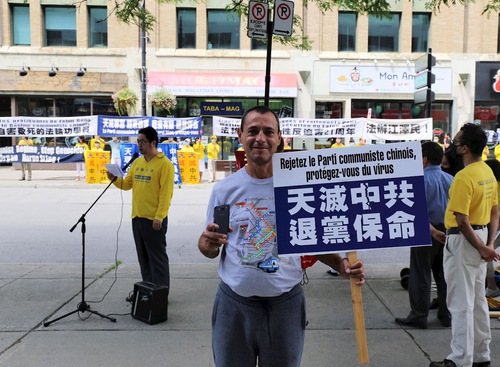 Montreal resident Cano expresses his support by holding a sign board.
Montreal resident Cano listened to practitioners' speeches during the rally for a long time. He then decided to hold one of the signs encouraging Chinese people to quit the CCP to express his support.
"These people [Falun Gong practitioners] are good people. The persecution should stop," Cano said sincerely.