Washington DC: Falun Dafa Practitioners Hold Candlelight Vigil in Front of Chinese Embassy
July 22, 2020 | By a Minghui correspondent in Washington DC
(Minghui.org) Falun Dafa practitioners held a rally and candlelight vigil in front of the Chinese Embassy in Washington DC on July 17, 2020. They solemnly commemorated their fellow practitioners who have died as a result of the Chinese Communist Party's (CCP) persecution of Falun Dafa over the past 21 years and called on the rest of the world to help end it.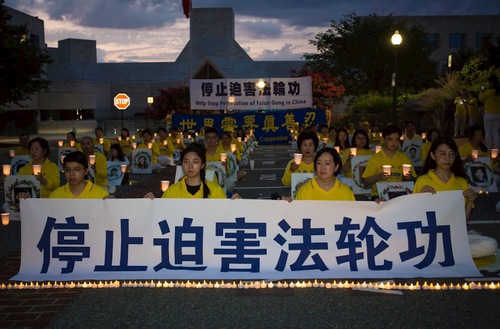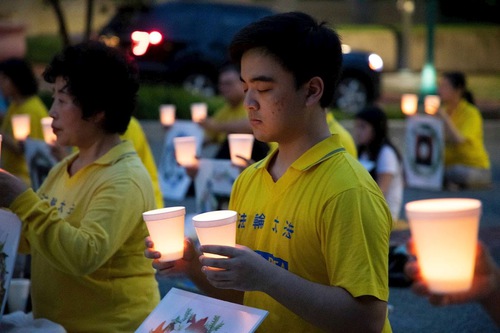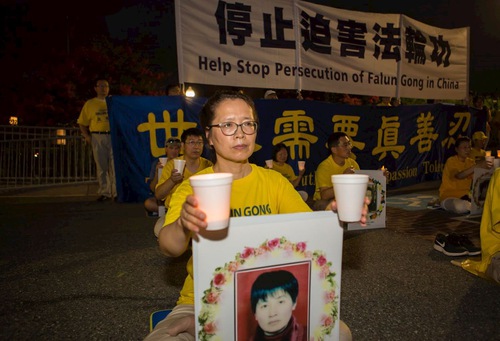 Falun Dafa practitioners held a candlelight vigil in front of the Chinese Embassy in Washington DC on July 17 to commemorate fellow practitioners who have died as a result of the CCP's persecution.
During the event, several practitioners talked about their personal experiences and the suffering they endured. 
Three Sisters Imprisoned for Over 16 Years for Their Belief
Three sisters from Dalian, Liaoning Province, had successful careers before the persecution began. Ms. Chunrong Wang was the director of an accounting firm, Ms. Chunying Wang was a supervisor nurse in Dalian Central Hospital, and Ms. Chunyan Wang owned a trade logistics company. They followed Falun Dafa's guiding principles, Truthfulness, Compassion, and Forbearance, in their daily lives and work and were commended for their ethical business practices. 
After the CCP initiated the persecution in 1999, the sisters were arrested many times and were imprisoned for a total of 16.5 years. When Chunrong's accounting firm was closed, over 70 employees lost their jobs. 
After she was arrested in 2001, Chunying's company was shut down and lost 1.3 million yuan (US $185,921). As a result of being tortured several times, she lost feeling in her arm and it atrophied.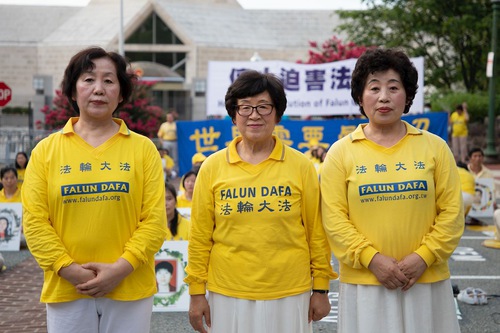 Chunyan Wang, Chunrong Wang, and Chunying Wang, three sisters who were persecuted for upholding their spiritual belief, Falun Dafa.
Chunrong recalled going to Beijing in the fall of 1999 to appeal for their right to practice, "The three of us benefited so much from practicing. We knew Master was righteous and Falun Dafa was good." 
In Beijing, they met with practitioner assistants Chen Zhenli and Sun Lianxia from Dalian. These two practitioners were later tortured to death. Sun died in January 2000. Her body was stored in the hospital where Chunying worked. The sisters went to the mortuary and could barely recognize her. Her back was covered in cuts and bruises. 
Chunyan said that 21 practitioners she knew personally died as a result of the 21-year-long persecution and many were imprisoned for long terms. The National Security Police of Dalian have recently begun another round of arresting practitioners and illegally searching their homes. Several practitioners have been persecuted to death in Dalian.
Chunying was incarcerated twice in the notorious Masanjia Forced Labor Camp and was tortured for over five years. 
"Each month, every inmate in the Masanjia Forced Labor Camp had to sign a checklist of wrongdoings they admitted to. I refused to sign it. As punishment, captain Zhang Chunguang, instructor Li Mingyu, and six other guards handcuffed me between metal bunk beds. 
"My right hand was handcuffed to the railing on the upper bunk, and my left hand was handcuffed to the railing under the lower one. I couldn't stand or squat. Because my hands were fastened so tightly in the handcuffs, they quickly swelled up and turned black and purple. 
"To make me suffer even more, the guards kicked the beds until they were tired. I felt like I was being pulled apart. From time to time, the guards shook my hands in the handcuffs. My hands were in extreme pain. The temperature in Shenyang was 17 to 18 degrees below zero Celsius at that time, but I was sweating."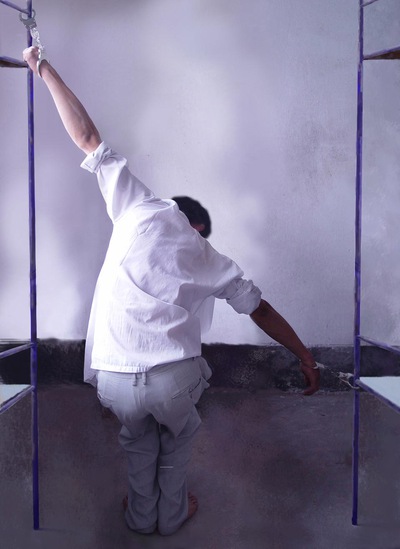 Torture reenactment: Stretched while handcuffed
"The guards repeatedly tried to make me sign the checklist. They stopped torturing me at 1:30 a.m. I was handcuffed to the beds for 16 hours. My hands were swollen and covered in bruises and cuts. Each month when we refused to sign their checklist we were tortured." 
Chunying recalled that July 20, 2009, was her last July 20 in Masanjia Forced Labor Camp. She carefully prepared for two months to hang up a large banner that said, "Falun Dafa Is Good, Heaven Is Disintegrating the CCP, and Quit the Party for a Bright Future" on a wall in the camp. 
Doctoral Student and Her Husband Incarcerated in Labor Camps for Their Belief
Doctoral student Xiaorong Tan of Lanzhou University and her husband brought their two-year-old son with them when they went to Beijing to speak up for Falun Dafa on January 1, 2001. Several police officers beat them and dragged them into a police vehicle. 
They were released and returned to Lanzhou. They were later arrested in Lanzhou. Relatives in other provinces took care of their son when the couple was sent to forced labor camps for a year and a half.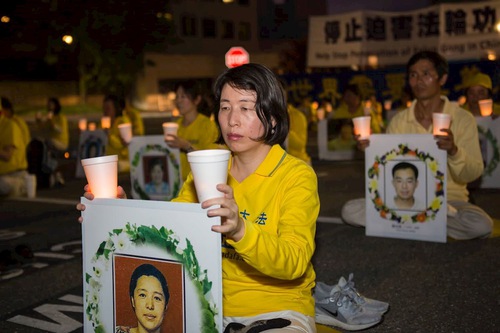 Ms. Xiaorong Tan was separated from her infant son. She was beaten and tortured while incarcerated for refusing to give up her belief in Falun Dafa. 
Tan said she was forced to do hard labor in the camp and was beaten and tortured.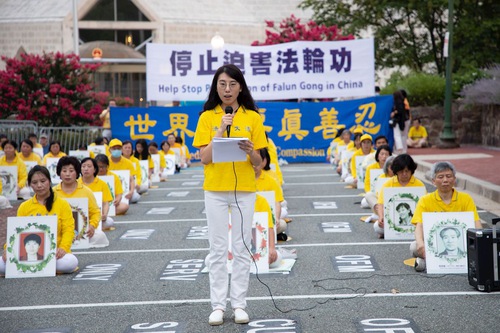 Ms. Xi Wang said she is very proud of her parents who remained steadfast despite the harsh persecution. 
"The 21-year-long persecution caused me a lot of suffering," said Xi Wang, who teaches in a public school in Maryland. She said that, even though the persecution broke up her four-member family, they remain steadfast in their belief Falun Dafa and its principles if Truthfulness, Compassion, and Forbearance. 
Ms. Xi said she was proud of her parents, who were arrested for printing Falun Dafa information materials. She was only eight years old when they were arrested and imprisoned for eight years. 
Her father was tortured in prison and became extremely weak. After he was released, he passed away suddenly in 2015 at the age of 50. Ms. Xi had moved to the United States less than a month before.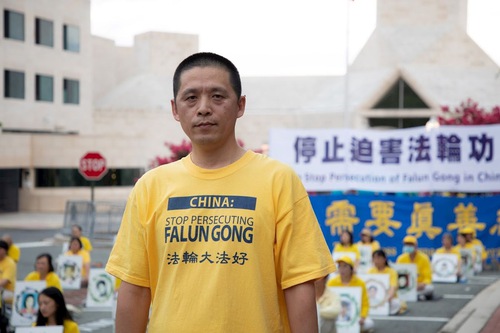 Mr. Qingkai Zhao from Jilin
Qingkai Zhao witnessed the persecution of his wife and her two sisters, both practitioners. He was about to be married when the persecution started. The persecution completely disrupted his career and family. 
His wife left home when their son was six years old to avoid further persecution. They met again six years later in the United States. Zhao and his son then started practicing Falun Dafa in this country. 
Zhao called on all Chinese people to learn about Falun Dafa and to recognize that the CCP is lying to them. He asked them to quit the Party for a safe future.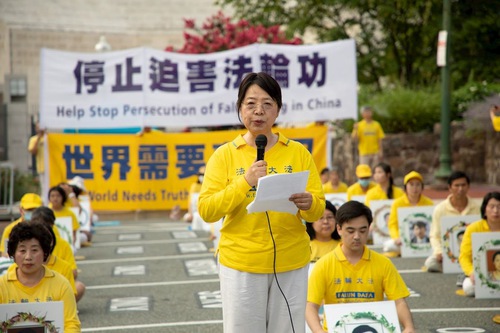 Spokesperson Min Ge of the Washington DC Falun Dafa Association 
Ms. Min Ge, spokesperson for the Washington DC Falun Dafa Association, said that many people have had their health issues resolved after they started practicing Falun Dafa. They also sensed that their moral standards improved. She pointed out that the CCP uses lies and violence. She explained how the CCP deliberately caused misunderstandings about Falun Dafa and is responsible for the moral decline in China. 
She also mentioned that the CCP's initial cover-up of the coronavirus outbreak in Wuhan and it subsequent campaign of misinformation led to the current global pandemic. Yet the CCP continues to persecute Falun Dafa. At least 39 practitioners died as a result of the persecution in the first half of 2020, at least 132 were sentenced to prison, and over 5313 practitioners were harassed. 
Ge called on Chinese officials to stop participating in the persecution and to withdraw from the Party so that they will not be held accountable for the Party's crimes. 
The deaths of more than 4500 Falun Dafa practitioners have been documented since July 20, 1999. Hundreds of thousands practitioners have been incarcerated in forced labor camps and prisons, physically and mentally tortured, and subjected to forced live organ harvesting. The actual number could be much higher due to the CCP's information censorship.