Taiwan: Practitioners Hold Grand Parade Marking 21 Years of Peaceful Resistance
July 21, 2020 | By a Minghui correspondent in Taipei
(Minghui.org) To raise awareness of the ongoing persecution of Falun Dafa in China, 1,000 practitioners gathered at City Hall Square in front of the Taipei City government building on July 18, 2020, where they held several activities.
Former Chinese Communist Party (CCP) leader Jiang Zemin launched a genocidal campaign against Falun Dafa practitioners on July 20, 1999. The 21-year-long persecution has brought tremendous hardship to millions of practitioners and their families.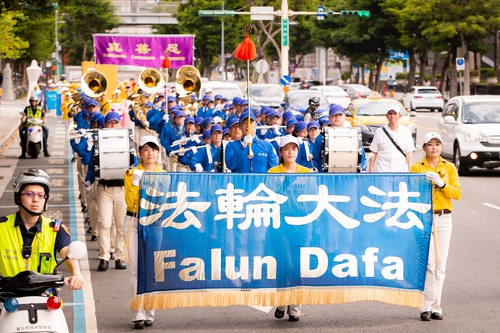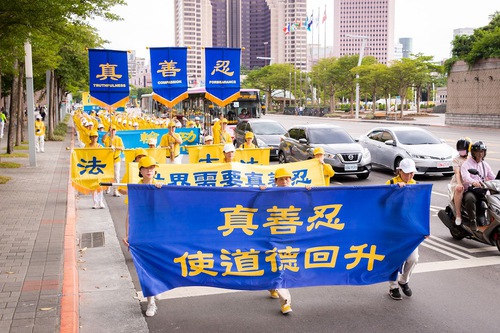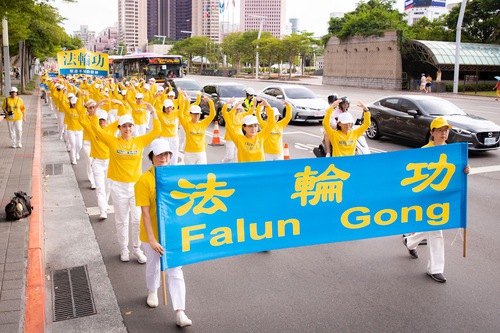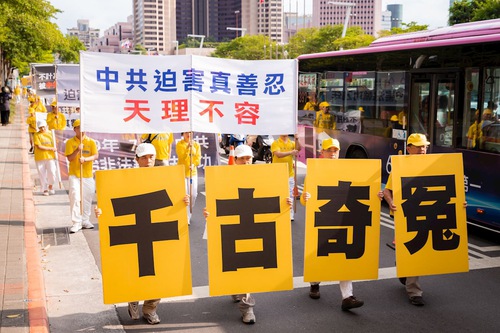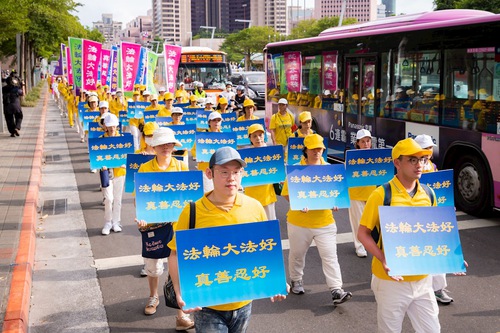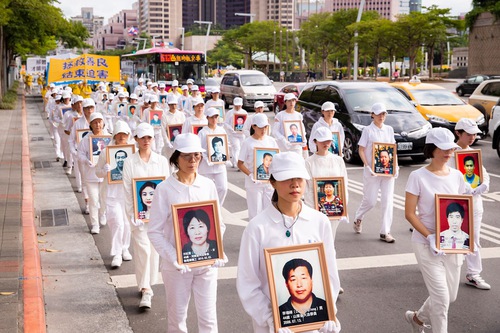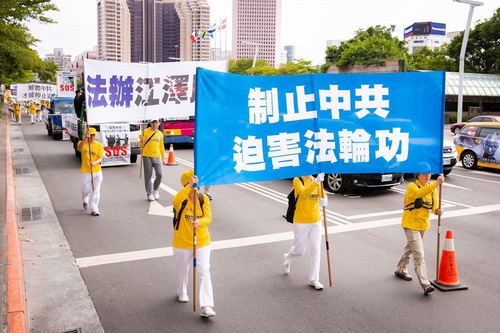 One thousand practitioners participated in a solemn, grand parade on July 18 to mark 21 years of peacefully resisting the CCP's persecution.
Similar activities were held in Kaohsiung, Taichung, Tainan, Changhua, Hualien, and other parts of the island that day. Zeng Jianyuan, head of the board of directors of the New School for Democracy, said that it was very special that Falun Dafa practitioners were granted approval to hold such large-scale outdoor events amidst the coronavirus pandemic. He feels it is a blessing only enjoyed in Taiwan. Less than a month after a global initiative to call on Members of Parliament to support an end to the persecution, over 550 lawmakers in 27 countries have signed joint supportive statements. In Taiwan, 34 legislators from different parties have signed statements supporting the initiative.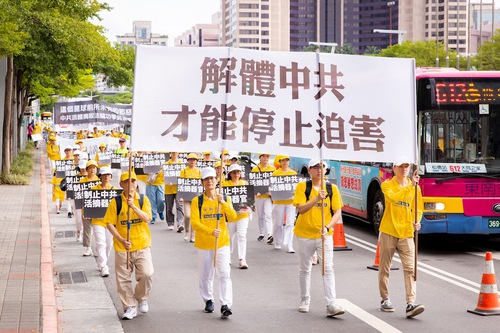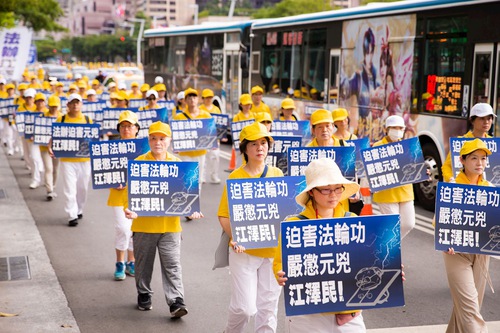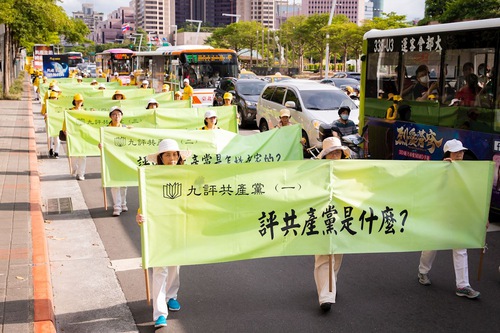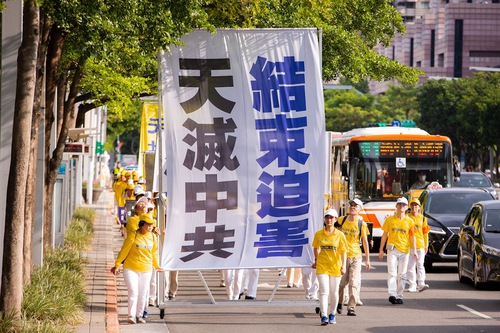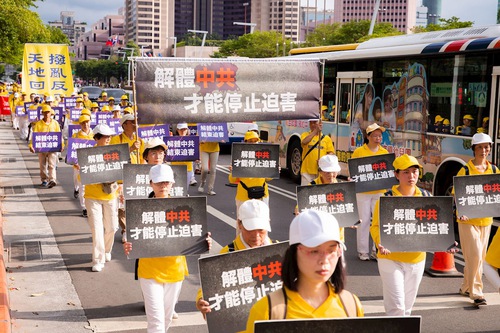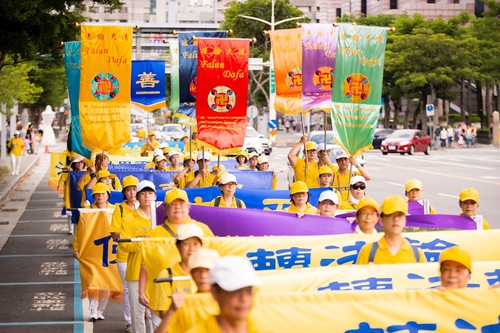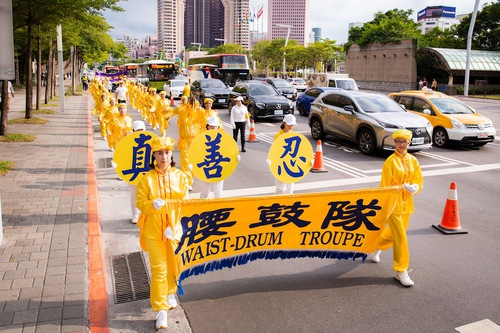 Practitioners held a grand parade commemorating 21 years of peacefully resisting the CCP's persecution.
According to the Falun Dafa Association in Taiwan, due to the coronavirus pandemic, only 1000 practitioners attended the parade this year so as to comply with government restrictions on outdoor events. The Tian Guo Marching Band was at the front of the parade which commenced at City Hall Square and passed through several busy commercial districts.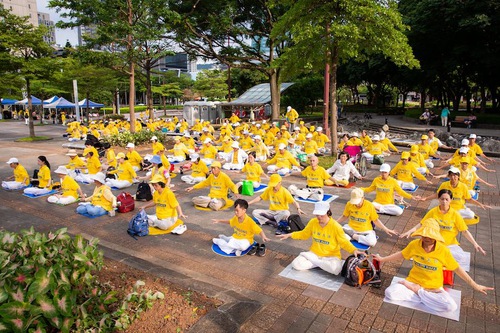 Around 200 practitioners demonstrated the five sets of exercises in the park next to the Taipei City government building.
People Express Admiration and Encouragement
After seeing an enactment of organ harvesting in a section of the parade, one person said, "Practitioners are persecuted like this just because of the popularity of the practice. Such things will never happen in Taiwan. Indeed the world will not be a good place as long as the communist regime is still around."
He expressed admiration for practitioners' persistence in resisting the suppression through peaceful means, and said, "These people have a strong heart. I think you are stronger than the CCP. Keep going!"
Another passerby said he had heard of the many bad deeds committed by the communist regime, "I heard many people were arrested and their organs were forcibly taken. You must continue letting people know about this! You should persevere in your belief!"
Mr. Xie, who holds a Master's degree, said this was the first time he had seen such a grand parade by Falun Dafa practitioners. He recorded the parade on his cell phone to remember the occasion. He also said he was moved by practitioners persevering despite the hot weather. He hoped to encourage them, and exclaimed, "The CCP is a hostile force. I support Falun Dafa!"
Keep Telling People the Truth
Mr. Lin, 26, works in the technology sector. He saw the parade by chance while shopping. He was stunned and said, "This is so grand! Like a national level event."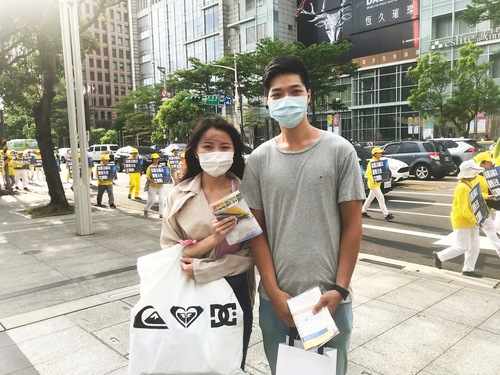 Mr. Lin was very impressed by the Tian Guo Marching Band performance.
He expressed sympathy for practitioners who braved the heat to raise awareness of the persecution. He feels that people in Taiwan are willing to listen to practitioners, and their attitudes towards China are gradually changing. He said that a practitioner he met on a train told him about the persecution. He knows a bit about the autocratic ways of the CCP and said, "That kind of political system will not go far because it relies on deception and brainwashing tactics to control people."
He added, "It's great that practitioners persist in telling people the truth. We know the CCP's propaganda are lies. Keep up your efforts. I hope people in China will also learn the truth!"
I Want To Tell the World that Falun Dafa Is Great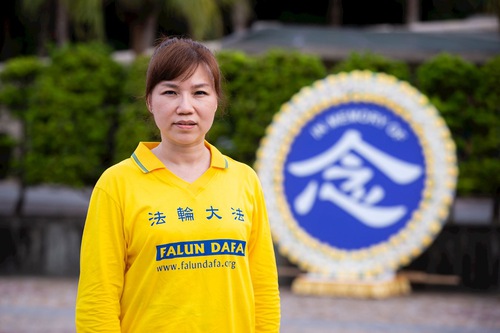 Liu Huiling
Liu Huiling, a beautician, first heard about Falun Dafa in 2002. The first time she did the second set of exercises, she felt a warm current go through her body. She was able to do the sitting meditation in full lotus position right from the start, and she knew that Falun Dafa was exactly what she had been searching for. Her skills at work have greatly improved. She learned not to take things personally if a customer is unreasonable, and she tries to accommodate everyone.
She said she has gained so much by practicing Falun Dafa, and wants everyone to know that Falun Dafa is great!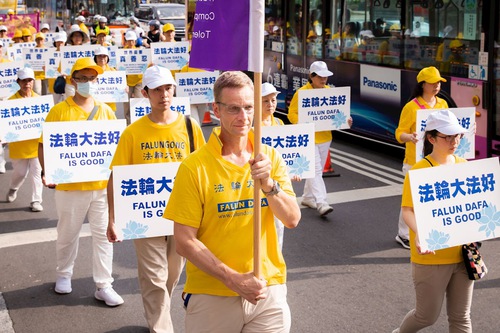 Thomas Kalmund
Thomas Kalmund from Germany, speaks Chinese fluently. He's been interested in qigong for a long time and was searching for a true cultivation practice. He kept going back to the same bookstore but discovered that qigong practices from China were shallow. Religious teachings were destroyed by the communist regime. He finally gave up.
One day in September 1998, he went to the same bookstore. An employee gave him the book China Falun Gong. He read it briefly and thought it was just another qigong book. The teachings appeared simple so he put the book back.
The employee invited him to have coffee. He thought it would be rude to dismiss the employee's recommendation, so he picked up China Falun Gong, and this time he read it carefully. He found the book talked about improving one's moral character. He thought it was very unusual because books on qigong never said anything about cultivation. He bought the book and began practicing Falun Dafa. He regrets missing Master Li's (the founder) class in Frankfurt, Germany in May 1998.
He felt very fortunate to participate in the parade, and said, "I've often participated in such activities in Europe but I did not take it seriously and frequently chatted with practitioners. Practitioners in Taiwan are able to hold a grand parade like this during the severity of the coronavirus pandemic. This might be the only parade held worldwide. I now understand how precious this opportunity is."