Tortured to Paralysis for His Faith, Jilin Man Recalls 13 Years of Persecution
July 21, 2020 | By a Minghui correspondent in Jilin Province, China
(Minghui.org) Mr. Liu Hongwei, 54, of Jilin City, Jilin Province, was arrested multiple times for his faith in Falun Gong, a mind-body practice that has been persecuted by the Chinese communist regime since 1999. Following his arrest in 2006, he was tortured until he was unable to walk and was subsequently sentenced to 13 years in prison.
Due to the abuse he suffered in prison, almost all of Mr. Liu's teeth fell out and his eyesight was severely damaged; his spine became severely deformed from being bedridden for 13 years; he had frequent dizziness, palpitations, and cough, accompanied by vomiting, and he often felt pain in his heart and head.
Mr. Liu was released on October 24, 2019, and taken to a nursing home. With the assistance of his friend, who is also a Falun Gong practitioner, Mr. Liu was able to move out of the nursing home and into a rented apartment.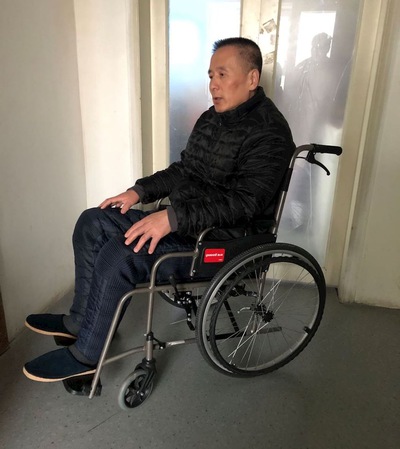 Current photo of Mr. Liu Hongwei in a wheelchair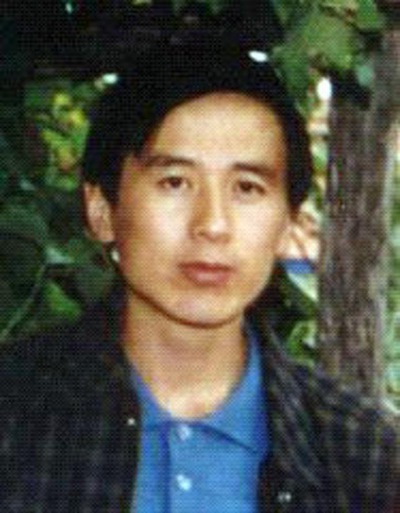 Previous photo of Mr. Liu Hongwei
Below is his personal account of persecution that he suffered:
Arrested and Sent to Forced Labor Camp
After the persecution of Falun Gong started in July 1999, my wife, Ms. Yu Lixin (who would later be persecuted to death on May 13, 2002), our 5-year-old daughter, and I went to Beijing to appeal on September 6, 1999. The police arrested us on November 11 and confiscated all of our money before sending us back to our hometown. After three days in a detention center, my wife and I were transferred to Jilin City's No. 3 Detention Center, where we spent the next 42 days.
In June 2000, I was arrested again while speaking with other practitioners in Meihekou, Jilin Province. While in custody, the police injured my back, and I was unable to walk. I was released after 28 days of detention.
On September 6, 2000, I went to Beijing to appeal for Falun Gong for the third time and was arrested. After spending over 20 days in Daxing County's Police Station, I was taken to the Zhihe Police Station in the Chuanying District in Jilin City in October. Later, I was taken to the No. 4 Criminal Police Team in the Chuanying Police headquarters by the police chief. The police handcuffed me to a metal chair for 17 hours. I wore thin clothing and the weather was cold. They interrogated me using violence.
Later, I was detained at Jilin's No. 3 Detention Center for a month before being given two years of forced labor at the Huanxiling Forced Labor Camp in Jilin City.
While in Division No. 4 at the Huanxiling Labor Camp, other practitioners and I did the Falun Gong exercises together and were brutally beaten by the guards. Despite such harsh treatment, other practitioners and I demanded our unconditional release. To punish us for our defiance, we were locked up in small cells for seven days.
On March 27, 2001, I was transferred to the Tonghua Forced Labor Camp. At the camp, I refused to do slave labor and also encouraged former practitioners who had renounced their faith under pressure to resume practicing Falun Gong.
On December 24, 2001, I was transferred to Division No. 3 in the Chaoyanggou Forced Labor Camp in Changchun City. During this time, I was subjected to many forms of torture. The guards shocked my anus with electric batons and beat me with a heavy wooden club. I was also subjected to other long-term physical abuses and mental torments. After my term expired, they held me 50 days beyond my term and then finally let me go on December 11, 2003.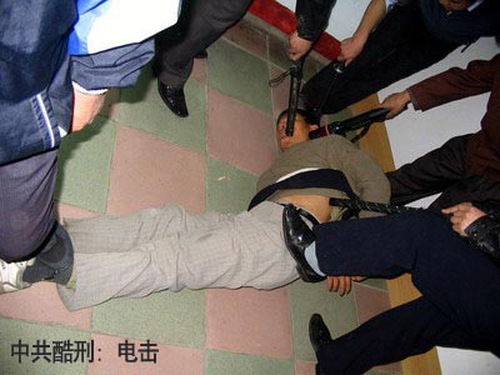 Torture re-enactment: Shocking with electric batons
On the Brink of Death, I Escaped from the ER to Avoid Further Persecution
On September 16, 2004, I was arrested by agents from the 610 Office, the Domestic Security Division, and Yunheli Police Station. At the police station, I was interrogated. When I refused to cooperate, I was beaten on my back. I had a severe heart attack and was taken to Jilin Hospital for emergency treatment.
Three days later, I managed to escape from the emergency room while being closely watched by the police. The police then put me on the wanted list. I became homeless to avoid further persecution.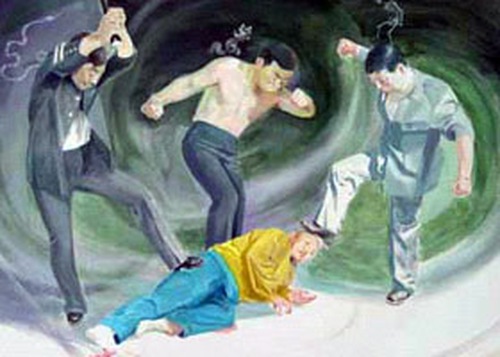 Torture illustration: Beatings
Arrested and Tortured to Paralysis
On October 23, 2006, a dozen police officers followed Ms. Mu Ping (my second wife, whom I married after my first wife died) and me to our rented home and began to monitor us. I was arrested at the Chaoyang District Tax Bureau in Changchun City. The police handcuffed me and took off my belt before using my shirt to cover my head and stuffed me into the car. My wife, who is also a Falun Gong practitioner, was arrested, too.
The police ransacked our home and confiscated our computer, cash and bank deposit book, and Falun Gong books and materials. I was taken to a hotel near my home.
In the hotel room, I was handcuffed to a chair and one police officer stepped on my hands. He swore at me and put a bag over my head before stuffing me back into the car and taking me to the Jilin Police Department. That afternoon, I was taken to the police dog training establishment and interrogated.
I was taken to a torture chamber that had all kinds of tools hanging on the wall. I was handcuffed to a chair and policeman Di Shigang threatened me with two choices: to confess everything or to die.
I refused to cooperate with them and was tortured. They first force-fed me with mustard oil. They poured it into bottled water and, with a few officers holding me down, they used pliers to open my mouth and force-fed me. I was unable to breathe. The mustard water went into my trachea and esophagus. The police even used a rope to pull my head back; I couldn't move and my teeth became loose. I fainted a few times.
They did this for several hours. Despite the pain, I refused to betray any practitioner.
Next, they handcuffed my hands behind my back and straightened my legs. They placed a cloth on my legs before laying a steel bar over it. Then two people stood on my legs and started rolling. I was trembling and nearly fainted. My legs were almost disabled.
The police then put a helmet on my head and used a thick club to hit the helmet. I was deafened and bleeding from my ears. Next, they made me wear heavy clothes and kicked me to the ground before using a club to hit me on the lower back. I was on the verge of collapsing and my mind was a mess.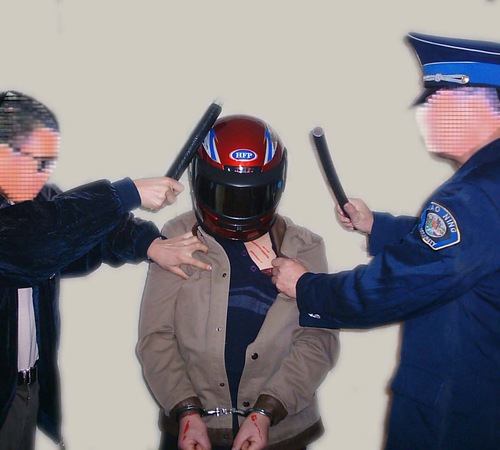 Torture re-enactment: Beating the head
By October 25, I was unable to move. I was nearly disabled after being tortured for three days and two nights. Throughout the interrogation, I was not given any food or water.
The IT technicians wanted to turn on my computer, but I refused to tell them my password. When I still refused to cooperate with them, they pressed my thumbprint on their written statement. Although I was arrested on October 23 and interrogated until October 25, the police wrote the arrest date as October 25.
I was taken to the Jilin Detention Center on October 25. When the detention center refused to accept me due to my condition, the police ordered the center to accept me and even falsely labeled me as the "head" of Falun Gong in Jilin City. The center took photos of me the next day.
Because I could only eat a little and vomited just drinking water, the doctor in the center took my wife's and my blood pressure and examined us every morning. The center also assigned someone to record my diet, including how much rice I'd eaten, how much water I'd drunk, and how many times I went to the restroom. They were afraid that I would die there and wanted to record my diet and use it to avoid responsibility. At that time, my blood pressure was extremely low, and I was near death several times.
My wife was also tortured. The police put a mop handle on her legs and started rolling on it. They also force-fed her mustard water. After arriving at the detention center, she went on a hunger strike and was force-fed every day.
Sentenced to 13 Years in Prison
I wrote a complaint letter to the prosecutor stationed at the detention center. I wanted to document the police officers' torture that had disabled me. Because I couldn't hold a pen at that time, I asked an inmate to help me. A few days later, a prosecutor found me and asked me for more information. Afterward, they threatened to take me out of the center to persecute me further if I insisted on complaining.
Due to my condition, I was bedridden. But the police were afraid that the public would think that I had been tortured until I was disabled and instructed the inmates to carry me out to do exercises.
The police also put me in handcuffs and shackles and covered my face with a dark face shield before taking me to Jilin No. 3 Hospital for a physical. After returning from the hospital, the police no longer forced me to stand up and exercise. They might have learned how bad off I was.
I refused to sign the arrest approval form when the police interrogated me; I also refused to sign the indictment when the prosecutor told me to.
While detained, I would take every opportunity to tell the police and guards how I was being persecuted and told them to stop committing crimes against Falun Gong practitioners. A young officer even asked me if I could tell practitioners to remove his name from the list of perpetrators.
I refused to wear the uniform or answer the roll call every night.
One day, I used the opportunity when I was let out and started shouting everyone to hear that I was being persecuted for practicing Falun Gong and the names of those who persecuted me. Everyone in the detention center could hear me; even the patrolling guards stopped to listen. No one stopped me. However, the center didn't let me out again.
In 2006, the local Politics and Legal Affairs Committee set up a "transformation" team and sent some of them to the detention center to interrogate me. They tried to force me to give up practicing and said I wouldn't be prosecuted if I cooperated. I refused.
I was taken back to my room only when my frail body could hardly take it anymore. When I told the guards about the team trying to force me to renounce my faith, the guards said that they couldn't afford to offend the team, so they couldn't intervene.
I was put on trial in June 2007. Four policemen carried me and my wheelchair to the Chuanying District Court.
After the presiding judge announced the start of the trial, I saw two lawyers, the prosecutor, and several officials in the room. When the judge asked me if I had any requests, I asked that the prosecutor be removed as he had sworn at me before and was not suitable to be a prosecutor.
The judge adjourned the hearing. After a while, a female judge came and told me that my request was declined. She asked me to cooperate with them and that they did not have any say over my case as they had to listen to the higher-ups.
When the hearing resumed, my two lawyers tried to defend me but the judge stopped them. The judge again adjourned the hearing when my lawyers insisted that it was their right to plead not guilty on their client's behalf. The local officials talked to one of my lawyers when the court was adjourned. I believed she was threatened because she no longer spoke up for me when the hearing resumed.
During the trial, I told the prosecutor that he should learn to respect others, causing him to blush with embarrassment. He then stammered when he read the indictment.
When I saw a police officer who had persecuted me before was also present, I told the judge that this policeman should be brought to justice. However, the judge quickly ended the trial.
I learned that I was sentenced to 13 years in prison after returning to the detention center. I appealed the sentence, but the verdict was upheld.
Inhumane Torture in Gongzhuling Prison
I was admitted to Gongzhuling Prison on July 18, 2007, after ending the more than eight months in the Jilin Detention Center. On the way to the prison, the policeman I'd pointed out during the trial asked me why I'd singled out him when he didn't beat me. I told him that he also played a part in persecuting me by writing false statements.
At the prison, the guards refused to accept me after seeing that I was paralyzed. However, the police from the detention center called the prison warden, and after some discussion, I was taken to the prison hospital for a physical exam. I told the doctors that they would be responsible if they accepted me and if anything happened to me. They refused to listen and told me to put on the prison uniform, which I refused to do. They gave up after seeing I was adamant.
My mother came to visit me a few days later. Because I refused to wear the prison uniform, I was not allowed a visit. When my elderly mother came again, I reluctantly put on the uniform after thinking that it was not easy for her to visit me and would be sad if she could not see me. My mother, accompanied by my sister and brother, cried to see that I was paralyzed. My sister asked me if I could get my sentence reduced while my brother looked very sad and didn't say anything. Since then, my sister has cut all ties with me as she was often harassed and investigated by the authorities.
In January 2008, I was transferred to the Rehabilitation Division after the Medical Division in the prison was dissolved. In order to generate profit, the prison forced the inmates to do unpaid labor, which resulted in the inmates getting into fights while trying to get more work so as to have their term reduced.
Guard Zhang Yaquan, who was in charge of "transforming" Falun Gong practitioners, often came to visit me and told the inmates to monitor me closely and didn't allow me to talk to others.
My mother came to visit me again in January 2008. When she tried to talk to me through the phone, Zhang stood beside her and tried to listen in, causing her to feel anxious. I then told Zhang, "If you were old and an officer was standing beside you while you tried to talk to your son, how would you feel?"
He didn't respond and retreated to the back of the room.
After the visit ended, Zhang followed me. I then asked him to allow a special face-to-face visit with my mother as she had hearing problems. He told me I had to agree to be "transformed" first.
When I first arrived at the prison, I told every prison officer and inmate about how I was being persecuted and also wrote a 13-page-long complaint letter to Jilin Provincial High Court to tell them how I was being persecuted for upholding my faith. I also asked the court to bring those perpetrators to justice and to release us unconditionally. After reading the letter, some people started to change their attitude about practitioners.
Before the 2009 Chinese New Year, a practitioner named Mr. Wang En'hui was force-fed multiple times in the prison when he went on a hunger strike. When I saw the inmates kicking Mr. Wang while I was on the way to the restroom, I stopped them. But as I was paralyzed, I was unable to stop them when they started hitting him again. I went to the prison instructor and asked for those inmates to be punished. That night, one inmate came to apologize to me and told me that the police had instigated them to hit Mr. Wang. Mr. Wang was persecuted to death after some time.
The supermarket in prison was also called the black market. Not only were the things expensive, but inmates also had to bribe the guards when buying daily necessities. If the prison wanted to buy a new television or other expensive items, the prison would use indirect means to have the inmates cover the cost – whoever chipped in would be given bonus points counted towards term reduction.
Zhang also gave each inmate a booklet to record my daily movements, including what time I woke up, ate, and who I talked to. When he came to talk to me, I tried to tell him about Falun Gong but he refused to let me speak.
Another time, I said loudly that the Chinese regime persecutes Falun Gong and the police are all accomplices. Zhang left without a word. An inmate then commented that Falun Gong must be right since Zhang didn't say anything.
Once, the health department of the prison came to check on the hygiene in the room. Everyone stood in a row, except me. When the director came to my bed, he asked why I was unable to get up. I told him that the police had injured my back.
I was carried to the education department two months later as the officials from the Political and Legal Affairs Committee were there to check on me. They instructed the inmate who was carrying me to put me on a chair but I refused, telling them that I was not in the wrong and they had no right to interrogate me. I told the inmate to put me on the couch instead.
When I started asking the officials for their names and titles, they became anxious. I also asked them to bring those police officers responsible for my being paralyzed to justice. They said it was out of their control.
My mother, who had advanced cancer, came to visit me in 2010 as she knew that it might be the last time she would ever see me. She told me she wanted to hold my hand again. When I asked the police to help, they refused.
A few months later, I learned that my mother had died.
I vomited blood on September 11, 2012. At that time, my teeth, loosened due to force-feeding from mustard oil, started to fall out. As I was not allowed to go to the hospital, I could only ask others to help me pull the teeth out with a thin thread. For five to six years, my gums were red and swollen. I often had headaches and a swollen face due to toothaches. There was about a month when I was almost blind due to the mental and physical pain.
After my mother died, my mother-in-law also died; my daughter and brother gradually cut ties with me due to my long sentence, disability, and also the constant harassment from the police. From then on, I needed others' help in prison and had no family.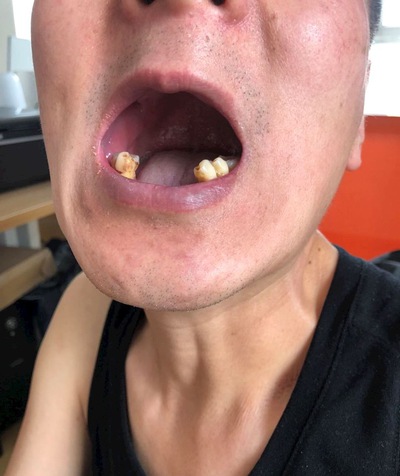 Mr. Liu Hongwei showing his remaining few teeth.
The damaged teeth that were pulled out by Mr. Liu Hongwei himself.
In 2014, policeman Wang Renjian from the education department told an inmate to carry me to a room on the second floor. As I was very weak, I asked that they carry me and my wheelchair. The police didn't agree.
Wang told me that they had prepared a couch for me as they knew about my condition and tried to "transform" me. I told him that they would not succeed.
I was carried down by the inmate in the afternoon. As I was very weak and my trembling hands could no longer hold on to the inmate, I fell backward and my head and back hit the ground. I fainted.
When I regained consciousness, I discovered that I was on my bed. The police wanted to take me to the hospital but I refused. In the following days, I couldn't move my head; my legs and hands were swollen and someone else had to feed me.
After I became a little better, Wang came again, this time with two others. They pushed me in my wheelchair to a room and started having a discussion among themselves in an attempt to "transform" me. I watched them silently. Two to three hours later, Wang asked me if I agreed with them. I told him that they had spoken very well but what they said had nothing to do with me. Wang never bothered me again.
In 2017, the prison tried to give me points every month in an attempt to "transform" me. I told him I didn't need them and refused to sign any of the bonus points forms. They stopped after seeing that they were unable to move me.
After nearly 13 years of persecution and torture, nearly all of my teeth had fallen out and my hair had turned gray. My eyesight was severely damaged and I had difficulty sleeping due to my severely deformed back. My legs were cold and numb and I often felt dizzy. I had palpitations and a cough, accompanied by vomiting, and I often had chest pain and headaches.
With only a few teeth left, I found it difficult to eat and had to swallow the food--sometimes it got stuck in my windpipe. Swallowing food like that led to indigestion and swelling and pain in my stomach, and I often had intestinal issues.
I was released on October 24, 2019, after serving 13 years in prison. I left the prison in a wheelchair.
Persecuted in Nursing Home
On the day of my release, I was pushed out of the prison and into a police car that had been waiting outside for me. Practitioners from Jilin City who had come to pick me up were photographed by the authorities.
The police took me to Siping City to find my daughter, but she refused to accept me as she didn't want to be implicated again. The police then took me to a nursing home and forged my signature to get me admitted.
I was carried to a room with three beds. An elderly couple was also staying there. I was tired and wanted to rest, but when I covered myself with the blanket, it smelled, and I realized that it had feces and urine on it. Not only did I have to stay with the couple, but there was also a locked room nearby with a 24-year-old man with mental disorders. I was unable to fall asleep as the man kept shouting.
The next day, practitioner Daping, who is also my good friend, came from Changchun to visit me. The nursing home associate director tried to prevent him from entering as the police had instructed that anyone who visited me had to be accompanied by three police officers.
The police asked Daping for his ID and he told them that he came to care for me as a friend. The police allowed him to visit me the next day.
When Daping came again, he brought me a lot of food. Once he saw the condition of the room, he told the nursing home to transfer me to a better room and they did.
The others in the nursing home were either insane or disabled. The conditions and food were nearly on par with the prison. Most of the time I could only lie in bed and was not allowed to visit any place. It was a private nursing home, and they wanted to save money, so they didn't heat the place. My room was always cold for more than 20 hours a day.
During my stay in the nursing home, the local authorities came to take photos of me to make me an ID card and household registration.
With help from Daping and other practitioners, some of my needs were met.
From December 12, I started writing letters to the local authorities to tell them about my disability and the situation in the nursing home. I also asked to return to my normal life. Daping also tried to liaise with the authorities to get me out of the nursing home.
The authorities initially agreed to Daping's request after the New Year. However, when the authorities checked his ID and realized that Daping had served forced labor before for practicing Falun Gong, they started to delay the process.
I went on a hunger strike and didn't eat or drink for three days and nights. I called the authorities and told them that I would defend my right to freedom with my life. The nursing home director also told the authorities about my hunger strike.
The next day, Daping was told that he would be able to take me out of the nursing home if he could find someone who was not a practitioner to be my guardian. Daping managed to find a guardian for me and also rented a two-bedroom apartment for me.
On February 22, 2020, I was taken from the nursing home to the rented apartment. The local authorities came and took photos of the interior.
Related reports:
Dafa Practitioner Ms. Yu Lixin Died After Suffering Grueling Torture
Yunheli Police Station of the Changyi District Police Department in Jilin City Attempts to Extort a Confession Through Torture (Photos)
Situation of Liu Jiahui, Ten-year-old Daughter of Yu Lixin, a Falun Gong Practitioner from Jilin Province Who Was Tortured to Death in Heizuizi Prison (Photos)
Mr. Liu Hongwei Has Difficulty Walking Due to Torture He Received at Jilin Detention Center in Jilin Province (Photo)
Mr. Liu Hongwei Tortured in the Chuanying District Police Department of Jilin City, Jilin Province
Falun Dafa Practitioner Mr. Liu Hongwei on Hunger Strike at Jilin City Detention Center
Falun Gong Practitioners Liu Hongwei and Mu Ping from Jilin City Secretly Put into Prisons
Mr. Liu Hongwei Tortured by the Jilin National Security Team, Sentenced to Thirteen Years in Prison
Mr. Liu Hongwei Taken to Nursing Home After 13 Years of Wrongful Imprisonment