Chiayi City, Taiwan: Raising Awareness of the CCP's 21-Year-Long Suppression of Falun Dafa
July 15, 2020 | By Minghui correspondent Qing Han
(Minghui.org) Over 200 Falun Dafa practitioners in Chiayi City, Taiwan gathered at Wenhua Park on July 11, 2020, to draw attention to the severe persecution of Falun Dafa in China that has been ongoing since July 1999. Activities included group exercises, displaying posters and banners, distributing informational materials, and a candlelight vigil. Practitioners also taught people how to make beautiful folded paper lotus flowers.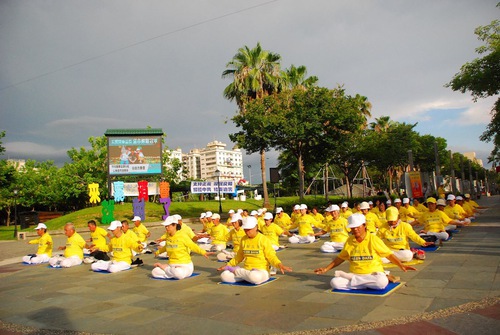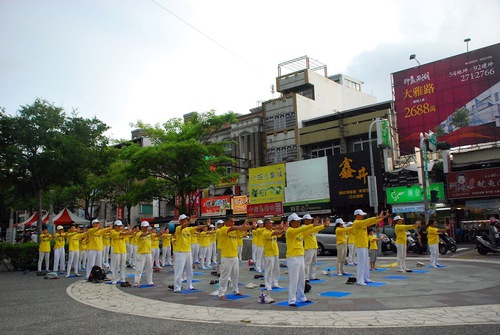 Group exercises by Falun Dafa practitioners at Wenhua Park in Chiayi.
"Hope to See More Events Like This"
Despite the Chinese Communist Party's (CCP) cover-up of the initial outbreak of the novel coronavirus, Taiwanese officials have been vigilant of the CCP's propaganda narratives and took the necessary precautionary measures from the beginning to reduce the impact of the coronavirus pandemic. 
As the CCP continues the suppression against Falun Dafa and its principles of Truthfulness-Compassion-Forbearance, the people of Taiwan and Taiwanese officials have embraced this practice. Falun Dafa is highly regarded in Taiwan not only for the mind and body benefits it brings to practitioners, but also for its benefits to society in general. 
Impressed by the practitioners peacefully meditating, a tourist talked with a practitioner and accepted some printed materials about Falun Dafa and the persecution. "Thank you for telling me about this, as I did not know that the situation in China was so terrible," he remarked. "Freedom of belief is important for our society and it should be protected."
Many passersby stopped to ask questions and young children were excited to learn how to make paper lotus flowers. "We cannot allow the CCP to continue doing bad things like this. It must stop," one person said. "I like these kinds of events and hope to see more activities like this," commented another.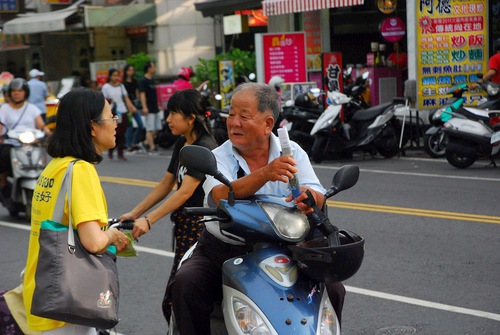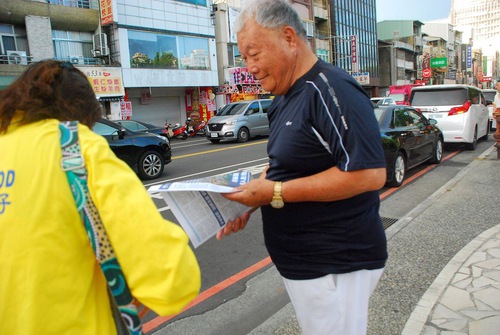 Practitioners distribute informational materials at an event to raise awareness about the persecution of Falun Dafa in China.
Keeping Away from Viciousness and Embracing Your Conscience
Retired teacher Lin Cheung-ling used to suffer from insomnia and eye ailments for over 10 years. Her daughter and son-in-law, who had already benefited from Falun Dafa, recommended the practice to her. Her daughter invited Ms. Lin, then 65, to attend a nine-day lecture series on Falun Dafa in 2013.
The outcome was phenomenal. Ms. Lin learned that Falun Dafa was very special, and the teaching profound. "I no longer need to take any medication and I have become healthier over these past 7 years," Ms. Lin shared. "Not only that, but Dafa's principles of Truthfulness-Compassion-Forbearance have also made our family environment more harmonious and we hardly have any conflicts." 
Ms. Lin, who currently works for NTD television, said she would like to share traditional Chinese culture, especially with the younger generation. "I am also glad to be here today to tell people how wrong the CCP is in suppressing Falun Dafa practitioners who just want to be better citizens," she said. 
Candlelight vigil commemorates Falun Dafa practitioners who have lost their lives in the persecution in China.
Wang Fanglian, who has been a child educator for about 20 years, agreed. As she sat with other practitioners for the candlelight vigil, she said that the harm caused by the CCP from the persecution is immeasurable. "They are innocent people just like you and me, who want to be healthier with a higher moral standard. However, they were killed and some became victims of forced organ harvesting," she said. "My conscience tells me to speak up about this matter."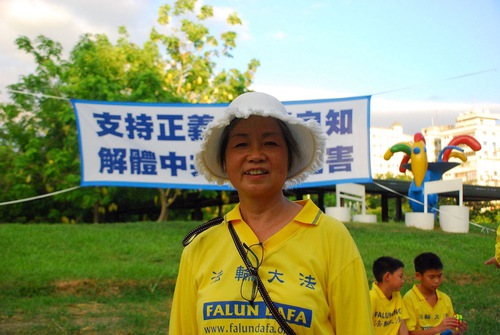 Wang Fanglian said that the mistreatment Falun Dafa practitioners have suffered in China includes detention, imprisonment, torture, and forced organ harvesting.
Ms. He, an elementary teacher, has practiced Falun Dafa for 15 years. She used to have a bad temper and had difficulty getting along well with others. "Falun Dafa teaches me to look within when I have a conflict to improve my character. When doing it that way, I found myself just like a new person and life is now full of hope," she said. 
Speaking of the ongoing suppression in China, Ms. He said that the CCP has been deceiving people all along over the course of the numerous political movements throughout its history. In particular, the regime often instigated one group of people to attack another, and as a result, a large number of people have become victims. "As we have now seen how the CCP covered up the outbreak of the coronavirus, only by staying away from their viciousness and embracing our conscience will we head towards a bright future," she said.