Jilin Woman Brutally Tortured for More Than Five Years for Upholding Her Faith
June 7, 2020 | By a Minghui correspondent in Jilin Province, China
(Minghui.org) Ms. Yan Shufang was once addicted to gambling. But after she took up Falun Gong—also known as Falun Dafa—in 2005, she was able to kick the habit and became a kinder, more even-tempered person. 
Now 54, Ms. Yan, of Tonghua City, Jilin Province, has been arrested multiple times for her faith in Falun Gong, a spiritual discipline that has been persecuted by the Chinese communist regime since 1999. She has spent 13 months in a forced labor camp and four years in prison. 
She was recently released from prison on April 24, 2020.
Below is just some of what Ms. Yan has endured.
Tortured in Jilin Women's Forced Labor Camp
The Chinese Communist Party (CCP) intensified its efforts to arrest Falun Gong practitioners on the eve of the 2008 Olympics. 
On April 23, 2008, Jiangdong Police Station officers went to Ms. Yan's home. She didn't open the door but attempted to explain the facts about Falun Gong to them from her front window. They eventually deceived her into going to the police station but took her to the detention center instead. They came back to ransack her house.
On June 2, Ms. Yan was transferred to Jilin Women's Forced Labor Camp (also known as Heizuizi Women's Forced Labor Camp), although no legal procedures were followed. The police department even had to bribe the labor camp to accept her.
On the morning of June 4, four prison guards electrically shocked Ms. Yan all over her body for about 30 minutes. Then they forced her to put on the inmate's uniform and tied her to a metal bed, a death bed.
Torture illustration: Death bed
A week after she was tied to the death bed, Ms. Yan started to develop severe pain in her back. When other Falun Gong practitioners put a cushion under her back, an inmate would take it way. The inmate attempted to deceive Ms. Yan into signing a statement to renounce Falun Gong by promising to let her off the "death bed." Ms. Yan refused to comply. 
Two weeks later, the guards let her take a shower. She passed out in the restroom. After she came to, she was put back on the "death bed." The guards would let her take a shower every week or so.
By the time the torture ended five months later, her legs were severely swollen and she had lost sensation in her feet. She couldn't keep her balance to walk. Her knees felt like they were being stabbed with needles. The pain didn't go away for a few years. 
The prison pressured her to give up her faith by all means, including depriving her of family visits.
The authorities extended her term for 72 days because she refused to give up her belief in Falun Gong. She was released on July 4, 2009.
Second Arrest
Ms. Yan was arrested on April 24, 2016, for distributing informational materials about Falun Gong. Three plainclothes officers knocked her over and dragged her along the ground for over 100 meters. Her pants, shoes, and socks fell off during the struggle.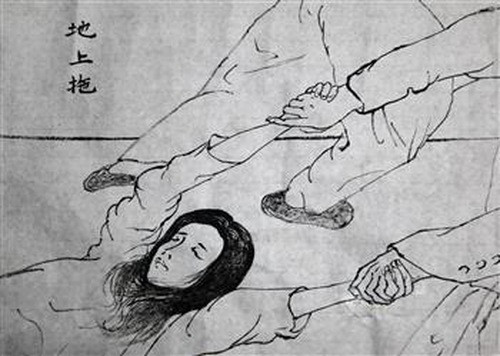 Torture illustration: Dragged along the ground
She was handcuffed behind her back and taken to Laozhan Police Station, where officers poured cold water on her face during her interrogation. Her home was ransacked, and Falun Gong books and other belongings were confiscated. She was transferred to Tonghua City Detention Center that night.
Ms. Yan was interrogated about the sources of the Falun Gong materials that were taken from her home. Yanji Police Department officers even pressured other arrested practitioners to say that Ms. Yan gave them Falun Gong materials to distribute. They tried to frame her as the leader. 
Ms. Yan went on a hunger strike in protest and was given IVs against her will on multiple occasions. Her hunger strike continued past May 13, when she was moved out of the detention center. 
The officers also tried to extort 1,000 yuan from her family to pay her living expenses, but to no avail. The officers then withheld the several hundred yuan that Ms. Yan's family deposited with the detention center for her use. 
Abuse of Power by the Yanji Police Department
On May 13, 2016, Ms. Yan was taken to a brainwashing center located in a hotel in Antu County for marathon interrogation sessions. Her request to speak with her family to retain a defense lawyer was denied. 
She was tied to a stool and deprived of sleep for five days. The police slapped her in the face with a plastic stick. Two collaborators tried to "transform" her. She was taken to the hospital for force-feeding twice. Ms. Yan soon developed abnormal symptoms, with her blood pressure shooting up to over 180 mmHg. 
When the police took her to Yanji Detention Center on May 21, the detention center refused to take her because her blood pressure was too high.
Due to a close personal relationship between an instructor at Yanji Police Department and a prison guard, the detention center admitted Ms. Yan the very next day, despite her condition.
Tortured in Yanji Detention Center
The prison guards told criminal inmates to torture Ms. Yan. One inmate made her squat in the restroom and hit her on the head with shoes when she refused to wear the prison uniform.
Ms. Yan went on a hunger strike for over 40 days to protest. During this time, she was force-fed and given an intravenous infusion. The force-feeding was done once every other day; the infusion was administered every day at first, but then stopped. Sometimes the inmates would drag her around on the ground, using her clothes as a mop to clean up after her force-feeding sessions.
The inmates made Ms. Yan stand up against the wall all day long. She suffered from chronic headaches and almost collapsed.
One year later, theMs. Yan still had not received any explanation for her illegal detention. She went on a hunger strike again in May 2017. Five days later, she was tied to a death bed again. This hunger strike lasted for 19 days.
Illegal Hearings in Antu County Court
On June 3, 2016, the Antu County Procuratorate approved Ms. Yan's arrest. The prosecutor returned her case to the police twice for insufficient evidence before indicting her and submitting her case to the Antu County Court in January 2017. 
Hong Shuying, the presiding judge in charge of her case, forced Ms. Yan's lawyer to quit representing her and then lied to Ms. Yan's family, saying that it was the lawyer's own decision. After Ms. Yan's family confronted the judge with the truth, he had to let the lawyer represent Ms. Yan again.
Ms. Yan appeared in court on June 13, 2017. Her lawyer was not allowed to enter the courtroom. When Ms. Yan accused the judge of deceit, he stripped of her right to defend herself. 
Ms. Yan was sentenced to four years and fined 20,000 yuan ten days after the trial. She filed an appeal with the intermediate court, but that court upheld the original judgment. 
She was transferred to Jilin Province Women's Prison on December 4, 2017. Her family was not informed of her sentence or where she was to be incarcerated. They only found out through the detention center.
Tortured in Jilin Province Women's Prison
Jilin Province Women's Prison admitted Ms. Yan, even though she was diagnosed with gallstones, uterine fibroids, high blood pressure, and heart disease. 
Prison officials and guards often see to it that Falun Gong practitioners who refuse to be "transformed" are brutally mistreated. They would assign certain criminal inmates as jail cell "captains" and encourage them to mistreat the practitioners. 
Starting on December 22, 2017, the guards at this prison stopped having the Falun Gong practitioners do forced labor and subjected them to "sitting on a small stool." All of the practitioners were rounded up and made to sit from 5:30 a.m. to 9:00 p.m., with only an hour off at noon. They were given only a glass of water and had to ask permission to use the restroom but could go no more than three times.
Inmate Li Cuiyu forced Ms. Yan to sit on an uneven stool. She attempted to turn Ms. Yan's cellmates against her, saying that the entire cell was punished because Ms. Yan refused to answer roll call. 
When the new cell captain came in January 2018, she refused to allow Ms. Yan to take a bath. Although Ms. Yan was allowed to shower later, she had no hot water; she even had to shower with cold water in the winter. 
On February 11, 2018, Ms. Yan was moved to a different floor. The cell captain kicked her for not sitting up straight. She was forced to watch videos that slandered Falun Gong while a collaborator tried to "transform" her at the same time. 
The ward chief attempted to persuade Ms. Yan to take medicine for her hypertension and to sign a statement that she would be responsible for any risk. Ms. Yan refused to comply. Three days later, she was moved to the third floor, where the pressure to "transform" was increased.
Ms. Yan started a hunger strike to protest. Because of the poor condition of her heart, force-feeding could not be done. The deputy warden was furious and put Ms. Yan in a solitary confinement cell. 
She was taken out of the cell five days later on February 12. She looked pale and her limbs started to turn gray. She developed symptoms of shock and was rushed to the hospital on February 22. She ended the strike and started to eat. During this hunger strike, she'd lost a significant amount of weight.
About two weeks later, Ms. Yan was sent back to the ward. She was forced to sit on a small stool. She was also forced to watch derogatory videos for almost a month. Six collaborators tried to "transform" her. 
On April 11, 2018, Ms. Yan was moved down to the first floor, which housed the practitioners who refused to be "transformed." She was threatened with solitary confinement because she refused to answer roll call. But due to her poor health, she ended up sitting on a small stool from 4 a.m. to 10 p.m. instead. She was not allowed to communicate with her family.
On October 15, guard Gao Yang moved Ms. Yan to the second floor, which housed prisoners who'd not yet been brainwashed. She was not assigned a time to bathe for ten days.
She was then moved back to the third floor. The new cell captain barely gave Ms. Yan enough food. Ms. Yan had to argue with her to get the correct portion. 
This captain inmate only allowed her to take a shower once a month for the first two months, but eventually she could shower once per week. She was moved to the first floor again on July 11. 
In August and September 2019, the prison began "transformation" activities again. Those practitioners who refused to be "transformed" were not allowed to buy things, to call their families, or to be visited. 
Worried about their families during the Wuhan coronavirus pandemic, these practitioners went on a hunger strike together to protect their visiting rights. A few days later, the prison finally relented and let them call home.
Related Reports:
Practitioners Ms. Li Xiuhong and Ms. Yan Shufang Brutally Tortured at Heizuizi Women's Forced Labor Camp in Changchun City, Jilin Province
Imprisoned Woman Put in Solitary Confinement, Denied Phone Calls and Family Visits
Jilin Woman on Hunger Strike for Over One Month, Now in Dire Condition