Taiwan: Nine-Day Falun Dafa Workshops Held in Chiayi County
June 22, 2020 | By a Minghui correspondent
(Minghui.org) Practitioners in Chiayi County, Taiwan offered nine-day Falun Dafa workshops in May and June, 2020. 
The nine-day Falun Dafa workshop in Hsingang Township, Chiayi County was completed on May 26. 
Twenty people attended the workshop held at the practice site at Chengyi in Liujiao Township. 
Among the attendees were a 92-year-old man and a one-year-old baby who was quiet while videos of lectures by Falun Dafa's founder, Mr. Li Hongzhi, were played. 
An entire family participated in the workshop and did not miss a single day. One family member works in Kaohsiung and had to commute every day. He said, "We thank Master Li for arranging for us to attend the nine-day workshop and learn Falun Dafa." 
The family's elderly grandmother said, "After listening to Master's teachings, we have started to be more considerate of each other." 
Passerby Attends Workshop at Chiayi City Park Practice Site
Practitioners at the Chiayi City Park practice site held the nine-day workshop in the Dongchuan Administrative Office service center on June 10. A man who happened to be walking by stepped in and began watching the video of Master Li's teaching. 
After he watched it, he said he felt the harmonious energy field at the venue. He said, "Falun Dafa is very good. I feel refreshed after learning the exercises. I will come again tomorrow."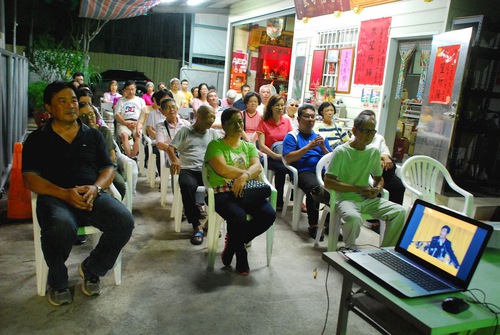 Attendees listen to the video of Master Li's lectures during the workshop held at the Chiayi City Park practice site.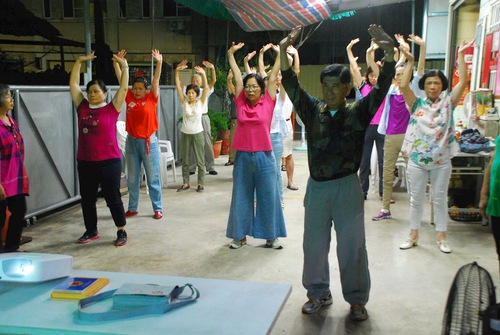 Learning the Falun Dafa exercises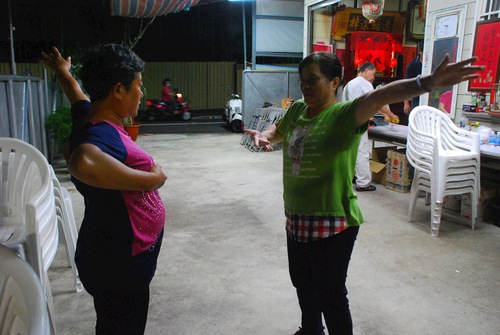 Teaching the exercises
Following Dafa Principles, Giving up Pursuit
Director Ye Kuan-hong of the local administrative office invited practitioners to use the service center for the nine-day workshop. 
Mr. Ye said that after he began practicing Falun Dafa, he better understood the needs of local residents. "I tell them that everyone should be fair and not harm others." 
He said that studying the Fa well is a prerequisite for improving himself. He tries to remember to let things unfold naturally and not pursue them.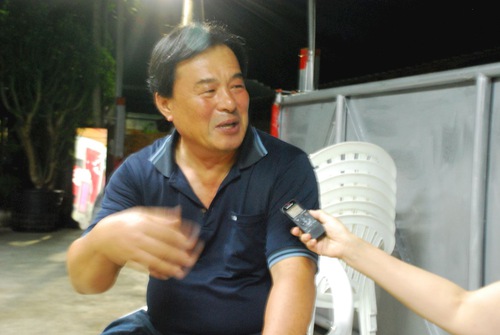 Director Ye Kuan-hong of the local administrative office
Ms. Wang Ren-na, her husband, and son attended the nine-day workshop. She said that she learned about Falun Dafa from a flyer.
"I was given a flyer in Chiayi Culture Center in the morning. That afternoon, I was handed another one at a park," she said. "I went to a bookstore and purchased a copy of Zhuan Falun. After I read it I joined the group practice site in Chiayi Park." 
Her husband had several questions about Dafa, so he went to the practice site to take a look for himself. He later began practicing.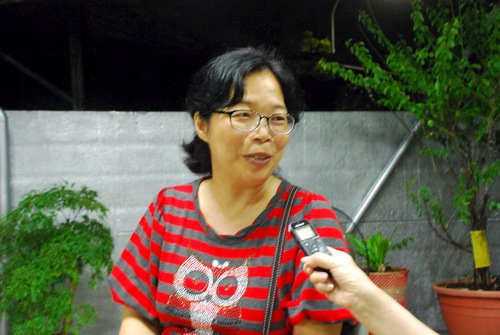 Ms. Wang Ren-na
Ms. Wang works at a water company. When she ran for the accounting director position, the other person was a strong candidate. Her colleague told her to work on public relations. She realized that it was a cultivation test. She thought, "I'm a practitioner. I'll just do my work well and not compete." 
Unexpectedly, the other candidate dropped out. Ms. Wang said, "When you eliminate your attachments, everything goes smoothly." 
Ms. Wang said that she appreciates Master Li for showing her the meaning of life. She follows the principles of Dafa and looks inward whenever conflicts surface.