Jiangsu Woman Serves Three Years for Practicing Falun Gong
June 17, 2020 | By a Minghui correspondent in Jiangsu Province, China
(Minghui.org) Ms. Jiang Suzhen of Jiangsu City, Jiangsu Province, was released on November 16, 2019, after serving three years in prison for refusing to renounce Falun Gong, a mind-body practice that has been persecuted by the Chinese communist regime since 1999.
The 610 Office and Domestic Security Bureau canceled her pension, which is her only source of income, leaving her with only 100,000 yuan in compensation from the demolition of her house to live on for the foreseeable future.
Force-Fed and Injected with Unknown Drug
Ms. Jiang, in her 70s, has been arrested more than 30 times since 2012. Her latest arrest took place on November 17, 2016. She was at home when the Pingjiang Police Station officers barged in and dragged her out of the house, down a flight of stairs, and into their vehicle.
Ms. Jiang's blood pressure spiked while she was in the vehicle. Her lips turned purple and her face turned dark. The police still drove her to the police station but refused to let her get out. About an hour later, after they'd received Ms. Jiang's documents from other officers, they took her to the Huangdai No. 4 Detention Center.
The detention center refused to admit Ms. Jiang because her blood pressure was dangerously high. The police then took her to Suzhou No. 1 Hospital to have her blood pressure taken. When they saw her blood pressure had gone down to a reasonable number, they took her back to the detention center.
In the detention center, Ms. Jiang had no appetite and stopped eating on November 22. As she recalled, "I simply didn't feel hungry or thirsty. Instead, I felt a sense of wellbeing and energy." The detention center guards assumed she was on a hunger strike and force-fed her twice a week. This went on for 100 days.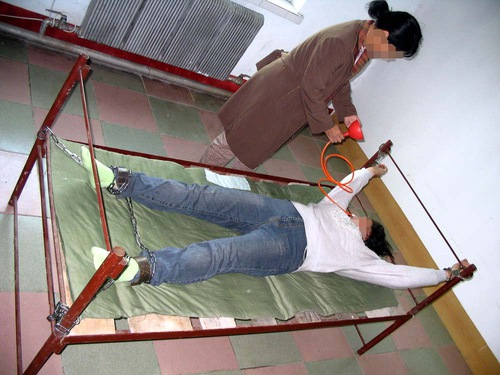 Torture re-enactment: Force-feeding
Once, after the hospital staff had left the room, the guards handcuffed her arms and legs to the four corners of the hospital bed and suspended her in the air. A nurse happened to come in and was shocked at what she saw. When she learned that Ms. Jiang practiced Falun Gong, she put down the medication and left without a word.
While suspended in the air, Ms. Jiang asked to relieve herself but her request was denied. The Pingjiang police station director then poured a cup of water on her hospital bed, leaving her to sleep on a wet bed that night.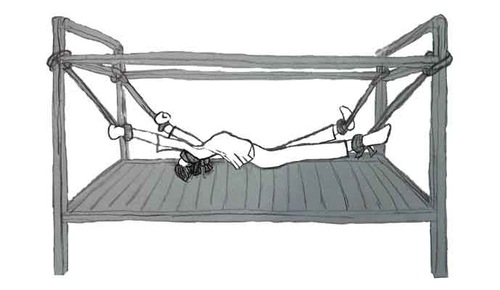 Torture illustration: Stretching Bed
Ms. Jiang was also injected with unknown substances. Once, she was taken to another hospital for force-feeding. As she was trying to steady herself next to the bed, the Pinjiang Police Station director grabbed her neck from behind and pinched her.
Sentenced to Three Years
Ms. Jiang was put on trial on January 9, 2017. Because she was so weak, the court had an ambulance on standby in case she passed out. Many plainclothes officers stood outside the courthouse secretly taking photos and videos of practitioners who'd come to show their support for Ms. Jiang. Only three of Ms. Jiang's relatives were allowed to attend her trial—the rest of the seats were taken up by the authorities. The judge didn't let her defend herself and sentenced her to three years in prison.
Ms. Jiang was held in the detention center for 100 days, from November 17, 2016 to February 24, 2017, before she was transferred to Nantong Women's Prison. The prison at first refused to admit her after learning that she had been on a hunger strike for 100 days, but then relented after talking with the police.
Persecuted in Prison
Ms. Jiang started to eat again on March 2, 2017. From then on, the prison started to put unknown drugs in her food. This went on for more than two years.
Every day, the warden woke her up at 5 a.m. to have her attend three brainwashing sessions, from 9 a.m. to 11 a.m., from 2:30 p.m. to 5 p.m., and from 9 p.m. to 12:30 a.m.
Apart from the brainwashing sessions, Ms. Jiang was also forced to do unpaid labor every day. This took a toll on her health and she was often unable to fall asleep at night. As a result, the inmates who were assigned to monitor her were also not allowed to rest. The prison does this to instigate the inmates to hate practitioners.
The warden and guards often called Ms. Jiang in for "a talk" and slandered the founder of Falun Gong in front of her.
In May 2017, an inmate told Ms. Jiang that another inmate had tried to strangle her (Ms. Jiang) while she was sleeping. The inmate gave up when she couldn't get her hands around the neck of the sleeping Ms. Jiang and other inmates stopped her from doing it.
In June 2017, an inmate pinched and twisted Ms. Jiang's lips and face repeatedly for a long time. On August 18, the inmate again pinched Ms. Jiang all over for an extended period of time in her bed, causing her to faint. The inmate then kicked Ms. Jiang's legs until they were swollen. Ms. Jiang's legs were still swollen when she was released from prison a year and a half later.
Ms. Jiang was also force-fed drugs by the prison doctor. While the doctor was using a metal spoon to pry open her mouth, another inmate pinched her thighs.
Ms. Jiang was released on November 16, 2019. On the day of her release, two people from the Bureau of Justice and an officer from Guanqian Police Station picked her up. They took her to the Guanqian Police Station to have her photo taken. She had to pay 35 yuan for a new ID card. The police also took her to a cellphone shop to get a new SIM card and recorded her number.
Related reports:
Sixty-Five-Year-Old Ms. Jiang Suzhen from Suzhou City Detained
Shangfangshan Brainwashing Center in Suzhou City Still Detains Falun Gong Practitioners
Falun Gong Practitioner Arrested Three Times in Six Months and Deceived into Signing Over Her Property to the Police at Her Death
Jiangsu Woman, 68, Holds Hunger Strike to Protest Repeated Arrests for Her Faith