Taiwan: Falun Gong Practitioners Celebrate World Falun Dafa Day at Sun Moon Lake
May 8, 2020 | By a Minghui correspondent in Nantou County, Taiwan
(Minghui.org) Falun Dafa practitioners from central Taiwan gathered at the Crystal Resort Chalet in the picturesque Sun Moon Lake region on May 2 and 3, 2020, to celebrate the upcoming 21st World Falun Dafa Day.
They did the exercises and read Falun Dafa teachings together. They also wished Master Li Hongzhi, the founder of Falun Dafa, a happy 69th birthday. World Falun Dafa Day is on May 13, which is Master Li's birthday.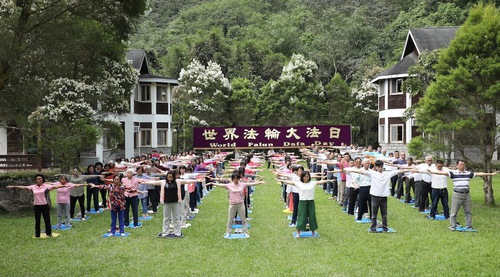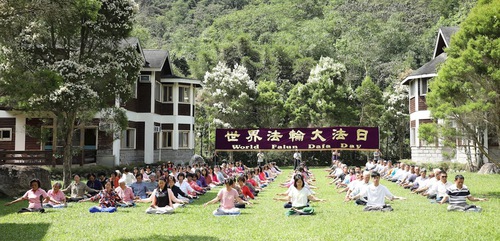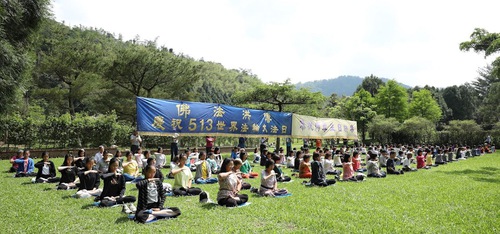 Practitioners do the exercises at the Crystal Resort Chalet to celebrate World Falun Dafa Day.
The practitioners came from the neighboring cities of Taichung, Zhanghua, Yunlin, and Nantou. During the two-day event, many shared the positive changes that they experienced after taking up the spiritual discipline and expressed their gratitude to Master Li for the opportunity to learn Falun Dafa.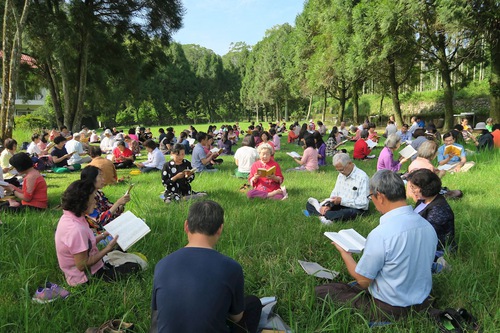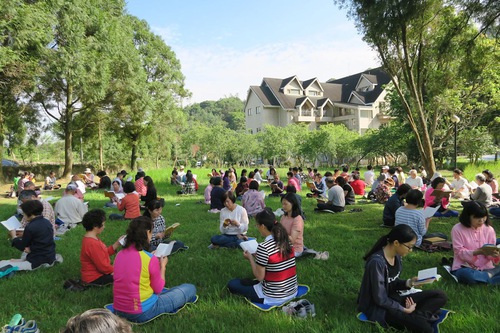 Practitioners read the Falun Dafa teachings together on the lawn.

Holding banners that read, "Falun Dafa Is Wonderful," practitioners wish Master Li a happy birthday.
Practicing Falun Gong Brings Great Happiness
Liao Caining from Taichung City began to practice Falun Dafa (also known as Falun Gong) in 2002. She said her early life was very tough. She lived with her grandmother from a young age. Her grandmother often did not feed her or gave her food that had gone bad. She suffered from malnutrition as a result. "I would be depressed if not for Falun Gong," she said.
She wondered why life was so difficult for her and searched for answers in religion. At church, the priest said that people should love each other. But she discovered that the church-goers went right back to being enemies once they stepped out of the church door, so she turned to Buddhism. The monks could not answer their followers' questions, either.
After reading Zhuan Falun, the main book of Falun Dafa, Ms. Liao finally understood why she'd gone through so much hardship. She let go of her resentment about her life. The teachings of Falun Dafa taught her to let go of negative feelings whenever she encountered difficulties or conflicts. She got rid of her inferiority complex and felt relaxed and at ease for the first time in memory. "Practicing Dafa is the greatest happiness in my life," she said.
A Complete Turnaround 
Luo Yumei also lives in Taichung City and is in her 50s. Many people have complimented her on her radiant complexion. She said that more than 10 years ago she had acne scars all over her face and she was gaunt. When she shows people an old photo of herself and tells them how her appearance changed after practicing Dafa, many have exclaimed, "That's amazing! You became so beautiful after practicing Falun Gong."
Ms. Luo shared that by the time she was 39, stress from family and work had made her feel that life was not worth living. She also had to take medication after a car accident that resulted in nerve dysfunction. This led to palpitations, panic attacks, poor appetite, and insomnia. She had to carry a small oxygen cylinder with her whenever she went out. She tried all kinds of cures, from Chinese medicine to Western medicine to folk therapies to seeking advice from the divine. She ended up not able to take care of herself.
Her child's teacher learned about her condition and gave her a copy of Zhuan Falun. Her health improved gradually after she took up the meditation practice. A year later, she stopped taking her medications, knowing that she no longer needed them. 
Ms. Luo said that the teachings of Dafa taught her that everything happens for a reason. She is now able to let go of attachments and take things in stride. Many people pursue fame and gain, but these things are transient. She is very grateful for the opportunity to practice Dafa. "It is my life's greatest blessing to practice Falun Dafa," she said.
Miraculous Recovery from Migraines
"I consider myself extremely fortunate," said Li Ling, who is an account manager at a life skills company. A friend told her about Dafa, and she experienced huge changes after she took up the practice, physically as well as mentally. Migraines that had plagued her for several decades went away miraculously. "The pain was unbearable. I took six painkillers every day, yet they did nothing to ease the pain. The headaches were gone after I practiced Dafa. I became fit and healthy. When I walked, I felt as if I was floating," she recalled.
Ms. Li also experienced a huge improvement in her character. "I used to be very demanding and a perfectionist. I was strict with myself and with others, too," she said. As an example, when she was not satisfied with a work report submitted by her subordinate, she flew into a rage and threw the report on the floor. She changed her behavior after practicing Dafa. "I have learned to be considerate of others' feelings. Everyone says I am very different now," she said.
Getting Over the Pain of Losing a Loved One
Wu Yulin is a graduate of the Department of English at Taiwan's National Central University. She came in first place in her undergraduate studies and was accepted into the graduate program when she was 24. But her father, whom she was very close to, without warning, committed suicide. She could not get over the trauma for a long time. Unable to focus on her studies, she started to skip class. She sought out different religious beliefs, but none could ease the pain of losing her father.
In 2006, a friend told her that Falun Gong was the best cultivation practice in the world. She downloaded the book Zhuan Falun from the Falun Dafa website and attended a nine-day introductory class. Ms. Wu found answers to her questions about life and worked through the trauma of losing her father. She said that, as she kept reading the teachings, she was able to change the way she looked at things.