Australia: Online Experience Sharing Conference Held on World Falun Dafa Day
May 24, 2020 | By the Minghui correspondent station in Australia
(Minghui.org) May 13 was the 28th anniversary of Falun Dafa's public introduction. Falun Dafa practitioners in Australia held an online cultivation experience sharing conference on May 13, 2020. Fifteen practitioners shared how they have improved their heart nature, or xinxing, and raised awareness of the persecution of Falun Dafa in China. 
Video: Falun Dafa practitioners in Australia wish Master a happy birthday
Senior Practitioner Recalls Listening to Master Li's Teaching More Than 20 Years Ago
Practitioner Ms. Wang, who is now over 80 years old, has practiced Falun Gong for nearly 24 years. She still felt excited when recalling how she first started practicing, "In 1996, a friend gave me the book Zhuan Falun. I recall that when I first saw Master Li's photo, I felt he was so familiar, like a relative from long ago.
"I decided to see Master in person no matter how far it was. A few days later, a friend in Sydney called me and said that Master Li was coming to Australia soon. 
"Six of us practitioners went to Sydney by bus in early August 1996. We entered a club where Master was giving a lecture. After the lecture, Master invited us and some Sydney practitioners to his hotel. He answered many of our questions." 
"Over the past 20 years, I have sometimes stumbled," Ms. Wang said emotionally, "Master has often given me hints. For example, when I slacked off in studying the Fa, I heard a voice telling me to read more." 
"I fell once and heard a voice telling me to hurry up and practice the exercises. So I am really grateful for Master's compassionate salvation," she said. 
We Were Waiting for Dafa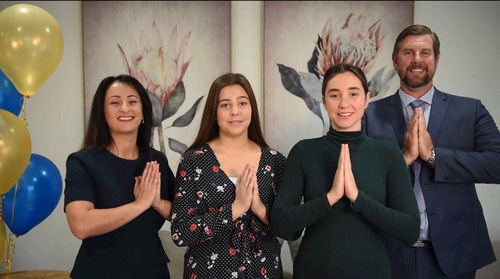 Practitioner Scott and his family wish Master a happy birthday.
Scott and his wife Nina live in Queensland and have practiced Falun Gong for more than 20 years. Their two daughters also practice. 
Scott remembered that before he started practicing Falun Gong he felt like he had been waiting for Dafa deep in his heart for a long time. He finally knew he had obtained it when he first read Zhuan Falun.
He stopped smoking and drinking around a month after he started practicing Falun Gong. He witnessed Dafa's marvelous power. 
He now has his own construction company. His colleagues have found that he is often smiling even when he is under pressure. He never uses foul language, which is common among some who work in construction.
Nina shared that not long ago her eldest daughter had symptoms of the novel coronavirus, including a high fever. Nina proposed that she read Zhuan Falun for her daughter, but her daughter said she would read it aloud herself. 
Her daughter's fever almost completely subsided after they read half of the first lecture. They felt it was a miracle. 
Nina said their gratitude to Master was beyond words. She has gained wisdom from practicing, and looks within to rid herself of attachments. 
Falun Dafa Gave Her a Second Life
Practitioner Kelly from Sydney shared her mother's marvelous recovery from chronic illnesses. Her mother is 86 years old now and was an accountant for a company in Tianjin, China before her retirement. 
"My father passed away on July 5, 2016," Kelly said. "My mother was so pained that she developed a serious illness. She had two rectum surgeries. She was in a critical condition. I asked Master in my heart to let my mother live. She marvelously survived." 
"In May 2018, my mother came to Australia with lots of medicine in her luggage. She was too weak to take care of herself. She could not walk and was muddleheaded. I took care of her day and night." 
Kelly later let her mother watch a video of Master Li's lecture. A miracle happened. 
"When I let my mother watch the first lecture, she said she first felt cold on her lower back and two chills then were released from her feet. She felt sleepy. After a few days of sleeping, she suddenly sobered up.
"Her eyes were refreshed, her high blood pressure was gone, she ate and slept well, her face glowed, and she was energetic." 
Kelly and her mother now study the Fa, practice the exercises, and send righteous thoughts together every day. 
"My mother does not take any pills now," Kelly said, "She walks well and can climb to the second floor without a break. She can take care of herself and do household chores. She has become younger.
"Her skin is smooth and elastic, unlike someone elderly. More importantly, she is optimistic and cheerful. She has also gained 15 kilograms (33 pounds) in body weight. Falun Dafa gave my mother a second life," Kelly said.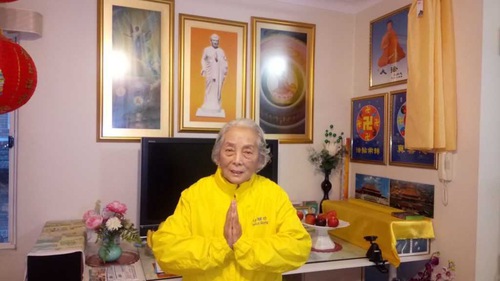 Kelly's mother appreciates Master's compassionate salvation. 
"Today is May 13, World Falun Dafa Day," Kelly's mother said. "Our whole family is grateful to Master. We wish Master a happy birthday!"