[Celebrating World Falun Dafa Day] Australia: Falun Dafa Practitioners Thank Founder for Teaching the Fa at the Sydney Conference 21 Years Ago
May 24, 2020 | By a Minghui correspondent in Australia
(Minghui.org) The Australia Experience Sharing Conference was held at Sydney Darling Harbor's International Convention Center on May 2-3, 1999. Around 2700 people from Australia, America, Canada, Sweden, Thailand, Japan, New Zealand, Singapore, Hong Kong, Macau, Indonesia, China, and other countries listened as Master lectured and answered questions about Falun Dafa and cultivation.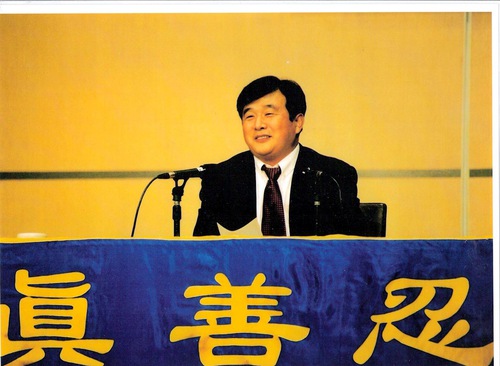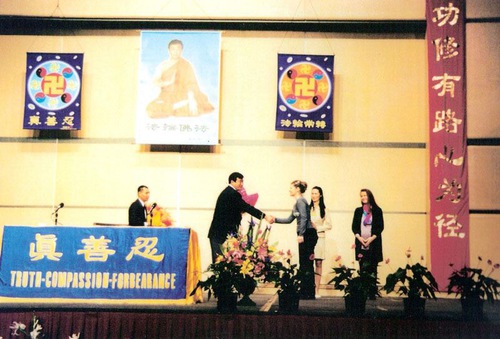 Mr. Li Hongzhi, the founder of Falun Dafa, came to Sydney in May 1999 to give a lecture.
This was the third time Master Li had come to Australia to teach the Fa. The lecture was later published as "Teaching the Fa at the Fa Conference in Australia." Many who attended the event had only practiced Falun Dafa for a short time. Several said it was a turning point in their lives. Those who had been practicing longer said that afterward they began to take the practice seriously, and practice diligently.
Even though 21 years have passed, for those who attended it seems as if it were just yesterday.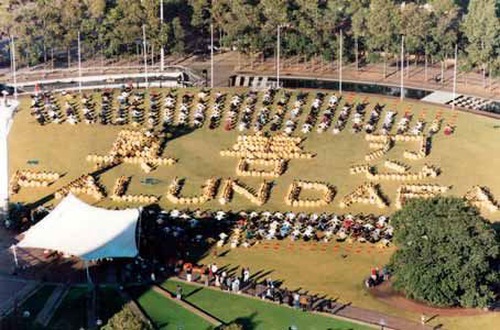 Character formation was one of the events during the Sydney Fa conference in 1999.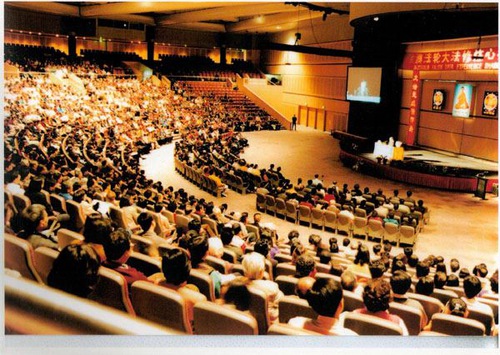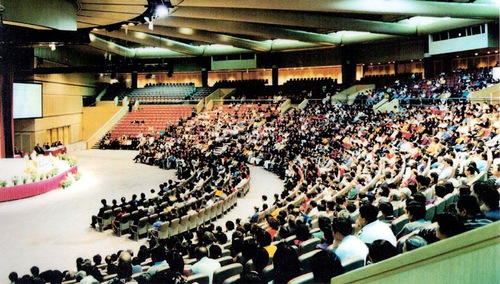 Around 2700 people attended the Australia Experience Sharing Conference held in Sydney in May 1999.
Practitioner: "Master Li is a wise teacher who came here to save people"
John Deller, a Western practitioner and spokesperson for the Falun Dafa Association in Australia, attended the conference in 1999. He recalled that day, "As I listened to Master, I knew at once he was a wise teacher here to save sentient beings. I did not want to leave when the event concluded. I felt enclosed by a bright energy field filled with compassion. When I first read the main book of Falun Dafa, Zhuan Falun, Master mentioned that Truthfulness-Compassion-Forbearance is the characteristic of the universe, my mind was opened in that instant. I thought, 'This is something that will benefit everyone. One's heart will be touched by the words in Zhuan Falun. It can help one grasp the deeper meaning of life.'"
Janine Rankin from Melbourne had only practiced Falun Dafa for three months when she attended the conference and saw Master Li. She said she saw many magnificent scenes in other dimensions, which are indelibly etched in her memory.
She had been searching for a way to become more spiritual since she was 16. "I was certain there was a realm above the human level. We come to this world for a purpose," she said. She traveled around the world and tried all sorts of spiritual practices. By the time she was 50, she still hadn't found anything. "But I was distinctly aware that the world was moving backwards, and moral standards were declining. Human hearts had gradually lost their universal values and pure nature.
"I can clearly remember that day in February 1999 when I went to a Falun Dafa practice site for the first time. It was the first outdoor exercise group in Melbourne. My whole body was wrapped in a strong energy field. I was very excited. I knew I had finally found it. I cried uncontrollably for a long time."
Soon after, Janine learned that Master was coming to Australia. Initially she did not plan to go to Sydney for several reasons, travel expenses being one of them. She said, "I felt a jolt in my heart one day. Something told me I should go. Just like a miracle, the problem of my travel expenses was resolved."
She recalled, "When Master came into the hall and sat down at the rostrum, I was amazed to discover that his whole body was transparent. I couldn't believe what I saw. Master kept emphasizing the importance of studying the teachings in his lecture as well as during the Q&A session. These are the bits that left me with the deepest impression.
"Master opened my celestial eye before I walked into the conference. I was able to see many levels of molecules and wonderful scenes in other dimensions. This was a testament to what Master said in his teachings. After the conference, my third eye closed. For me, this was the beginning of practicing cultivation seriously.
"Master taught us Falun Dafa, which is so precious. My mind and body have benefited from the practice. I cannot find any words to describe my gratitude."
Throughout these years, besides being diligent in cultivation, Janine has also participated in and organized many projects to promote Falun Dafa, as well as raising awareness of the persecution in China. She said, "I'm currently contacting primary and secondary schools in Melbourne. I hope that through sharing my experiences in the practice, teachers and students will appreciate how wonderful the teachings are and what true eternity is."
Practitioner in Brisbane: Local Practice Sites Multiply after Sydney Conference
William Luo, a Chinese practitioner in Brisbane, began practicing Falun Dafa in 1998. He is currently the coordinator of the Queensland Falun Dafa Association.
He said that Master Li went to Brisbane first, before going to Sydney. He met with local practitioners in a small meeting room on the afternoon of April 28, 1999, and answered questions about cultivation.
"We were all new practitioners then and asked basic questions. But Master patiently answered them. I asked Master how I would know if my understanding of the principles he taught were right or wrong. The general idea of what he said was, as long as I looked at things with righteous thoughts, it would not be wrong. I've kept these words in my heart all these years and they have helped me tremendously. I realized that as long as I act according to Truthfulness-Compassion-Forbearance, I would not go astray. Every time I ran into conflicts, I used these principles as my guide."
According to William, most of the practitioners who attended the meeting that day were key members active in promoting the practice. Despite ups and downs over the 20 years since, most have continued to practice and raise awareness about the persecution.
After the Sydney conference, in order to let more people know about Falun Dafa, local practitioners decided to branch out from New Farm, the only practice site in Brisbane at the time. About 40 practitioners set up groups near their homes. He said this move increased the number of Falun Dafa practice sites in Brisbane to 20. In the state of Queensland itself, there are even more sites. These are still strong going today, and new people come from time to time.
Melbourne Practitioner: An Unforgettable Experience
Before attending the Sydney Conference, John Xiao, who is CEO of an Independent Chinese media outlet, had only recently learned the exercises. He said, "It was an extraordinary experience."
John was a teacher at a secondary school in Sydney at that time. He had tried several kinds of qigong and had been searching for a true cultivation way. One of his student's parents told him about Falun Dafa. He learned how to do the exercises, more or less. But his understanding of the practice was rather superficial. When he learned that Master was going to give a lecture, he immediately took a train to the conference venue. 
He said, "The second day, Master asked attendees to submit their questions. I had no pen or paper with me. I was surprised that although no one raised questions similar to what I had in mind, as Master answered an unrelated question, he responded to what I wanted to ask in passing. Furthermore, as he was explaining the problem, even though I was sitting right at the back, I felt as if he was looking at me. We were so far apart. I was just a small dot in the audience. Yet, through his voice and the look in his eyes, I understood: 'I'm answering your question.' Even today, that memory is still fresh in my mind.
"I experienced another extraordinary incident after the conference. On the train ride home, I met a young couple with a child. After striking up a conversation, I learned that they had also been to the conference and lived close to me. They had practiced Falun Dafa for some time. I was overjoyed as I did not know any other practitioners who lived in my district. I began going to the park near their place and we did the exercises together."
John became a steadfast practitioner after the conference. He said, "All these years, I have never wavered in my faith, no matter what difficulties I've run into, because I know what Master taught is the truth. In difficult situations or whenever I feel defeated, I find guidance in Master's books. I discovered that everything happens for a reason. Through adversities, I find my attachments and make progress in cultivation. My experience is, through studying the teachings consistently, we will gain the wisdom to resolve all problems."
Sydney Practitioner Recounts Master's Grace
Luo Mingqing, a practitioner in Sydney, is one of the few practitioners who attended all three of Master's lectures in Sydney. 
Looking back, he said, "I was eager to hear from Master how we could improve in cultivation and let more people know about this wonderful practice. Through Master's lectures and the Q&A session, I gained a deeper understanding of the teachings."
Mr. Luo began to read Zhuan Falun in early 1996. He was teaching a qigong then. "In Zhuan Falun Master explained the reasons behind the phenomena experienced by those who practice other forms of qigong and the process of healing illness. He answered all my questions and revealed deeper principles of the universe. I thought he was remarkable and I truly respect him," he said.
"Through attending Master's several conferences in Australia, I observed how concerned he is about the progress of every practitioner's cultivation. I feel fortunate to have found him."
Melbourne Practitioner Shares Stories of Cultivating for Two Decades
Angela, 70, is a practitioner in Melbourne. Originally from Malaysia, she was once a devout Buddhist. 
She said, "All my family members either followed Buddhism or Taoism. So, after my family of four moved to Australia, I volunteered at a temple. It was hard work. In the morning, after dropping off my kids at school, I went to the temple to work and did not stop until it was time to pick them up. At night, after making dinner and finishing household chores, I went to work as a nurse. I took the night shift so that I could volunteer at the temple during the day. I hardly had any time to sleep. This went on for nearly five years. My health got worse. I suffered from headaches as a result of long periods of lack of sleep. I also developed gallstones and had to have surgery.
"A woman who used to attend activities at the same temple stopped coming in 1997. When I caught up with her over the phone, she told me she was practicing Falun Dafa. She did not go into details, as she knew I was very involved in the temple."
In January 1999, Angela and her husband became very disappointed with the constant fighting among the monks and nuns in the temple and decided to leave. Angela decided to find out more about Falun Dafa from her friend who gave her the book Zhuan Falun and taught her the exercises.
After she began reading Zhuan Falun, Angela understood why the monks fought over petty gains and had conflicts. She said, "That February, I decided to practice Falun Dafa. When I was told about the conference in Sydney, I signed up to go. My friends and family advised me against going. My brother in Malaysia read misinformation about the practice in local newspapers that came from China and made many long distance calls to persuade me to give it up.
"But I was not moved, because I witnessed how different it was from what they said. For example, the first time I did the exercises, I distinctly felt something spinning around my head. I also felt a strong energy field. My gallstones were gone without any medical treatment.
"The next day, during the Q&A session, Master answered all my questions about following the Buddhist way of cultivation. I understood that I was responsible for my own cultivation. I let go of all my doubts, and from that day onward, my husband and I have practiced diligently."
A year later, she and her son were in a car accident and the whole family had a near-miss. She recalled, "I went to pick up my son from school, and a car hit us from behind. It was so bad I could hardly get out. But my son and I were fine. That same night, we all went out in our other car. Suddenly, a car came flying toward us from the opposite direction. I alerted my husband to 'watch out,' but just in the nick of time, the other car swerved to the opposite side of the road and we avoided a potentially fatal accident.
"My husband and I knew that Master had protected us both times that day."
These extraordinary experiences strengthened Angela's and her husband's faith in Falun Dafa. For over two decades they did the exercises and studied the teachings every day, becoming diligent practitioners. If for some reason they did not get to do the exercises one day, they made sure to make it up the next day.
This year, Angela returned to Malaysia to celebrate her 70th birthday with friends and family. They observed that her brother, who is four years older, is no longer fit enough to travel overseas, while Angela and her husband fly across the continent every year to attend the international Falun Dafa conference just like young people.
She said, "We both feel young despite our age. This is one of the extraordinary things that happens to practitioners. Our friends and family witnessed how much energy we have compared to other people our age and have a good impression of Falun Dafa."
She and her husband have been distributing an independent Chinese newspaper in the local suburbs near Melbourne for many years. They also volunteered to set up and make preparations for large-scale activities to promote Falun Dafa, as well as pack up after the events. They get banners ready and construct information booths. It can be heavy labor at times, but they don't find it exhausting. Sometimes they work from 7:00 a.m. until late at night. Different activities require different setups and there are many details to take care of. Angela says that when they put their hearts into it, she can feel Master is looking after them, and things go well. She says she often feels as if she's floating when she walks.
She said, "I'm grateful to Master for always looking out for us. The only way to repay him is to be diligent in my cultivation."