Canterbury Bankstown, Australia: Falun Dafa Workshops Benefit the Community
May 23, 2020 | By a Minghui correspondent in Sydney
(Minghui.org) The City of Canterbury Bankstown in Sydney, Australia, hosted Falun Dafa workshops introducing the meditative system to the community between January 29 and March 17, 2020. These free workshops were held in the Campsie Library and the Chester Hill Community Center as part of a series of initiatives from the local government to improve public health. 
Although the workshops were scheduled to continue until April 8, they had to come to an end early due to the coronavirus crisis. Many of the 60 attendees said they hoped to come again once additional sessions were scheduled and asked how they could practice Falun Gong with resources found online in the meantime.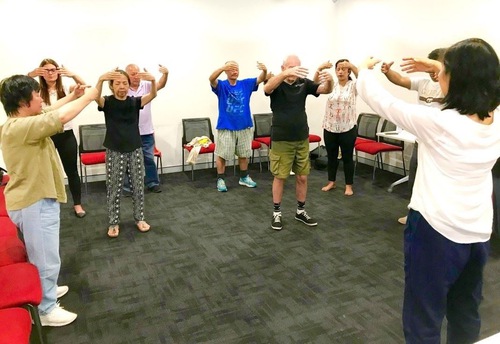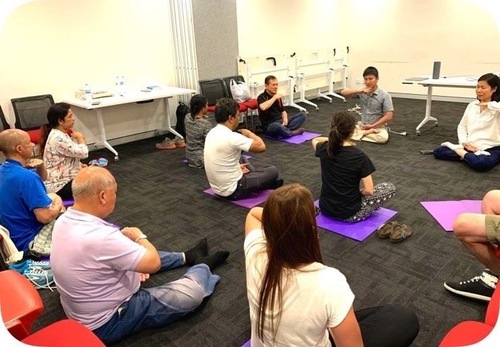 Residents of Canterbury Bankstown learn the Falun Dafa exercises at a workshop. 
Local residents heard about the workshops through posters, fliers, and social media. Local government staff told practitioners that they plan to resume the activities once the restrictions on public gatherings is lifted. 
Refreshed with Energy
Huong, one of the participants who had only recently learned Falun Dafa, said she likes it a lot. She heard about the workshops from a local newspaper and said she felt refreshed with energy through doing the exercises. "I am also impressed by the peaceful atmosphere during the workshop," she said. 
She particularly appreciated the principles of Truthfulness-Compassion-Forbearance and said these principles accord with everyone. "I have heard about the persecution against Falun Dafa in China and I think everyone has the responsibility to help those whose freedom of belief has been deprived," she explained. "Right now, the Chinese Communist Party (CCP) coronavirus has spread all over the world and caused huge damage. We have witnessed and experienced the pain caused by the totalitarian regime."
Huong works for a news media. She said she looks forward to reconvening for the workshops after the coronavirus crisis is over. She also said she would share the information about the workshops with her colleagues and people in her local community. "It's the time for us to have a clear understanding of the harm brought by the CCP," she said.
Being a Better Person
Vinh thanked practitioner volunteers for their efforts and dedication throughout the workshops. "Ever since the first day, I have noticed the practice gives me strength," he said. 
Through reading Zhuan Falun, the main teachings of Falun Dafa, he understands that the practice focuses on moral improvement. "Master Li Hongzhi (the founder of Falun Dafa) asks us to be better people, while the CCP suppresses practitioners for doing that," he said. "The regime is indeed vicious."
When Jay first came to learn the exercises, he asked many question, "Why is Falun Dafa not allowed in China?" "What's special about it?"
Practitioners answered his questions and shared their own experiences. Impressed by the mind and body benefits of the practice, Jay became very interested and attended the workshops in both places. 
A 6,000-Mile Journey
Rudrakumar Tyata, a businessman in Nepal, had come to Australia to visit his daughter. About 10 days before his return flight, he saw a notice about the Falun Dafa exercise workshops in a shopping center. 
Upon hearing that Tyata was eager to learn the exercises and introduce the practice to more people in Nepal, practitioners added another workshop session just for him. They also gave him a copy of the exercise video and the exercise music. After reading some of the Indian version of Zhuan Falun online, Tyata was very touched and said he had been waiting for something like this. 
After he returned to Nepal, Tyata emailed practitioners saying he had been continuing to do the practice and had benefited from it. 
"Everyone Says I Look Younger" 
Ms. Nguyễn, 79, began to practice Falun Dafa several months ago. She came to the practice with numerous health issues, including gastrointestinal problems and six fractured vertebrae. She had difficulty walking, so doctors had injected 17 needles of medicine into her spine, but the treatment did not help. She also tried acupuncture and different kinds of medicine, and they did not help either. 
"Within three months of beginning to practice Falun Dafa, my gastrointestinal problems were all gone. The back pain has also reduced greatly," Ms. Nguyễn said, "Everyone says I look younger and I am so grateful to Master Li for rescuing me."
She said she felt very bad about the persecution in China, where good people were being detained and tortured for their belief. "Falun Dafa is so good and it is wrong for the CCP regime to suppress it," she said.
Aside from the health benefits, Ms. Nguyễn said Falun Dafa has helped her maintain a peaceful mind. "Thinking back over the past several decades, I have done many bad things, but I did not know it was bad back then. Now I know they were wrong and I will try to do better," she explained. Occasionally, she finds she still becomes upset or angry because of other people. When that happens, however, she is able to remember the Falun Dafa teachings and calm down. 
Other than cooking and doing household chores, Ms. Nguyễn said she spends a lot of her time studying Master Li's teachings and doing the exercises. "I am very fortunate to practice Falun Dafa," she added, "This is the most important thing in my life."