Florida: Practitioners Express their Gratitude to Master on World Falun Dafa Day
May 22, 2020 | By a Minghui correspondent in Florida
(Minghui.org) On the 21st World Falun Dafa Day, Florida Falun Dafa practitioners sent their greetings to the Minghui website, expressing their gratitude toward compassionate Master Li (the founder). 
Ever since Master gave his first lecture in the U.S., more and more group exercise sites have been established in Florida. Falun Dafa practitioners who have benefited from this great practice would like to thank Master and wish him a happy birthday.
Video: Falun Gong practitioners in Orlando send World Falun Dafa Day greetings to Master from Lake Eola Park.
Practitioners in Orlando wish Master a Happy Birthday.
Gary Pancey (right) and Sean Marshall wish Master a Happy Birthday.
Gary Pancey has been practicing Falun Dafa for over 10 years. He fell in love with traditional Chinese culture because of Falun Dafa. He has taught himself Chinese and can now read and converse in Chinese. He pays out of his own pocket to make phone calls to China, telling persecutors to stop persecuting Falun Gong. 
Gary said, "Dafa has truly changed me from deep within, and given me physical and intellectual benefits and abilities far beyond anything I have ever expected. To be involved with the Fa-rectification and all the Dafa disciples around the world is ennobling, humbling, and fulfilling. Thank you Master Li!"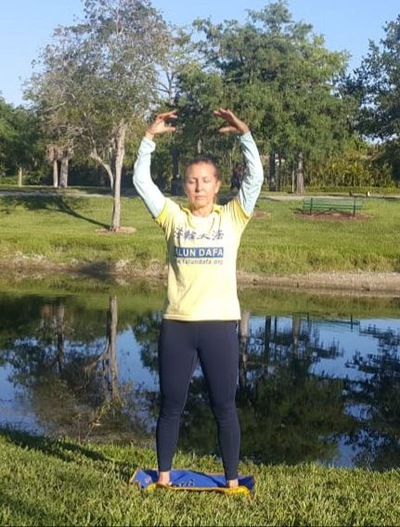 Dessi does the Falun Gong exercises in a park. 
Dessi, a Falun Dafa practitioner originally from Bulgaria said, "I have been practicing Falun Dafa for almost seven years, and I couldn't have asked for a better blessing. Master helped me to get rid of my attachment to alcohol, answered all the questions I've ever had, gave me immense wisdom and peace, and most importantly, showed me the meaning of life."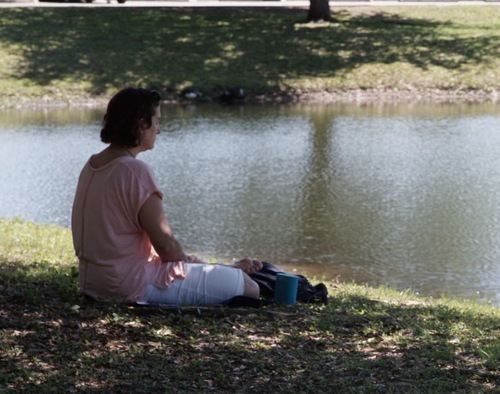 Michelle meditates on the lakeshore.
Practitioner Michelle said, "Dear Master, I have practiced Falun Dafa for 18 years and only recently realized how strong my human thinking and attachments really are, and how much interference they have caused me over the past years. But, I will keep on cultivating myself in hopes of fulfilling my heart's deepest wish, which is to be truly one with Dafa, and doing my part to fulfill what Master wants."
Lin Sauder used to have pancreatic cancer but recovered after she practiced Falun Dafa. She said, "I want to thank Master for bringing Dafa into my life, and for the slow but steady improvements I have experienced. I sometimes feel like I'm a totally different person walking around in this body from what I was seven years ago. Thank you, Master!"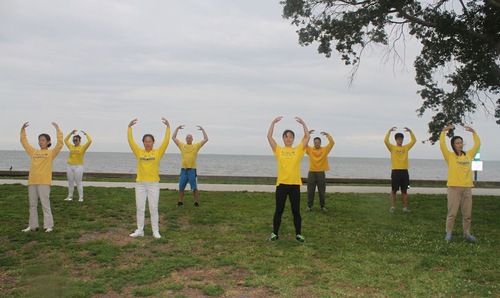 Practitioners in Tampa celebrate World Falun Dafa Day by doing the group exercises and maintaining the social distancing requirement.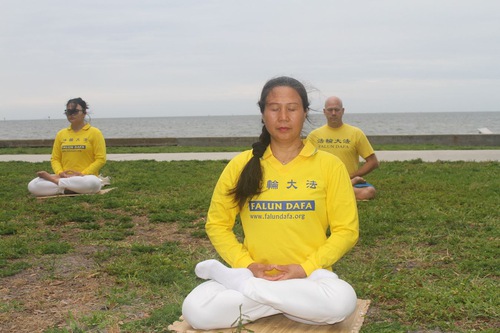 Li Chengfang (front) meditates with fellow practitioners.
Ms. Li Chengfang used to suffer pain and memory problems due to a serious car accident. Cultivation in Falun Dafa has restored her health. She takes every opportunity to tell people the benefits of Falun Dafa, and how the Chinese Communist Party (CCP) is deceiving people. After witnessing Chengfang's change, her daughter Minyu became a Falun Dafa practitioner too. Both of them are filled with gratitude for Master Li.