South Australia: Falun Dafa Practitioners Wish Founder a Happy Birthday
May 22, 2020 | By a Minghui correspondent in South Australia
(Minghui.org) Following in the footsteps of Falun Dafa practitioners around the world, practitioners in South Australia celebrated World Falun Dafa Day by sending greeting cards and messages, making video recordings, and sharing cultivation stories on the Minghui website.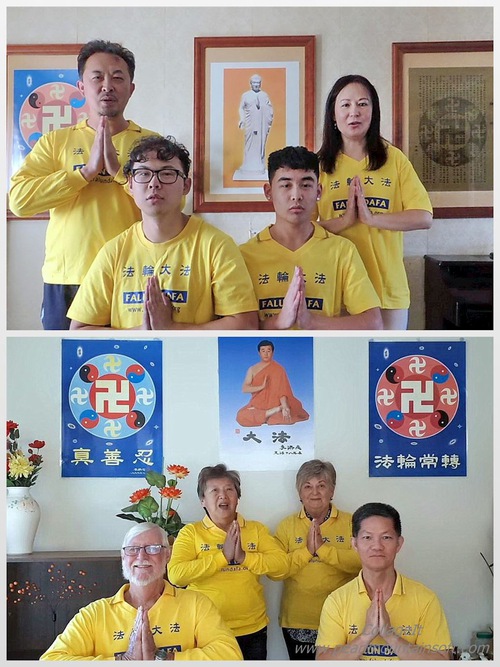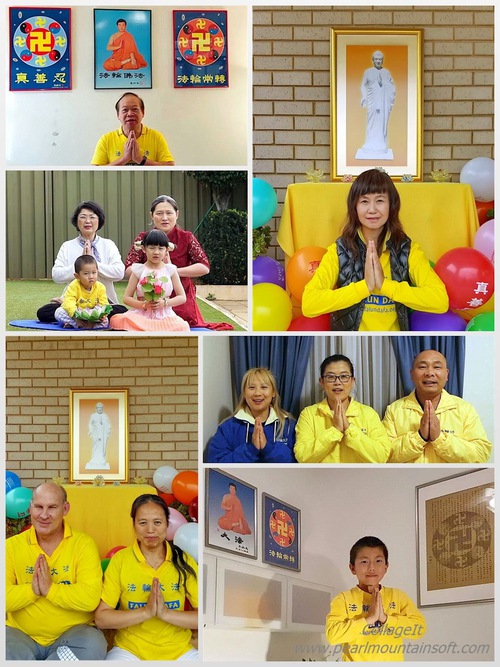 Falun Dafa practitioners in South Australia wish revered Master Li a Happy Birthday.
Several days before World Falun Dafa Day, which is on May 13, several practitioners gathered at Ms. Zhang's house to exchange understandings gained through studying the teachings of Falun Dafa. 
Ms. Zhang said in the past she paid more attention to the amount of time spent reading the teachings. She later realized the importance of understanding the profound meaning of Master's words. Through regular study, she gradually let go of attachments. Her thoughts have become more simple and she is able to get along with others better.
She feels very fortunate to have attended major experience sharing conferences on many occasions and has thus had the opportunity to hear Master Li speak in person. She said she is grateful for his protection and assistance throughout her journey of cultivation. She has been going to Chinatown and making phone calls to China for many years in an effort to tell Chinese people the facts about Falun Dafa.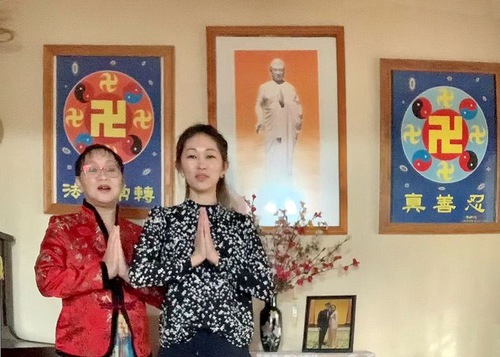 Ms. Zhang and her daughter wish Master Li Happy Birthday.
Two years ago, Ms. Zhang's husband passed away suddenly. It was a great shock to her, but Dafa gave her the strength to overcome her grief. "When I was depressed, I memorized the teachings. It helped me to calm down." Her daughter, who is also a practitioner, often reminded her to stay positive as well.
Ms. Zhang also shared that she recently experienced a miracle in her cultivation. She lost 9 kilograms and now has more energy. Those who have not seen her in quite a while comment that she looks younger.
After getting over the trauma of losing her husband, Ms. Zhang put even more effort into telling people about Falun Dafa. She made phone calls every day. During the pandemic, she has seized the time to make phone calls to China, exposing the communist regime's cover-up of the outbreak and its lies about Dafa. She is comforted when people change their hostile attitude and finally agree to renounce their membership in the Chinese Communist Party. 
"I thank Master Li for teaching the Fa. I must cultivate more diligently and save more people to repay Master for what he's given me," she said.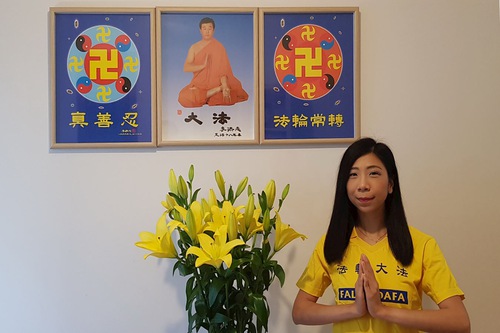 Katherine wishes Master Li Happy Birthday.
Katherine is a financial manager. She said she applies the principles of Truthfulness, Compassion, and Forbearance to solve problems at work and in her daily life.
Katherine's job is very stressful and the pandemic made things worse because her company had to lay off employees. Guided by the teachings of Dafa, Katherine has always worked hard at her job. When she is diligent in cultivation, she has observed that she is able to handle the pressure easily.
People nowadays tend to be selfish and may try to shirk responsibility. Some even abuse sick leave to avoid going to work. "When I run into unfair situations, I try to remain calm," she said. 
Instead of adopting a domineering attitude, she strives to treat people kindly and see things from their perspective. Friends and coworkers have grown to like her. Her coworkers help her out when she is busy. 
"I don't try to change other people. Instead, I work on improving my character. When you are kind, you will be a better person. I believe it is possible to get along with others, no matter how hard it is, by following Dafa's principles," she said.
Katherine began to practice Falun Dafa at a young age with her parents who are also practitioners. She met Master Li for the first time when she attended an international conference in New York after moving to Australia. It was an unforgettable moment. 
"Master looks after me wherever I am. I look forward to seeing Master at international conferences every year," she said. 
Due to the coronavirus pandemic, this year she will not be able to attend a conference. However, she is glad that she can express her gratitude to Master through a video recording. She hopes to share the joy of practicing Dafa with others.
"Falun Dafa changed our lives completely and has taught us to be better people. It is wonderful to be a Dafa practitioner. It has helped me find my true purpose in life," she said.