Taiwan: Falun Gong Practitioners Raise Awareness and Show their Appreciation of Master Li
May 21, 2020 | By Minghui correspondent Li Weian
(Minghui.org) May 13 is the 28th anniversary of Falun Dafa's introduction to the public, the 21st World Falun Dafa Day, and Master Li's, the founder of Falun Dafa, birthday. Falun Gong (also known as Falun Dafa), practitioners in mid-Taiwan often clarify the truth about Dafa at scenic sites. They introduce the preciousness of the spiritual practice, and raise awareness of the Chinese Communist Party's (CCP) persecution. 
Falun Gong practitioners at Sun Moon Lake express their gratitude to Master.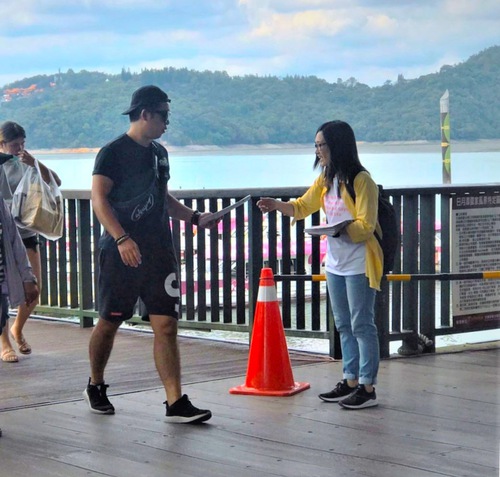 A practitioner distributes Falun Gong brochures before May 13.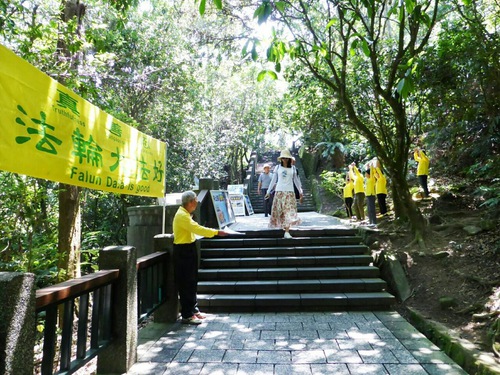 Practitioners set up banners and posters, and hold group exercises beside the pedestrian road, near Xuanguang Temple, at Sun Moon Lake. 
Falun Gong practitioners clarify the truth to tourists at Wenwu Temple.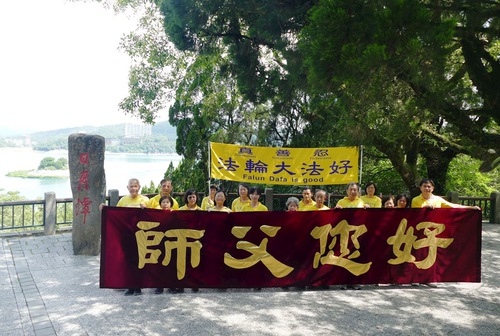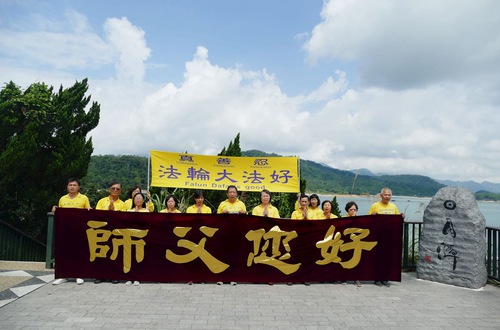 Group photo of practitioners at Xuanguang Temple at Sun Moon Lake. The large banner reads "Greetings, Master."
Group photo of practitioners at Wenwu Temple. The large banner reads "Greetings, Master."
There are many scenic sites around Sun Moon Lake. Practitioners usually go to three sites to raise awareness of the CCP's persecution year-round. Given the current pandemic, they will not miss a single day, so as not to miss any tourists.
These practitioners shared their experiences in practicing Falun Gong. They said that they benefited greatly from cultivating in Falun Gong. They report improvement of their health, as well as their character. They recovered from incurable diseases after practicing the spiritual belief. Their conflicts or hot tempers were resolved after looking within, and ridding themselves of attachments. They expressed gratitude to Master Li for his compassionate salvation.