France: Practitioners Express Gratitude and Wish Falun Dafa's Founder a Happy Birthday
May 19, 2020 | By a Minghui correspondent in France
(Minghui.org) Introduced 28 years ago on May 13, 1992, Falun Dafa is now practiced by people in over 100 countries, of a wide variety of ethnic groups. In gratitude for the many benefits they've received from Dafa, practitioners have designated May 13 as World Falun Dafa Day. The date coincides with the birthday of Dafa's founder, Mr. Li Hongzhi. 
Every year, celebrations are held worldwide to mark this grand occasion. This year, due to the French government's restrictions on social gatherings to stop the spread of the coronavirus, practitioners in France have honored the event and wished Master Li a Happy Birthday by sending their messages of greetings to the Minghui website.
Falun Dafa practitioners in France wish revered Master Happy Birthday!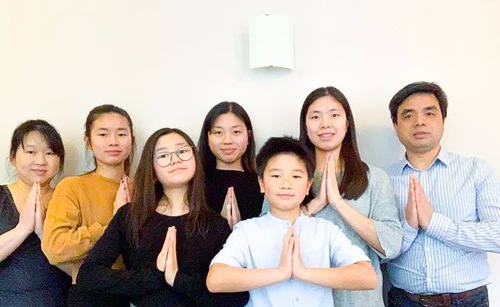 Mr. Xu (first on right) and his family of seven all practice Falun Dafa.
In 1995, invited by the Chinese education office in France, Master Li held a class in France. Mr. Xu, his wife, parents and siblings all attended. 
Ms. Xu recalled that it was a wonderful experience. She had many questions at the time, including: What is cultivation? How can one let go of attachments? Master answered all her questions and she made up her mind to practice the spiritual discipline right to the end.
Soon after attending the class, Ms. Xu had an opportunity to give up an attachment.
She was recently engaged to her husband, and her soon-to-be mother-in-law had given her a beautiful diamond ring. She was in her early 20s and the valuable ring was a symbol of wealth and a sign that she was loved. A few days later, her in-laws' shop was broken into and a huge sum of money was stolen. Ms. Xu wanted to help her new family but the only valuable thing she had was the ring. Although she was reluctant to part with it, in fact it was giving up the attachment that was agonizing. She remembered Master's words, that a Dafa practitioner should think of others. She made up her mind to sell the ring and use the money to help her father-in-law. 
The entire experience was a process of relinquishing human desires. Things took an unexpected turn. A neighbor's house leaked water onto the family's business, damaging it. The insurance company's compensation was twice the value of the ring. In the end she didn't have to sell it.
The Xu family wants to tell Master this year: "Happy Birthday Master. We are fortunate to be your disciples. Thank you for guiding and protecting us every step we take. You have worked hard."
Steve Mayer and his family of four wish Master a Happy Birthday.
Mr. Mayer and his wife have a son and daughter. The whole family practices Falun Dafa. They sent their heartfelt greetings to honor the occasion. "As we celebrate this magnificent event – World Falun Dafa Day, we cannot find sufficient words to express our gratitude.
"In this extremely chaotic, historic moment, with the coronavirus pandemic, everyone is worried about the future. We are not afraid. We move forward with a calm heart.
"Master, thank you for entrusting us with two young Dafa disciples. You have given us the best cultivation environment. As parents it is our responsibility to educate our children. We will try our best to follow Truthfulness, Compassion and Forbearance and return to heaven together.
"In the final stage of Fa rectification, our family will strive to work together, and put our best efforts into telling people about Dafa. Thank you Master for your boundless compassion."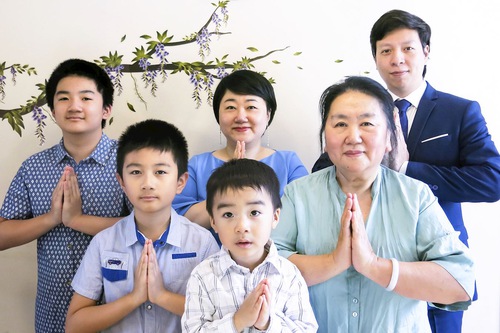 Ms. Zhang and her entire family wish Master Li Happy Birthday.
Ms. Zhang, 68, has been practicing Falun Dafa for 25 years. In 1993, she had a car accident. The injuries became infected and she had bacteria in her blood. Many parts of her body became septic and discharged blood and pus. The pain and itching was hard to bear. She consulted many doctors and also tried unorthodox methods but nothing worked. She even went so far as to make arrangements for her funeral. Her daughter was only 13 then.
Ms. Zhang began to practice Falun Dafa in 1995. Three months later, she completely recovered and now enjoys great health. Twelve of her family members also began practicing, and her family is harmonious. Her daughter met her husband through Dafa.
Ms. Zhang said, "On behalf of my entire family I wish Master a Happy Birthday. You gave me a new life. Everyone in our family acts according to your teachings. We look at our own shortcomings first when we have conflicts. Our health has improved and we get along well with one another. We understand the true purpose of life. We feel extremely fortunate."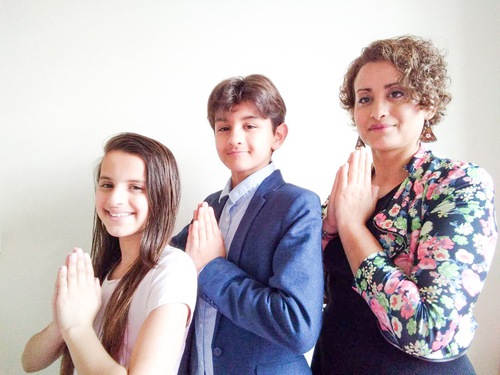 Laïla and her two children wish Master Li Happy Birthday!
Laila has been practicing for more than ten years, and her children are now teenagers. They have been practicing with their mother, and also join her in raising awareness of the persecution.
This year on the occasion of World Falun Dafa Day and Master's birthday, Laila's children want to thank Master for teaching them Dafa because it is such a great practice.
Laila concluded by saying, "Master, we will practice cultivation to the end. It is not easy and we are working hard on it. We know that Master will look after us. Our hearts are full of joy."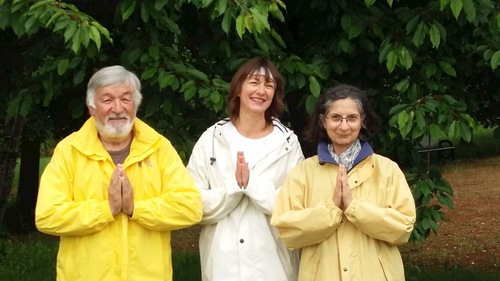 Three practitioners from the Burgundy region wish Master Happy Birthday!
Jocelyne Simonet, Marielle Singer and Georges Mazuir are Falun Dafa practitioners who live in central France, the Cluny district, Burgundy region.
Jocelyne said, "I started practicing in 2018, and I found the true meaning in life. For a long time I had been searching for answers to questions. I found them in Dafa. It is a path of awakening. It is not a small path but a wide one. Cultivation is not easy. It's extremely serious. I've just started on this journey but I follow your teachings devoutly. I will practice cultivation for the rest of my life. Thank you Master."
Marielle is a new practitioner who began practicing in 2019. She said, "Master thank you for leading me onto this path of awakening, something I have been searching for, and for giving me this opportunity to assimilate to the principles of the universe.
"It seems as if a switch had been turned on in my life. Although I have not yet reached the standards required by Dafa, I will try my best. I will never give up practicing cultivation. I want to be your disciple. No matter what difficulties I encounter, I will continue practicing."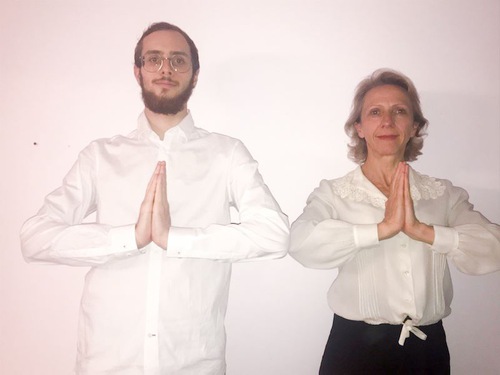 Mélina and her son Alexandre wish Master Happy Birthday!
Mélina and her son Alexandre wrote in their greeting to Master, "Thank you for showing us the purpose of life. We were once unsure of what is right and what is wrong. Now we know. If we follow the highest characteristics of the universe – Truthfulness, Compassion, Forbearance – and do the three things you ask of us, we will be able to advance diligently, elevate our moral standards and ultimately we will reach consummation."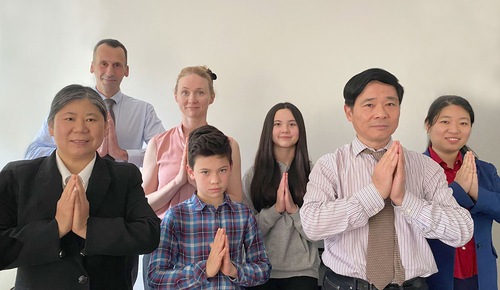 Mr. Tang, (front row, first right), Ms. Tang (back row, first right), their children (middle) and fellow practitioners wish Master Happy Birthday.
Mr. Tang attended Master's first class in France in 1995. He is deeply grateful to Master for leading him on the path of cultivation.
His wife Alina said, "Before I practiced Falun Dafa, I felt lost. I didn't know what I should do in life, what occupation should I go for? What's in my future? I had been searching for a form of cultivation. I tried martial arts and meditation. I learned of Dafa on July 20, 1999. I'll never forget that day because it was also the day that the Communist Regime began to persecute practitioners.
"Now, 21 years have gone by. I feel that Master gave me a second life, a second chance. Guided by Truthfulness, Compassion, Forbearance, it seems as if I have a magic weapon that helps me solve any complicated matters. This tool has enabled me to maintain a peaceful relationship with my husband, children, coworkers and everyone I meet. Falun Dafa taught me to be serene and considerate. I thank Master for these wonderful 21 years!"