Falun Dafa Practitioners in Michigan Celebrate Master Li's Birthday and World Falun Dafa Day
May 18, 2020 | By a Falun Dafa practitioner in Michigan
(Minghui.org) After Mr. Li Hongzhi first introduced Falun Dafa to the public in 1992, Dafa spread far and wide, attracting people from various ethnicities and walks of life. Falun Dafa practitioners have benefited tremendously from the practice and they celebrate World Falun Dafa Day every May 13th to show their appreciation for Master Li.
On a beautiful May 12, 2020, Falun Dafa practitioners in the State of Michigan, USA, celebrated World Falun Day in a local park. Following current guidelines during the CCP virus (coronavirus) pandemic, practitioners stood six feet apart and took a group photo to wish Master Li Hongzhi a happy birthday.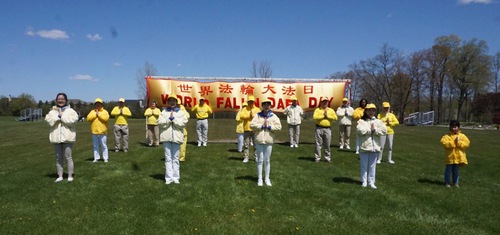 Falun Dafa practitioners from Michigan wish Dafa's founder, Mr. Li Hongzhi a happy birthday.
"Practicing Falun Dafa has been a special journey"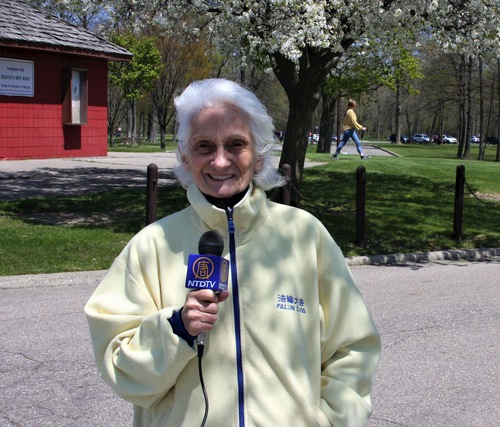 Valerie Avore shared that after she began practicing Falun Dafa she became patient and compassionate.
Valerie Avore said that practicing Falun Dafa for the past 20 years has been a special journey. She said she used to be very impatient and easily stressed out, and she found it hard to listen to others. After she began practicing, her children said she became kinder and willing to listen.
"Falun Dafa brought me Truthfulness, Compassion, and Forbearance. I can look at the world with these principles in my heart. My life has become meaningful and I understand why I am here. I feel that I can handle every situation thrown at me because I have Truthfulness, Compassion, and Forbearance. Falun Dafa has given me a staircase to heaven," Ms. Avore said.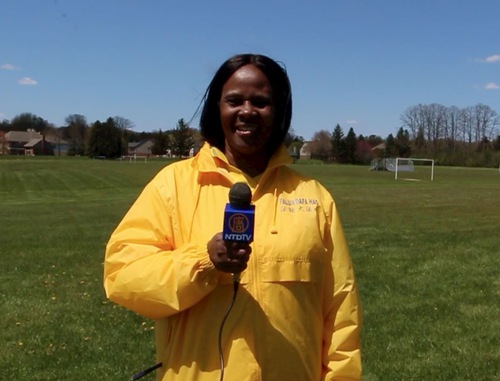 Barbara Robinson from Detroit said, "During this pandemic we need Falun Dafa!"
Barbara Robinson from Detroit began practicing in 2004. She said that Falun Dafa healed her body and heart. "During this CCP virus pandemic, we need Falun Dafa and Truthfulness, Compassion, and Forbearance. Falun Dafa greatly improved my immune system so I can resist the CCP virus. Falun Dafa is great!"
"The best present in this world"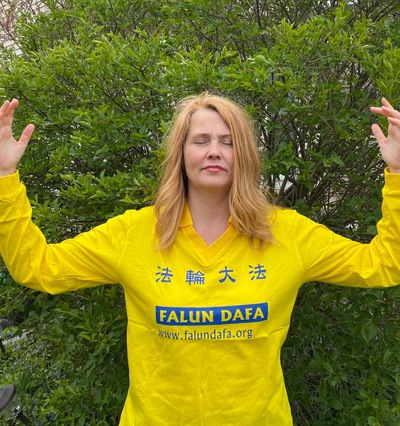 Mary Manthey from Ann Arbor
Mary Manthey suffered from bouts of anxiety and began to have depression in April 2017. Family and friends gave her love and support but couldn't pull her out of her depression. "Reading Falun Dafa's teachings helped me through the darkest days of my life," said Ms. Manthey. "Master Li taught me to be a practitioner; honest, kind and persistent. Falun Dafa is a forever blessing to me. Even the best present in this world can't compare to Falun Dafa."
Arts Editor: "Our family is grateful to Master"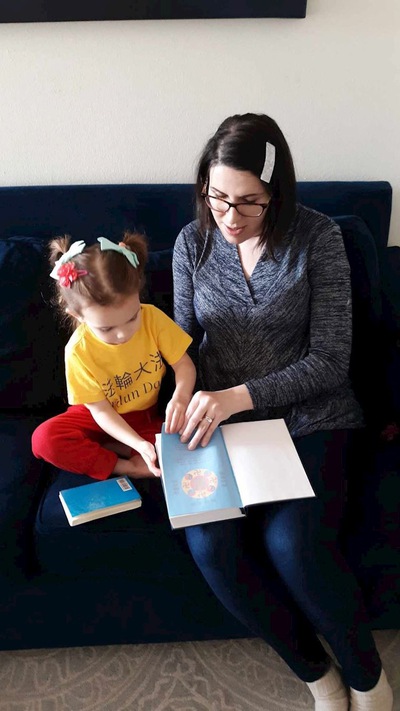 Diane Benedetti and her daughter (courtesy of Diane Benedetti)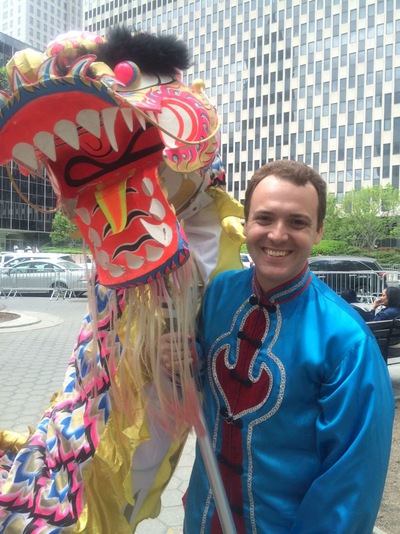 Pete Benedetti after a parade in New York (courtesy of Diane Benedetti)
The Benedetti couple started practicing Falun Dafa in 2005 and 2006. Practicing helped them become more easygoing and calm when faced with conflicts. "My back pain disappeared after I began practicing," said Pete Benedetti.
Diane, a newspaper arts editor, agreed that the principles taught in Falun Dafa, Truthfulness, Compassion, and Forbearance helped the couple overcome many difficulties and now their family is happy and contented.
"We are educating our daughter to be kind, honest, and patient, following the principles of Truthfulness, Compassion, and Forbearance. We also try to be kind and patient parents," Diane said. "On the occasion of World Falun Dafa Day, our entire family is filled with gratitude for what Master has given us and we wish Master a happy birthday!"
Professor: "Practicing Falun Dafa brings me peace of mind and tolerance"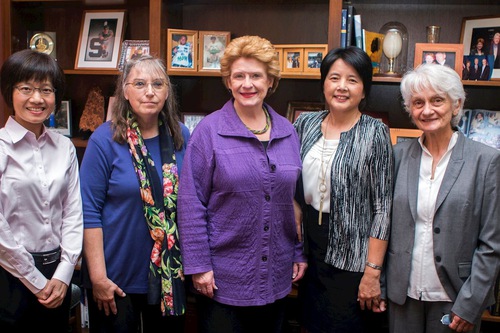 Practitioner Shie Shin-ling (left) and fellow practitioners with Senator Debbie Stabenow (center) from Michigan at her DC office
Shie Shin-ling, a professor of economics, saw Master Li in person for the first time at the San Francisco Fa Conference in October 2000, two and a half years after she began practicing Falun Dafa in Taiwan. It was also the first time Master Li attended a Fa conference after the persecution started in 1999. "When we saw Master walk in, the entire audience stood up and applauded so warmly to express our gratitude and respect to Master. Master told us to sit down and taught the Fa. I was in tears and speechless," Professor Shie recalled.
"A life of selflessness and altruism is the happiest one"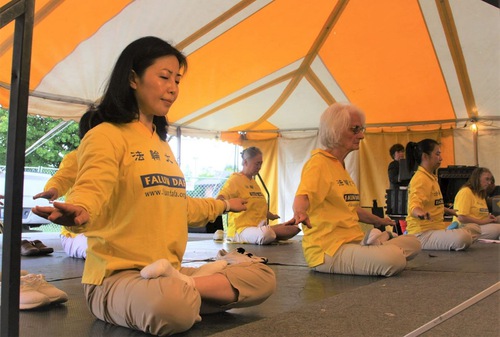 Julia Song and other practitioners demonstrate the Falun Dafa exercises during International Day in Troy on September 5, 2018.
"A life of selflessness and altruism is the happiest one," is how Ms. Song describes her understanding after practicing Falun Dafa for over a decade.
In 1995, a colleague lent her the book Zhuan Falun. She read it in one night but returned it because she didn't understand what cultivation practice was, so she missed a precious opportunity to begin practicing.
Ms. Song was given a second opportunity 14 years later when she met a former classmate in graduate school who introduced Falun Dafa to her again. She said, "I remembered that when I was going home with the book Zhuan Falun, I felt comfortable and warm like I'd found something I had missed. Now, I know it was the feeling that my life had found its destiny." 
Engineer: The Amazing Power of Falun Dafa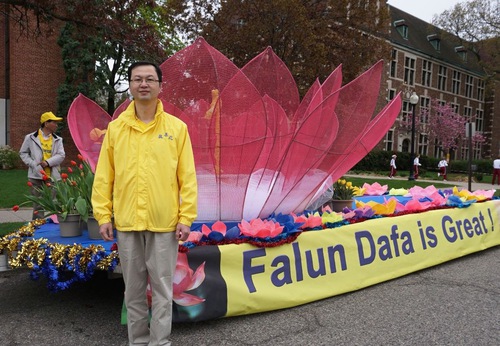 Raymond Tian after a parade during the International Tulip Festival in Holland, Michigan on May 11, 2019
Raymond Tian is an electrical and mechanical engineer for a local company. He was visiting a classmate one day before the New Year in 1996 where he saw two new books his friend had just bought: Zhuan Falun and Zhuan Falun Volume II. Out of curiosity, he browsed through them. 
On his way home, Raymond bought a copy of Zhuan Falun at a newsstand and started practicing Falun Dafa. He had no illness at that time except for a seasonal allergy.
About two months into practicing, his allergy relapsed. But this time the symptoms were very different. Like a switch turned on and off, the usual skin rash appeared after he returned home in the evening and disappeared when he went to work in the morning. On the third evening, he had a business meeting. Raymond was worried and wondered what he would do if the rash appeared during the meeting. But nothing happened. When he finally returned home and sat on the couch, the rash appeared.
A few days later, the rash disappeared and never returned. "No matter where we are, as long as we cultivate diligently, Master is looking after us," Raymond said.
Gradually, more of his family members joined him in practicing Falun Dafa. He and his entire family wish to express their profound thanks and gratitude: "Master, happy birthday! Our infinite gratitude for Master's compassionate salvation!"