California: Practitioners Celebrate World Falun Dafa Day and Recall the Founder's First Lecture in San Francisco
May 16, 2020 | By a Minghui correspondent in San Francisco
(Minghui.org) Every year, Falun Dafa practitioners in San Francisco hold events to celebrate World Falun Dafa Day. Due to the coronavirus pandemic, gatherings are not allowed in California. So, to honor the occasion, area practitioners submitted their stories and memories of how they began practicing Falun Dafa. Some were fortunate to meet Mr. Li Hongzhi, the practice's founder, in person.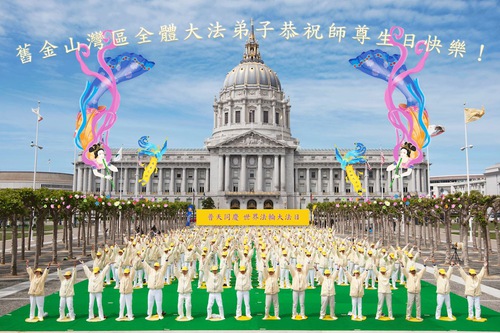 Falun Dafa practitioners in San Francisco celebrate World Falun Dafa Day.
Master Li first introduced Falun Dafa to the public on May 13, 1992, in Changchun, China. In October 1996, he gave a lecture in Sunnyvale, San Francisco to over 200 Falun Dafa practitioners. He signed the book Zhuan Falun and took a group photo with practitioners.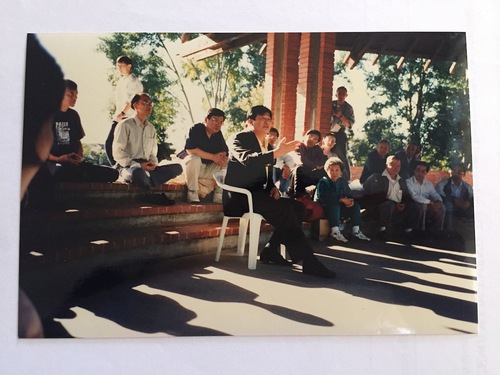 Master Li gave a lecture at Ortega Park, Sunnyvale, San Francisco in October 1996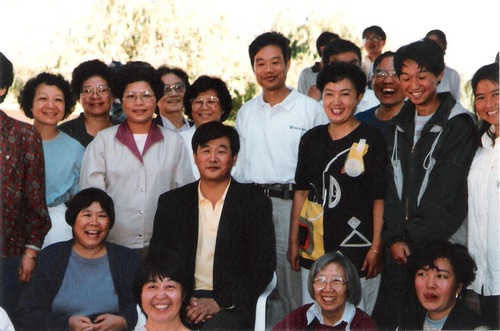 Master Li takes a group photo with practitioners. 
May 13, 2020, marks the 28th anniversary of Falun Dafa's public introduction. Falun Dafa is now practiced in over 100 countries. More than 100 million people practice the spiritual discipline. It has been 25 years since Master gave that lecture in 1996. The practitioners who were there recalled their experiences and appreciation toward Master Li for introducing this practice to the world.
Former Teacher at Tsinghua University: Finding the Meaning of Life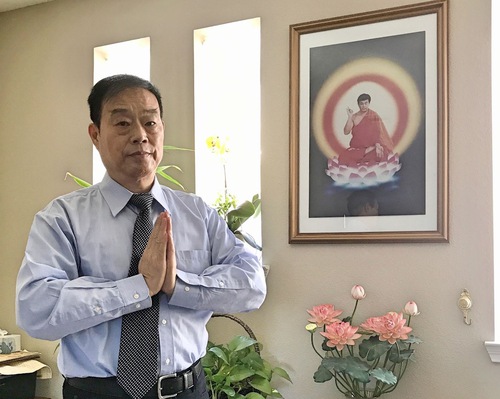 Lu Ping wishes Master a happy birthday.
Lu Ping (alias), a former teacher at Tsinghua University, came to the U.S. in 1991 and works as a software engineer at a high-tech company in San Francisco. A friend recommended Falun Dafa to him in 1995. 
He and his son attended a nine-day Falun Dafa workshop, and he said that after the first day he understood the meaning of life. He felt inspired and realized that this was what he sought for so long. He decided to practice Falun Dafa. 
He recalled Master Li's lecture at Ortega Park, Sunnyvale. He said about 200 to 300 people listened to Master lecture inside a big pavilion. Master talked about the universe, cultivation, life and so on. He also answered questions after the long lecture. 
Lu recalled that one practitioner asked why she was sensitive to cigarette smell. Master said that she smoked too much in her previous lives. 
Before he practiced Falun Dafa, Lu smoked a lot and tried to quit several times. He always failed. One day after he did the exercises, he stood on the balcony and had a cigarette. He realized the smoke smelled bad and so he stopped. When he later tried to smoke it smelled so bad that he wanted to vomit. He enlightened that he should quit smoking. 
Lu said that the Chinese Communist Party (CCP) started persecuting Falun Dafa in 1999 by defaming it. Many Chinese people knew how bad the CCP was but were careful not to offend it. 
He said the CCP defames those it wants to persecute no matter how the disinformation campaign misleads others. The Party even manipulates people to repeat its lies. He stressed that the Party fears exposure of its wrongdoing. 
Chinese Medicine Doctor: Fortunate to Practice Falun Dafa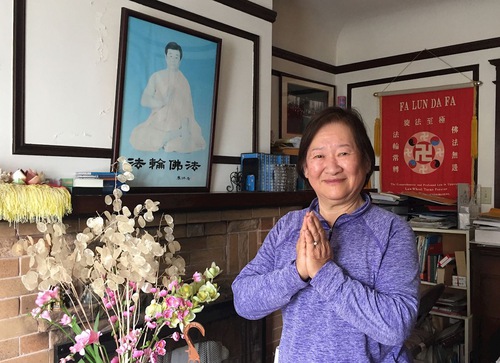 Wang Xianglan, 75 years old
Wang Zianglan, a Chinese medicine doctor, started practicing Falun Dafa in 1996. Shortly before, she had a serious car accident and her car was totaled. Her spine was injured and she had difficulty standing. She tried several medical treatments, but nothing helped. 
She went to a park for a walk and met a practitioner distributing fliers. Soon after she attended a nine-day workshop she began practicing. All her illnesses disappeared and she has been healthy since then. 
She recalled how excited she and the others were when they learned that Master would come to San Francisco. She got up early that day and drove to the park. She said, "We had group exercises in the morning. Before long, Master arrived. Everyone was so happy." 
She recalled Master mentioned that everyone there waited for Falun Dafa and that each one had predestined relationship to practice. 
Ms. Wang said that she eliminated her attachments to fame and personal interests. Afterwards, she felt younger and more energetic. 
She said she was fortunate to practice Falun Dafa and is grateful to Master Li for his compassionate salvation. 
Elder Chinese American Appreciates Falun Gong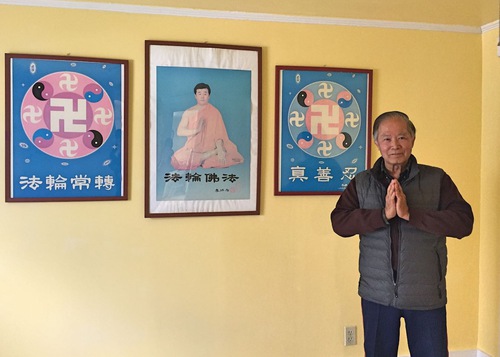 Wu Shixiong, 85 years old 
Wu Shixiong said he practiced Tai Chi for over 40 years before he found Falun Dafa. In 1995, he read about Dafa in a newspaper. He phoned the contact person and learned the exercises. He later held nine-day workshops in his home. More and more people came to his home to learn about Falun Dafa. 
He said the first time he did the exercises he felt strong energy and Falun rotating. After he read the book Zhuan Falun and learned the genuine principles of how to cultivate he gave up everything else he previously practiced. 
He said he experienced many amazing things. Twenty-five years have passed. Reflecting on his experiences on World Falun Dafa Day, Mr. Wu is grateful to Dafa and Master Li. He said his entire family has benefited from his practicing, and he will practice more diligently.