Canada: Elected Officials Offer Congratulations on World Falun Dafa Day
May 16, 2020 | By a Falun Dafa practitioner in Canada
(Minghui.org) May 13, 2020, is the 28th anniversary of Falun Dafa's introduction to the public. It is also the 21st World Falun Dafa Day and the founder's, Mr. Li Hongzhi, birthday. Elected officials from federal parliament, provincial government and cities sent letters, proclamations and citations. The following are letters and proclamations from three Members of Parliament (MP) and seven mayors.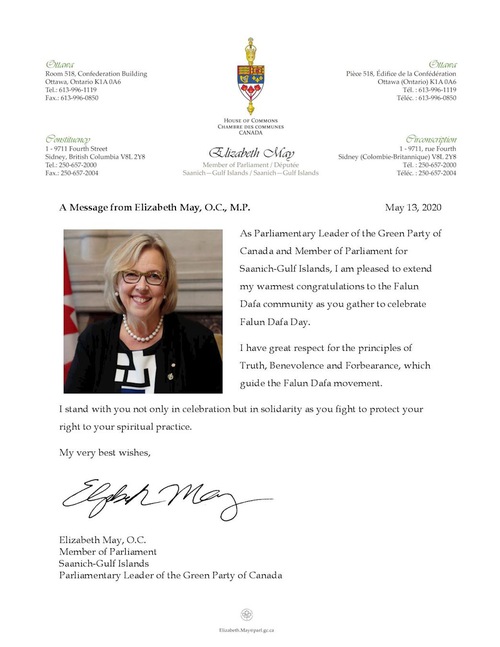 Letter from MP Elizabeth May of the Green Party.
"I have great respect for the principles of Truth, Benevolence and Forbearance, which guide the Falun Dafa movement," stated MP Elizabeth May in her letter. "I stand with you not only in celebration but in solidarity as you fight to protest your right to your spiritual practice."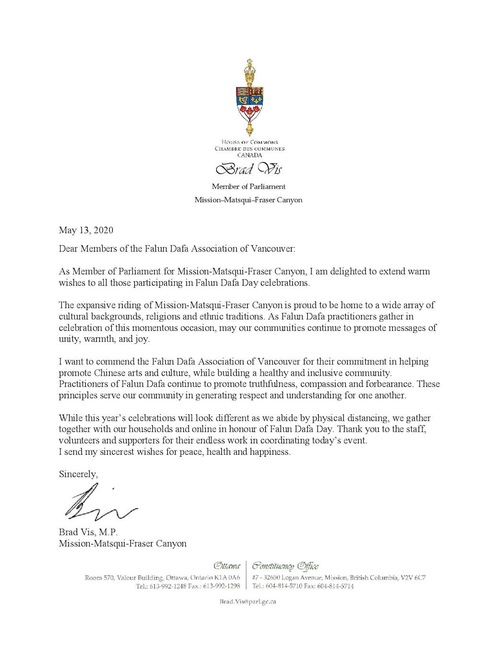 Letter from MP Brad Vis of Mission-Matsqui-Fraser Canyon
"I want to commend the Falun Dafa Association of Vancouver for their commitment in helping promote Chinese arts and culture," stated MP Brad Vis in his letter, "while building a healthy and inclusive community.
"Practitioners of Falun Dafa continue to promote truthfulness, compassion and forbearance. These principles serve our community in generating respect and understanding for one another."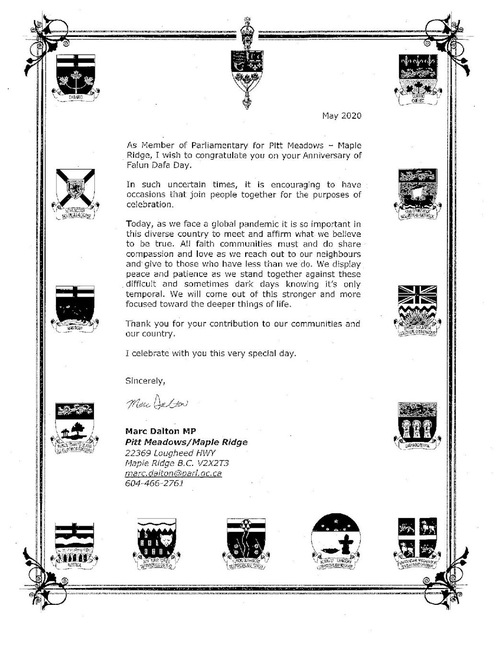 Letter from MP Marc Dalton of Pitt Meadows-Maple Ridge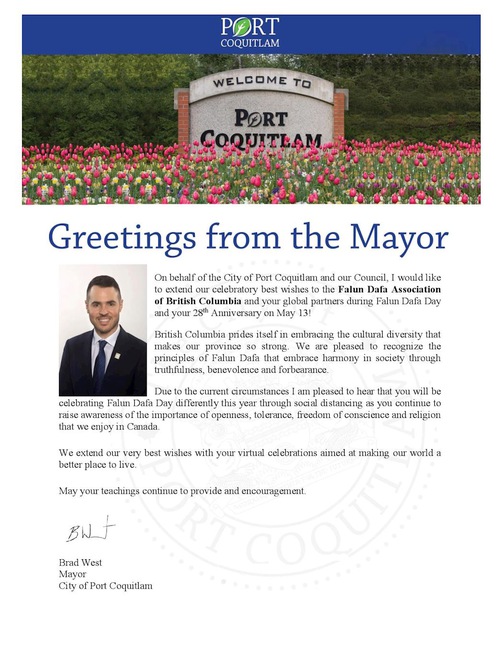 Letter from Mayor Brad West of City of Port Coquitlam
"On behalf of the City of Port Coquitlam and our Council," stated Mayor Brad West in his letter, "I would like to extend our congratulatory best wishes to the Falun Dafa Association of British Columbia and your global partners during Falun Dafa Day and your 28th Anniversary on May 13!"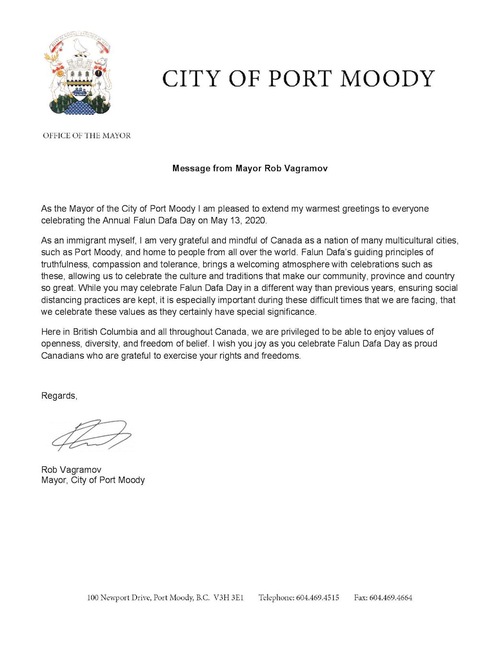 Letter from Mayor Rob Vagramov of Port Moody
"As an immigrant myself," Mayor Rob Vagramov stated in his letter, "I am very grateful and mindful of Canada as a nation of many multicultural cities, such as Port Moody, and home to people from all over the world.
"Falun Dafa's guiding principles of truthfulness, compassion and tolerance, brings a welcoming atmosphere with celebrations such as these, allowing us to celebrate Falun Dafa Day in a different way than previous years, ensuring social distancing practices are kept, it is especially important during these difficult times that we are facing, that we celebrate these values as they certainly have special significance."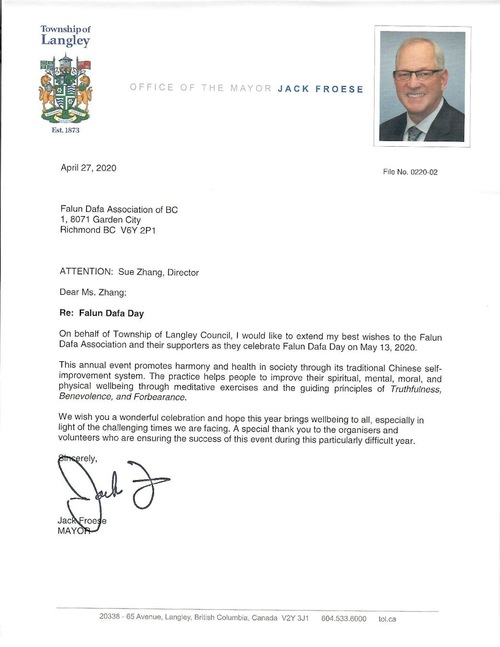 Letter from Mayor Jack Froese of the Township of Langley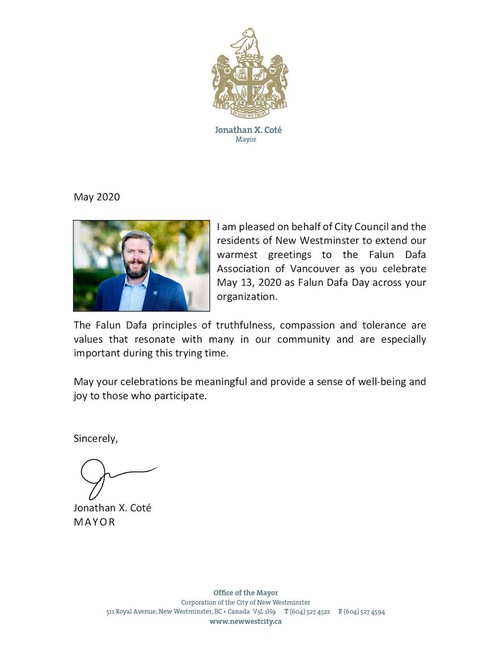 Letter from Mayor Jonathan Coté of the City of New Westminster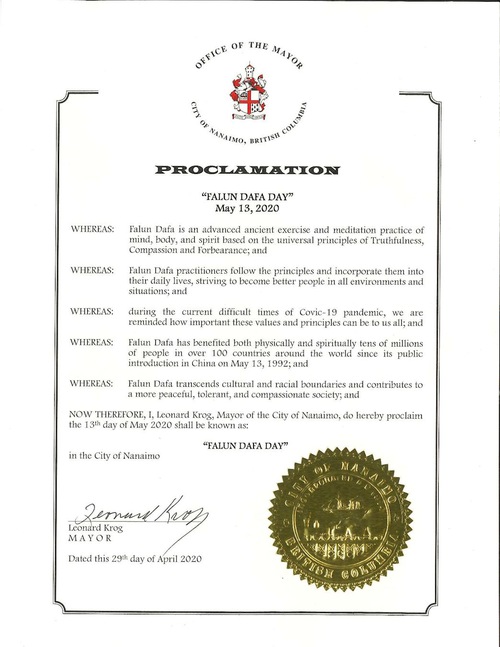 Proclamation from the City of Nanaimo, British Columbia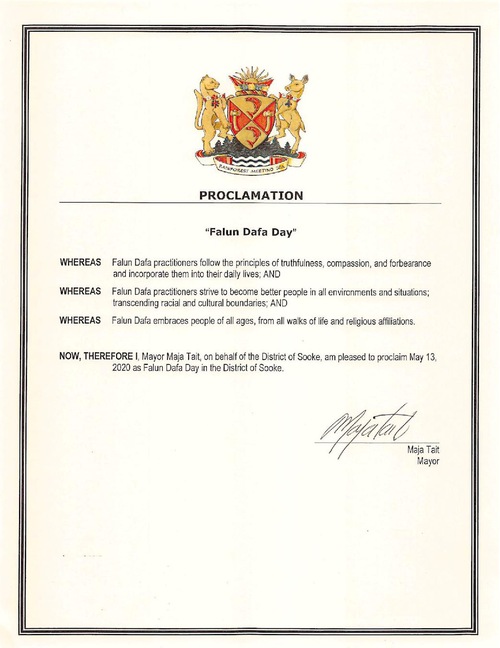 Proclamation from the District of Sooke