Practitioners in Washington D.C. Express Gratitude to the Founder of Falun Dafa
(Minghui.org) May 13 is World Falun Dafa Day, which coincides with the birthday of Master Li Hongzhi, the founder of Falun Dafa. On May 13, 1992, Master Li introduced the practice to the public. This traditional mind-body cultivation practice has benefited over 100 million practitioners in 100 nations since then. 
Dafa practitioners in Washington D.C. joined together over the internet on May 10 and shared their experiences of how they improved in accordance with Falun Dafa's principles of Truthfulness-Compassion-Forbearance. Coming from all walks of life, they have gained physical health, improved their moral character, and obtained wisdom, both at work and in their daily life.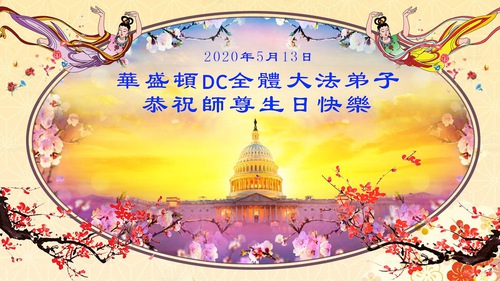 Falun Dafa practitioners in Washington D.C. wish Master Li a Happy Birthday.
Medical Expert: Wisdom and Energy
Xudong Li is an associate professor of Orthopedic Surgery at the University of Virginia Medical Center. Certified by the American Board of Orthopedics, in one of the most competitive medical specialties, Li has conducted research supported by millions of dollars in funding and has authored numerous peer-reviewed articles. His work has earned dozens of awards including one of the most prestigious awards in orthopedics, the Kappa Delta Young Investigator Award from the American Academy of Orthopedic Surgeons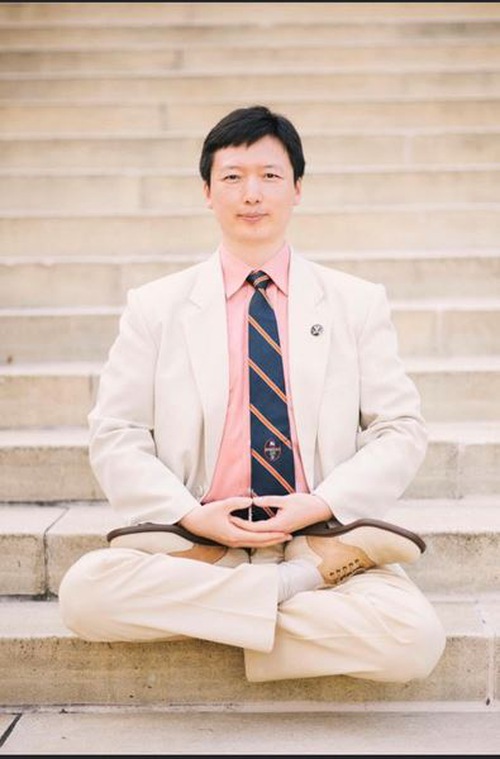 Xudong Li, an orthopedic surgeon and associate professor at the University of Virginia Medical Center
Li had come a long way before learning Falun Dafa. He studied Tai Chi since age 12, after which he studied numerous qigong systems. Frustrated by his observations of these practices, he was excited to read Zhuan Falun, the main teachings of Falun Dafa, in July 1997. "It was not until then did I understand what cultivation means and what life is meant for," he said. 
Besides spiritual insights, Li also gained a deeper understanding of ancient Chinese medicine as well as modern medicine through reading Dafa books. This helped both his treatment of patients and his research. The meditation exercises of Falun Dafa also give him more energy to handle his daily duties and research projects well. "I wish more people could benefit from it like me," he added. 
Government Lawyer: Cancer Cured
Terry Gao, a lawyer for the federal government, said she had heard about Falun Dafa in 1998, but did not consider it seriously at the time. Two years later, she was diagnosed with cancer and the chemotherapy caused extreme pain—it was so bad that she almost wanted to end her own life.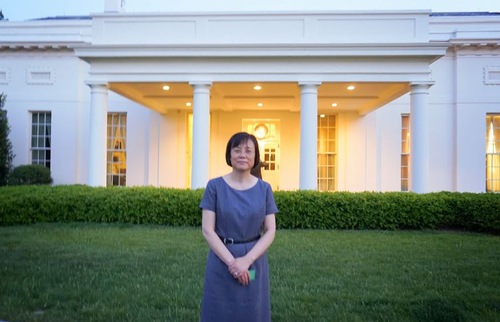 Terry Gao works as a lawyer for the U.S. Government
Out of despair, somehow she remembered Falun Dafa and decided to give it a try. "Later on, my health recovered and the miracle also impressed my American husband who also became a practitioner," she explained. "After so many years, I have been very healthy and my coworkers even asked me, 'How come you never take sick days?"
Because of her expertise in law, Ms. Gao has worked on many cases and has been consulted by the White House. Despite enjoying great success in her career, Gao is very modest and easygoing. "I have to give credit to Falun Dafa," she says. 
From coming to the United States, pursuing her law degree, to becoming a lawyer, everything can seem to hinge on struggling and fighting. "Through the teachings of Falun Dafa, however, I learned that there are many things we do not know or know how to deal with. Only by remaining humble and considerate of others will we open up our mind, which helps us overcome various challenges," she explained. 
Researcher: Purpose of Life
As a student working towards a Ph.D. in Chemistry at Boston University, Anna Skibinsky had almost everything she needed—youth, beauty, and talent. But she was not happy. "I did not know why I was doing those things and where my life would lead me," she recalled. That bothered her a lot, to the extent that it affected her digestion and she had trouble sleeping. Out of frustration, she went to Chinatown to get help from a Chinese physician, who gave her a flyer about Falun Dafa. 
"That was in 1997, and, following the instructions on the flyer, I went to nearby Harvard University, where over 10 young people were doing meditation on the campus," she said. "As soon as I joined them, I found myself immersed in a peaceful and pure energy."
Most of those people were students from Harvard and MIT. Some were Chinese and some were Westerners. Upon their recommendation, Anna began to read Zhuan Falun. "It was a mind-blowing moment, because I learned so many things I did not know earlier—about life, the universe, and much more," she said.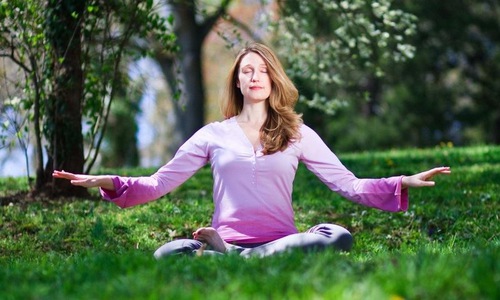 Researcher Anna Skibinsky
Twenty-three years have passed, and Anna says she now believes that the purpose of life is to constantly improve ourselves and align with the principles of Truthfulness-Compassion-Forbearance. "If each of us pays more attention to how we can contribute more and do better, life will be much better," she said. "Master Li taught me that, and I am very fortunate to be a practitioner."
Software Developer: Obtaining the Tao
Like many young people curious about traditional Chinese culture, He Bin was interested in qigong and supernormal abilities when he was young. While studying at the renowned Fudan University in Shanghai and the Chinese Academy of Science for his Ph.D., he often attended qigong forums. "But many of those monks or so-called masters behaved just like ordinary people and were greedy for money. It looked hopeless," he said.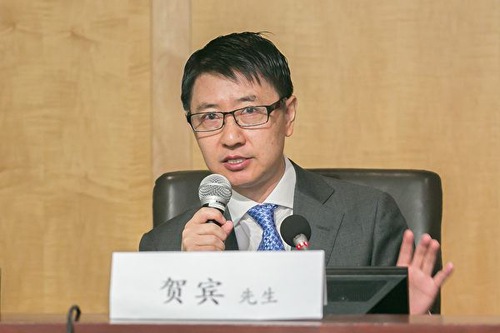 Software developer He Bin
When he came to the United States in 1995, he only brought two books with him—a computer book and the traditional Taoist scripture by Lao Zi. Three years later, he heard about Falun Dafa at a Chinese Festival at the University of Maryland, and based on that information, he read Zhuan Falun from the internet. 
Impressed by the profound teachings, He Bin joined the local group exercises, where he could feel a strong energy field. "Everything Master Li mentioned in the books is so good, which not only cleared up my confusion, but also taught me much more," explained Mr. He, who currently works as a software developer for the government. 
"The Project Managers All Said You Are the Best"
Wang Yong, a software engineer for a Fortune 500 company, said that Falun Dafa teaches him to remain calm when facing challenges. Not long after he joined the company, a certain project had a problem that a senior developer had spent over a month on and still couldn't fix. "After my manager asked me to take on that project, I spent two entire days on it and still had no clue. Later on, I remembered that I am a practitioner, so I calmed down to read the teachings of Falun Dafa and do the exercises. By the end of the fourth day, I was able to solve the problem and finished the project ahead of schedule," he recalled. 
Another time, issues were identified for a software product right before delivering to a client the following day. Wang was notified that afternoon and, with a peaceful mind of a practitioner, he was able to concentrate on the work and resolved the issue that night.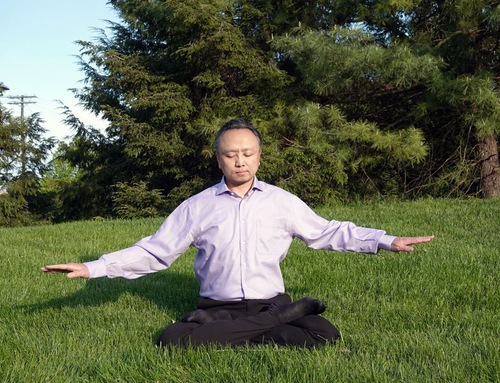 Wang Yong works as a software engineer for a Fortune 500 company.
Although he's worked for the company for only six years, Wang has been promoted twice for his performance, and is now a senior principal software engineer – the highest level on the technical ladder. "When I asked around, the project managers all said that you're the best," his manager once said to him. 
Professional Trainer: "Master Li Teaches Me to Be a Better Person"
Erik Meltzer grew up in a Jewish family in Philadelphia. When searching on the internet in high school, he found Falun Dafa and was immediately drawn to it. "Master Li teaches me to be a better person. That is why I am always so grateful," he said.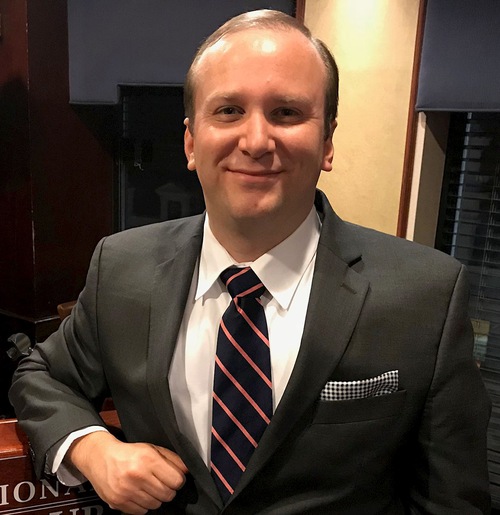 Erik Meltzer is a professional trainer for news media companies.
In the past 23 years of cultivation practice, Mr. Meltzer has gained more confidence by assimilating to the principles of Truthfulness-Compassion-Forbearance. Working as a professional trainer for news media companies, he found that people around him have also sensed his sincere and positive attitude. "As a Falun Dafa practitioner, I am blessed and will not be lost no matter what happens," he said. 
Accountant: Reconnecting with the Divine
Growing up in China, accountant Xie Wei said he knew very little about Chinese traditional culture until he came to the United States. During the Cultural Revolution, he and other high school graduates were sent to the rural countryside to do labor. Later on, he went to college in 1977 and taught at Jilin University. "Like many Chinese people, we could not understand why people suffer and where the society was heading to," he said. 
In 1995, a friend gave a copy of Zhuan Falun to Xie's family. After his family started practicing Falun Dafa, his family members sent him a copy in 1996. "After reading the book, I understood lots of things and was able to see hope for the future," he explained. In addition, he gained a better understanding of traditional Chinese culture, a civilization that was inspired by the divine for thousands of years.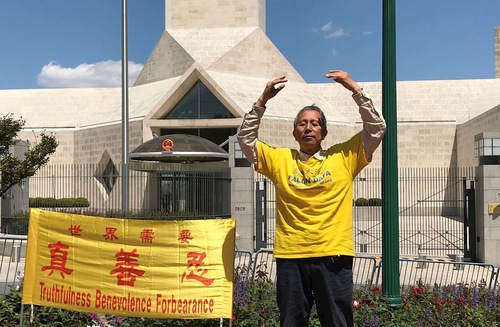 Accountant Xie Wei hopes more people can enjoy freedom of belief.
On World Falun Dafa Day, Xie Wei and several other practitioners went to the Chinese Embassy to do the exercises, to show the beauty of Falun Dafa and to peacefully protest the 21-year persecution of Falun Dafa in China. "I hope one day the persecution will end in China so that more people in this world will be able to benefit from the practice," he said.