Taichung, Taiwan: Practitioners Reflect on Their Positive Changes During World Falun Dafa Day Celebrations
May 14, 2020 | By Minghui correspondent Liu Wen-hsin
(Minghui.org) Falun Dafa practitioners did the exercises in front of Taichung City Hall on May 9 to celebrate the 21st World Falun Dafa Day. May 13 is the 28th anniversary of Falun Dafa's public introduction, the 21st World Falun Dafa Day, and the founder, Mr. Li Hongzhi's birthday.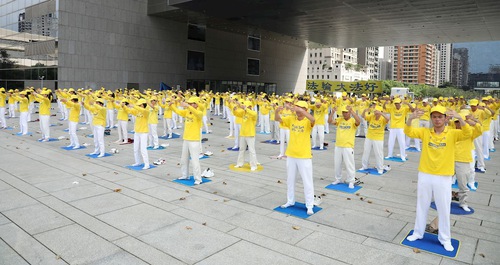 Falun Dafa practitioners doing the exercises in front of Taichung City Hall on May 9, 2020.
While the coronavirus pandemic spread across the world, many countries discouraged gatherings. Taiwan remains open, however. People are living a normal life and students are attending school. People support the government's measures to prevent and control the virus.
Falun Dafa practitioners in Taiwan treasure the ability to continue practicing outdoors. They reminisced and talked about their cultivation experiences. 
Practitioners pose for a group photo to wish Master a happy birthday. The rear banner says: Wide spread of Dafa, celebrating World Falun Dafa Day. The front banner says: Greetings, Master. 
Hot Temper Gone After Practicing Falun Gong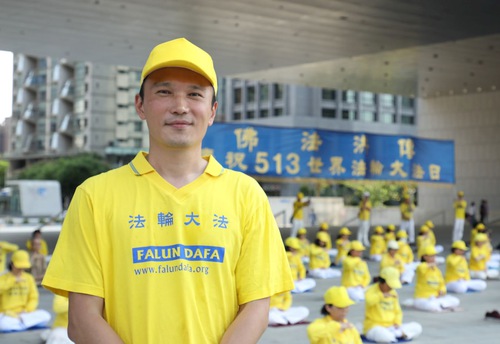 Liao Chen-you
Liao Chen-you, a manager at a construction company, said he had hot temper before he practiced Falun Dafa. He attempted to control it but failed. His temper frustrated his family and colleagues at work and also affected his health. 
Seeing his wife's positive change after practicing Falun Gong, Liao joined the practice. He said, "My biggest change after practicing was that my hot temper disappeared and I now look within whenever conflicts happen." 
He and his wife used to fight, but they are now harmonious. His colleagues also noticed that he's now gentle and kind, and said that they admired Falun Dafa. 
Insomnia Disappeared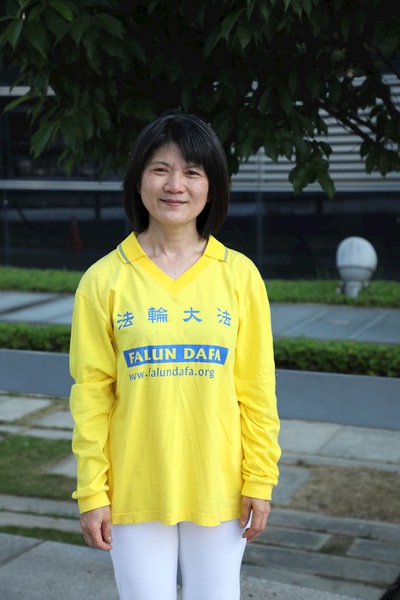 Tang Shu-ling
Tang Shu-ling works in a research and development department. She suffered from insomnia due to stress at work, and she often thought of suicide. She attempted to cure her insomnia by looking into various spiritual paths, but nothing helped.
A colleague gave her the book Zhuan Falun in 2015, and she was inspired by the profound principles. She immediately knew this was the spiritual practice that she had been seeking.
Her insomnia disappeared after she began practicing. Her daughter and grandson also started practicing the spiritual belief.