Falun Dafa Practitioners in China's Rural Areas Celebrate World Falun Dafa Day and Respectfully Wish Revered Master a Happy Birthday (19 Greetings)
(Minghui.org) World Falun Dafa Day is just around the corner, and practitioners who live in China's rural areas are sending their greetings to wish revered Master Li Hongzhi a Happy Birthday and to celebrate the 28th anniversary of Falun Dafa's public introduction.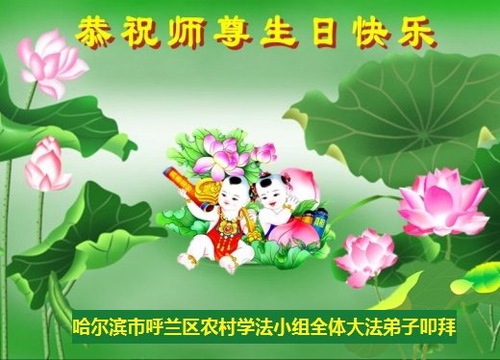 These practitioners all expressed their profound gratitude to Master for giving them good health and teaching them to be better people. 
Many practitioners vowed to be more diligent in cultivation and share the beauty of the practice with more people.
The well-wishers hail from the following regions: 
Chicheng County, Hebei ProvinceZhaodong City, Hailun City, Baoqing County, Bin County, Hulan Area, Heilongjiang ProvinceKaijiang County, Sichuan ProvinceZhoukou City, Henan ProvinceWangcang County, Sichuan ProvinceZhaoyuan City, Shandong ProvinceFuyang City, Anhui ProvinceChongqing