Falun Dafa Practitioners in the Chinese Education System Celebrate World Falun Dafa Day and Respectfully Wish Master Li Hongzhi a Happy Birthday (21 Greetings)
(Minghui.org) Twenty-eight years ago, on May 13, 1992, Master Li Hongzhi introduced Falun Dafa to the public, teaching the five meditative exercises and universal values of Truthfulness-Compassion-Forbearance. With its tremendous health benefits and uplifting teachings, Falun Dafa spread quickly throughout China and the world. 
As World Falun Dafa Day, May 13, fast approaches, Falun Dafa practitioners are sending their heartfelt good wishes to the Minghui website to celebrate the anniversary of this historic day and tp express their profound gratitude to Master Li.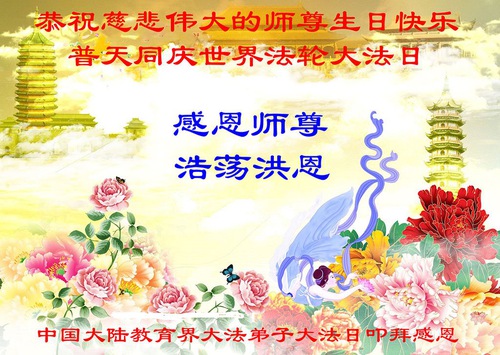 A teacher from Daqing City, Heilongjiang Province, wrote in her greeting that she began practicing Falun Dafa after she finished chemotherapy for breast cancer in 2010. Over the past 10 years of practice in Dafa, she has remained healthy without taking any medicine. "Becoming a Dafa practitioner is my everlasting happiness and glory," she wrote. 
Despite the ongoing persecution in China, many practitioners have never wavered in their faith in Falun Dafa. They have vowed to cultivate themselves better, help more people know about Dafa, and raise awareness of the persecution. 
This report is a collection of 21 greetings from Falun Dafa practitioners in the education system in China, including students, faculty, and staff in the following school and regions:
Chengdu City, Sichuan ProvinceBeijing High School Attached to Northeast Normal UniversityYueyang Area, Hunan ProvinceJiangsu ProvinceDaqing City, Qitaihe City, Heilongjiang ProvinceWen'an City, Hebei ProvinceChangchun City, Jilin ProvincePingdu City, Shandong Province