New York: Clarifying the Truth During the Pandemic
April 28, 2020 | By a Falun Dafa practitioner in New York
(Minghui.org) The New York State government ordered social distancing measures on March 21 to curb the rapid spread of coronavirus. Only essential businesses have been allowed to remain open, and city streets are largely deserted. While following government-mandated social distancing guidelines, Falun Dafa practitioners have continued their efforts to raise awareness of the persecution of Falun Dafa in China, where practitioners continue to be arrested and detained for their faith amid the pandemic.
Global Center for Quitting The Chinese Communist Party Still Open in Flushing
The local police precinct in Flushing gave approval for two of the five Quitting the Chinese Communist Party Service Center booths to stay open during the pandemic. One booth is located near the subway station on Main Street, and the other is in front of the Flushing Public Library.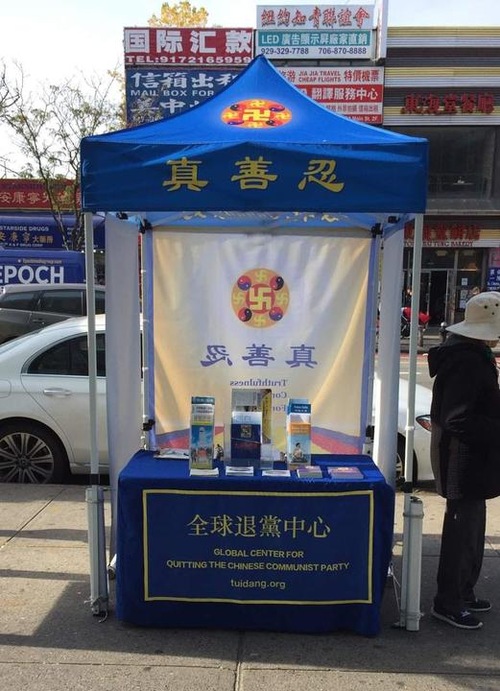 The Global Center for Quitting the Chinese Communist Party booth in front of the Flushing Public Library
At the booth, practitioners have set up a small speaker that continuously plays a song with the lyrics: "Falun Dafa is good" and "Truthfulness-Compassion-Tolerance is good." Two practitioners have volunteered to man each booth, and they maintain at least six feet of distance from each other and from pedestrians.
Some passersby have admired the pretty little lotus flower bookmarks at their booth and stopped to take one. After hearing what the practitioners had to say, many people pressed their hands together in front of their chest and thanked practitioners.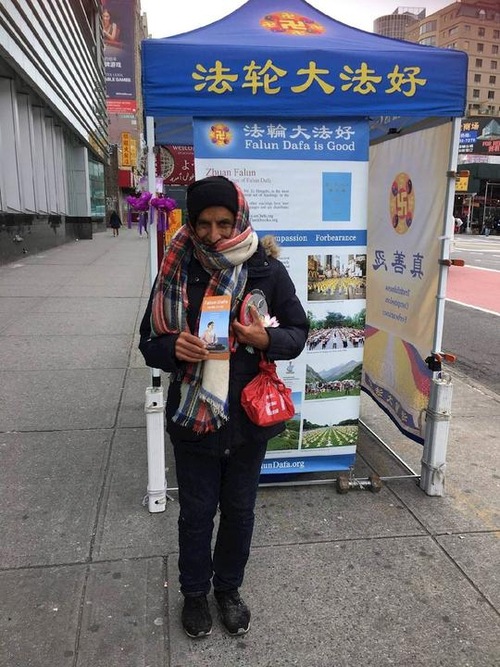 A Persian man said he liked Falun Dafa.
A Persian man approached the booth on April 21. He talked to a practitioner in English and said that he liked Falun Dafa very much. He had downloaded several songs about Falun Dafa on his mobile phone. The practitioner guided him to the Falun Dafa website, where he found was available in his native language.
In Brooklyn, some people had ventured out of their homes to breathe and shop on Sunday, April 19. It was a nice sunny day, and Ping and Alice, two Falun Dafa practitioners from Brooklyn, stood in the street with flyers and lotus flowers.There weren't many pedestrians on the street, but many people took the information and lotus flowers. Six Chinese people quit the Young Pioneers, a youth organization affiliated with the Chinese Communist Party.
In Manhattan's Chinatown, several senior practitioners wore protective masks and gloves and distributed printed materials near subway entrances.
Queens Resident: "Support Falun Gong! Down with the Communist Party!"
Lucy lives in Queens, and she practices the Falun Dafa exercises on the bank of a lake near her home. On the morning of April 16, she heard a loud voice from the street while she was practicing the second exercise, Falun Standing Stance. She turned around and saw a Chinese man in a Mercedes who was waiting for a green light. He had rolled his window down and shouted in her direction, "Support Falun Gong! Down with the Communist Party!" When the traffic light turned green, he shouted "Support Falun Gong!" again before he drove away.
Chinese Detention Center Captain Quits Communist Party Over the Phone
Qinglian, a practitioner living in Flushing, dialed the number of the captain of a detention center in Shandong Province one day early in April.
Qinglian told the person on the other end, "Please don't persecute any Falun Gong practitioners. The pandemic is taking aim at the Communist Party. If you quit the Party, you will be safe. Do you agree to let me help you quit the Party?"
"I agree," the person replied.
Qinglian reminded the captain that he could protect practitioners through his work and that he should make up for his past wrongdoings. "Do you agree to let me help you quit the Party with your real name?" The answer again was "I agree."
Before hanging up, Qinglian urged him to remember "Falun Dafa is good" and "Truthfulness Compassion Tolerance are good." She told him that he would be blessed for treating detained Falun Gong practitioners kindly.