Sweden: Practitioners Commemorate April 25 Appeal, Members of Parliament Show Support
April 28, 2020 | By a Minghui correspondent in Sweden
(Minghui.org) It was 21 years ago, on April 25, when over 10,000 Falun Gong (also known as Falun Dafa) practitioners went to Beijing's State Appeals Office to call for the release of 45 practitioners that had been illegally arrested in Tianjin. They also called on the communist regime to allow people to practice Falun Gong freely in China.
To commemorate this event as well as raise awareness of the ongoing persecution in China, practitioners in Sweden held activities outside the Chinese Consulate in Gothenburg on April 24, 2020, and the Chinese Embassy in Stockholm on the 25th.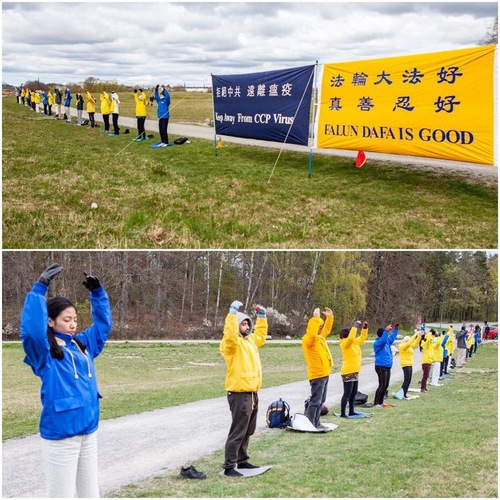 Practitioners demonstrate the Falun Gong exercises outside the Chinese Embassy in Stockholm.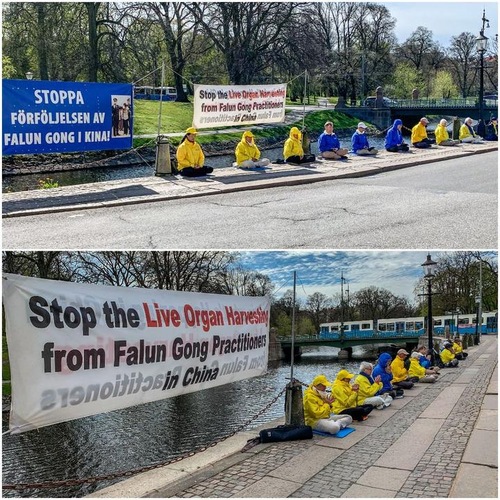 Practitioners demonstrate the Falun Gong exercises outside the Chinese Consulate in Gothenburg.
Members of Swedish Parliament Express Support
Two Members of the Swedish Parliament attended the activity outside the Chinese Consulate in Gothenburg on April 24.
Hans Rothenberg, Member of Parliament
Mr. Hans Rothenberg has been a Member of Parliament for 14 years. He has supported Falun Gong practitioners' peaceful resistance to the persecution since 2007, attending their activities every year.
He said, "The suppression of Falun Gong, which began in July 1999, is still going on. This is a disgrace to humanity. I, as well as other MPs, have held forums in Parliament on many occasions, censuring the Chinese Communist Party (CCP) for its crimes against humanity. I also took the lead in drafting legislation censoring the communist regime's illegal removal of human organs. I hope this persecution will end soon."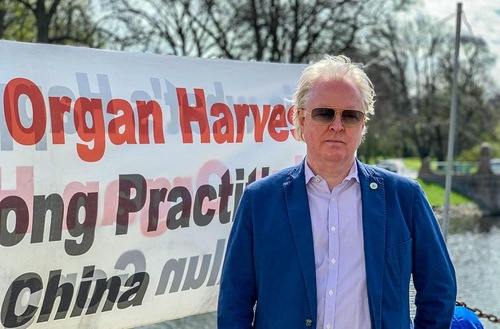 Hans Rothenberg, a Member of the Swedish Parliament, attended the commemorative event in Gothenburg on April 24.
Ann-Sofie Alm, Member of Parliament
Ann-Sofie Alm, another Member of Parliament, rushed to the event location after a meeting. During the past two years. she has called on Parliament to pay attention to human rights abuse of Falun Gong practitioners on several occasions.
She expressed her admiration for practitioners' long term efforts in peacefully resisting the persecution. She hopes practitioners will soon be able to embrace their faith freely in China.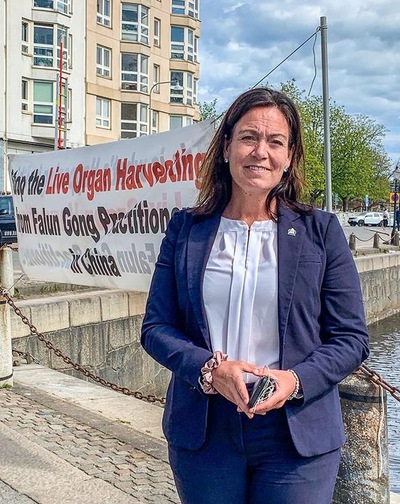 Ann-Sofie Alm, a Member of Parliament, attended the April 25 event.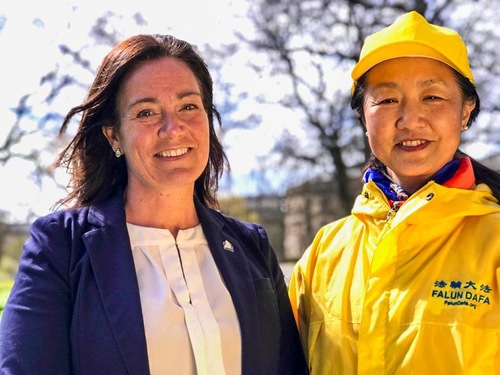 Ann-Sofie Alm and a Falun Gong practitioner
Personal Accounts of April 25 Appeal
Kong Bin and Li Zhihe, both Falun Gong practitioners, moved from Beijing to Sweden more than 10 years ago. They were among the over 10,000 practitioners who went to appeal for the right to practice Falun Gong in Bejing on April 25, 1999.
"We heard that practitioners in Tianjin were arrested," said Kong. "The police told us to go to Beijing to appeal for their release. It was very calm and orderly. We did not block the entrance to the government buildings. Everyone stood there quietly. When we were informed that the matter had been resolved, everyone left. However, before leaving, we collected any litter we saw on the street."
Kong Bin was arrested five times for refusing to give up his belief. He was taken to a brainwashing center and sentenced to a forced labor camp for 18 months.
Li Zhihe said he could still clearly remember what happened in Beijing 21 years ago.
"I arrived at the State Appeals Office before 6 a.m and left after 9 p.m.," he said. "I stood the whole day. I wanted to tell the government officials my personal experiences practicing Falun Gong."
He'd had a severely herniated lumbar disc, which had left his legs numb and half of his body paralyzed. He went to major hospitals in Beijing but to no avail. Doctors told him that there was no cure, and if he did not pay attention to his health, he could end up being completely paralyzed. He started to practice Falun Gong in October 1997, after a friend told him to give it a try. All his symptoms disappeared in less than two weeks.
Kong Bin also witnessed the power of Dafa. A woman named Xie Xiufen had been bedridden for 16 years after a birth control surgery went wrong. She recovered her ability to walk after practicing Falun Gong for one year. The extraordinary health benefits experienced by practitioners convinced Kong that Dafa was, indeed, precious.
He was arrested and subsequently placed under strict surveillance after he participated in the April 25 appeal and protested at Tiananmen Square. To avoid persecution, he left his home.
He added, "The CCP uses lies and slander to deceive people so that it can hold onto its power. The coronavirus pandemic is a result of its cover-up. Chinese citizens should renounce their membership in the Party and its youth organizations. In return, they will be protected when facing disasters."
Promoting Falun Gong in the Central Business District
Practitioners did the exercises and set up an information booth at Mynttorget Square in the afternoon on April 24. They made it a point to explain to people the significance of the April 25 Beijing appeal that occurred 21 years ago. They also dispelled misunderstandings about the practice, which the communist regime propaganda demonizes. Although there are fewer people on the streets due to the pandemic, several stopped to read the information on the boards and asked about the practice.
Practitioners concluded the day's activities by doing the exercises at Lake Malaren, next to Stockholm's City Hall. Many cars and passersby expressed support for the practitioners' peaceful appeal.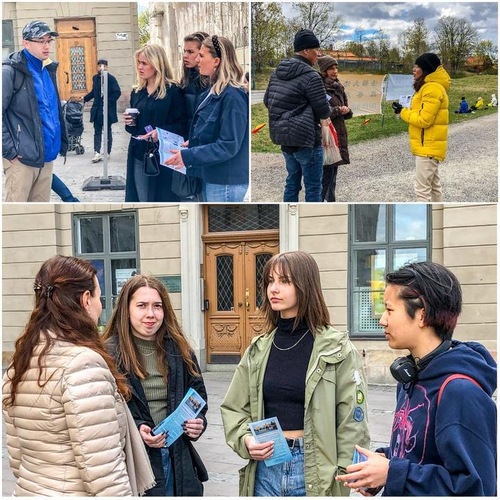 Practitioners talk to people about the meditation practice and the ongoing persecution in China.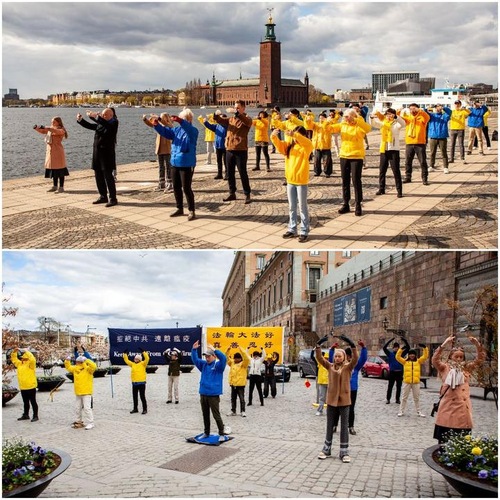 Practitioners demonstrate the exercises on Mynttorget Square.